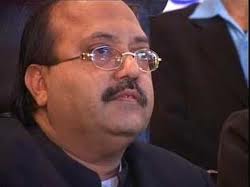 The Supreme Court articulated serious fear with regards to the isolation and liberty for the citizens in the country. The senior Justice G S Singhvi and Justice Kumar Ganguly said, "No person living in India is secure. Will this nation be the target over the years? There are master forgers. Experts in fabrication of records."
The bench was inquiring about the case of Amar Singh, a former leader of Samajwadi Party of Uttar Pradesh. As it was assumed by Amar Singh that his telephones were tapped. So, the Bench realized that it might happen to any person in future.
The accusation were that tapping of the phones of Amar Singh were counterfeit by someone and the service provider , in this state of affairs, Reliance, was not under commitment for checking the authenticity of the orders of tapping.

The bench throws the lime light on the tendency to tap phones, the susceptibility of the people to counterfeit the prospect of the common man becoming an object for such deeds. The question raised by Justice Singhvi to Solicitor General Gopal Subramanium, "What will he do if similar counterfeit document is given to some service provider to falsify the phone of the Army Chief and the conversation is abstracted to some foreign country which deals with security of the country."
Article viewed at: Oye! Times at www.oyetimes.com