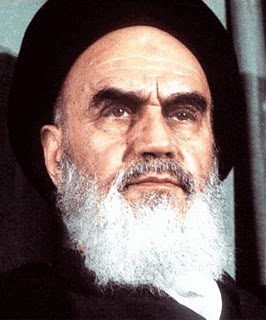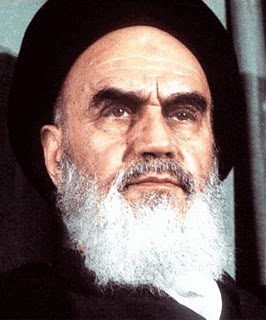 Tragedy with Pakistani People particularly the
Petit–bourgeois
is that they never break free themselves from the shackles of Religion in our case Political Islam. Mawdudi all his life indulged in Dirty Power Politics but in the name of Islam, Bhutto in the end in his Jail Cell asked for Rosary Beads and became Sufi and put that rosary beads around his neck, Benazir Bhutto, Nawaz Sharif, Asif Ali Zardari from time to time needed the support of Dam Jhaar [a kind of Magic Muslim Sufi do] so much so Pervez Musharraf and even that Rascal General Zia needed the help of Sufis for Dam Jhara and not a single Ruler succeeded in getting any benefits. Politics should be free from any kind of Religion. What we have here that Jang Group/GEO TV while completely forgetting the butchery of Khomeini and his cohorts towards their own Citizens, praising and quoting the most Ruthless Dictatorial Mullah Regime of Khomeini. Jang Group is completely forgetting the following Facts about Khomeini's Iran and his Alleged Islamic Revolution.
I would quote the The News International and Jang Group's Urdu "Rag" Daily Jang with Iran Contra Documentary inserted in between. So shameful the Diplomatic correspondent Ms. Mariana Baabar is that she didn't even dare to put her name for the article she filed in Urdu earlier. Let me reveal the Real and Ugly Face of Ayatollah Khomeini, his Mullahs and his "Revolution"


ISLAMABAD: Shah Mahmood Qureshi on Friday became the first government casualty in the aftermath of the Raymond Davis case, and the confusion prevailing in the Foreign Office where the finalization of the report on the status of Davis and further proposals and recommendations were being delayed, has now become clear. "Differences over Raymond Davis were the real reasons for Qureshi's reluctance to join the cabinet. The prime minister was kind enough to offer him another ministry but Qureshi regretted. The former minister absolutely refused to allow the Foreign Ministry to declare complete immunity for Raymond Davis without the courts agreeing. He refused to let it happen without referral to the courts," an official who enjoys full confidence of the former foreign minister, told The News.

Ayatullah Khomeini, Ronald Reagan & Iran Contra Scandal Part 1
http://www.youtube.com/watch?v=k8Tvzh7_CN8

On Thursday, when The News was interacting with senior officials about the upcoming trilateral dialogue on Afghanistan in Washington this month, a senior official ruled out the participation of Qureshi and said there would be a new face at the talks. At the time Qureshi did not want to comment. Qureshi had often complained that as foreign minister he had to spend months travelling and was completely out of touch with his constituency. To prepare for elections he felt it would be better to step out of the Foreign Office.

Ayatullah Khomeini, Ronald Reagan & Iran Contra Scandal Part 2
http://www.youtube.com/watch?v=Hi-NzdfjSgk

But the Raymond Davis case changed all that, and he appeared only too glad when Hillary Clinton sent out vibes that she would not be ready to meet him in Munich. He stayed back as he was not ready to change his position on Davis. Qureshi, who did not come into the Foreign Office on Friday, had already looked at the proposals that Pakistan embassy in Washington had sent to Foreign Secretary Salman Bashir from Washington. These pertained to ways out of the diplomatic, political and domestic fallout of the Raymond Davis killings. The proposals are a result of regular meetings with US officials and point to how much give and take would be acceptable to both sides. These Pak-US talks in Washington were hostage to a one point agenda … Raymond Davis.

Ayatullah Khomeini, Ronald Reagan & Iran Contra Scandal Part 3
http://www.youtube.com/watch?v=mfaI3YZbwYM

These proposals come at a time when Washington on Wednesday did not completely rule out postponement of the upcoming trilateral talks on Afghanistan except to confirm that if there are going to be any changes in the schedule of the trilateral talks on Afghanistan at the end of this month, they will put out a notification. The US also sent a clear signal that not freeing Davis would not make these talks 'productive". PJ Crowley, spokesman at the State Department, told the media that planning for this trilateral meeting was still underway and to queries if this could be downgraded or postponed he clarified, "Planning is continuing for the trilateral meeting at the end of this month. It is currently scheduled to be at the ministerial level. If we make any changes in that, we'll let you know. Well, I mean, we want to have a productive meeting, and if there's a reason why we don't think the meeting will be productive, we're prepared to make adjustments. But if we do make those decisions, we'll let you know. Again, if we make decisions to alter the meetings, we'll let you know."

Ayatullah Khomeini, Ronald Reagan & Iran Contra Scandal Part 4
http://www.youtube.com/watch?v=MDW_kUkXi2Q

"Haqqani has sent these proposals to Foreign Secretary Salman Bashir and the same are being examined as they are good proposals and I would not say completely out of box. We are contemplating these proposals. Relations should not be undermined and this case solved amicably," says an official. He said that Bashir would forward the report from the Foreign Office to the prime minister "sooner than later". The government has also not ruled out advice from other sources, which suggest that in case Davis is sent back to the US, and in return five Pakistani citizens presently detained at Guantanamo Bay can be repatriated then to a great extent political and domestic pressure could ease off.

Ayatullah Khomeini, Ronald Reagan & Iran Contra Scandal Part 5
http://www.youtube.com/watch?v=f0CI0yS-nAE

Meanwhile, in Islamabad and Rawalpindi the old team that has regularly participated in the trilateral talks say they are ready and so far there has been no indication that these are not being held. Now it will be a new face in place of Qureshi in the team that includes foreign minister, finance minister, COAS and DG ISI. Meanwhile, as the US arrogance increases by the day, reports are being planted to put pressure on Pakistan but at the same time the US spokespersons are denying the same in an ambiguous manner. The News was reminded of a similar time on October 27, 1964 when it came to US immunity. The late Ayatollah Khomeini in his speech, "The Grating of Capitulatory Rights", said, "I cannot express the sorrow I feel in my heart Iran no longer has any festival to celebrate; they have turned our festival into mourning…They have sold us, they have sold our independence; but still they light up the city and dance.

Ayatullah Khomeini, Ronald Reagan & Iran Contra Scandal Part 6
http://www.youtube.com/watch?v=-Mx94j6m4U0

"The dignity of the Iranian Army has been trampled underfoot! A law has been put before the Majlis according to which we are to accede to the Vienna Convention, and a provision has been added to it that all American military advisers, together with their families, technical, and administrative officials, and servants in short, anyone in any way connected to them "are to enjoy legal immunity with respect to any crime they may commit in Iran. If some American servant, some American cook, assassinates your marja in the middle of the bazaar, or runs over him, the Iranian police do not have the right to apprehend him! Iranian courts do not have the right to judge him! The dossier must be sent to America so that our master there can decide what is to be done. They have reduced the Iranian people to a level lower than that of the American dog. If someone runs over a dog belonging to an American, he will be persecuted. But if an American cook runs over the Shah, the head of the state, no one will have the right to interfere with him. Why? Because they wanted a loan and Americans demanded this in return". (Source: Islam and Revolution: Writings and Declarations of Imam Khomeini, P 181-188.)

REFERENCE: Ayatollah Khomeini's view of immunity to foreign citizens By our correspondent Saturday, February 12, 2011
http://www.thenews.com.pk/TodaysPrintDetail.aspx?ID=30833&Cat=2
Ayatullah Khomeini, Ronald Reagan & Iran Contra Scandal Part 7
http://www.youtube.com/watch?v=Stw-UABLcx8
Ayatullah Khomeini, Ronald Reagan & Iran Contra Scandal Part 8
http://www.youtube.com/watch?v=AIF9bnsC9lE
Click HERE to read the rest of the story.
Article viewed at: Oye! Times at www.oyetimes.com