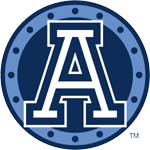 With a 2-1 record and a two-game win streak under their belts, the Toronto Argonauts host the 1-2 B.C. Lions this Friday, July 23 at Rogers Centre at 7:30 p.m., presented by Popeyes Louisiana Kitchen. Starters Rob Murphy and Jason Pottinger will line up against their former team as former Argo Jamal Robertson returns to Toronto for the first time in a visitors uniform. The 2010 edition of the Double Blue have shown they prepare hard and play hard until the final whistle blows, keeping fans in their seats with exciting football until the very end of the game. The first three games of the season were decided in the final two minutes, with the Argos victorious in the last two.
Fans who arrive early should head to Gate 11 for the Community Crew BBQ. Marc Angelo will grill up sausages with all of the proceeds benefitting the programs of The Argos Foundation. Local Toronto singer Lisa Manis will perform the national anthem while former Argos coach and executive Leo Cahill will welcome supporters to the game as part of a new alumni videoboard feature each home game.
Grassroots football will again be featured prominently as the Kingston Thunder Tanks will form the Argos fan tunnel and the Scarborough Thunder will scrimmage at halftime. The Orangeville Outlaws will be the beneficiaries of the 50/50 draw and play on the field pre-game as part of the Tim Hortons' Timbits minor football program. The popular Jr. Cheer program will see 5-10 year old participants perform on the field at halftime and cheer on the players in the fan tunnel. As well, youth from Studio 3 Dance will dance at halftime.
After the game, fans are invited to head over to the Official Post-Game Party at Jack Astor's, 144 Front Street West, to say hi to some of your favourite Argos players and the 2010 Argos Cheerleaders, presented by the Toronto Sun. The party will also feature a Budweiser special.