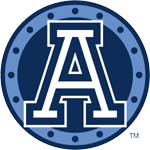 The Toronto Argonauts will play host to the Saskatchewan Roughriders this Saturday, October 2 at 3:00 p.m. at Rogers Centre in the start of a critical home-and-home series. Both teams are in second place in their respective divisions and need to solidify playoff spots with the ultimate goal of a home playoff game. Saturday's game will also be packed with off-the-field action as the Argos present Kids Day.
No family members will be left out this game as Milk-Bone presents the return of Dog Day in support of National Service Dogs. Fans can bring their furry friends to the game in a special section. Stay in your seats at halftime and cheer on the dogs from the Instant Replay Flyball Team. As well, Milk-Bone treats will be sampled post-game.
Saturday's game is also "We Day" featuring a halftime presentation by Free The Children's Craig Kielberger. We Day representatives will form the home fan tunnel where Wilson and Jackson, two traditional Maasai Warriors will be a part of player introductions. High Park Choirs of Toronto will perform the anthem in support of We Day and Kids Day and game day host Mark Strong and game day announcer Nathan Downer will both hand off some of their game day duties to their kids.
Before the game, fans should head to Gate 11 for the Community Crew BBQ. Marc Angelo will grill up sausages with all of the proceeds benefitting We Day. Saputo Dairy Products will be sampling a new product pre-game outside Gates 5 and 11.
Minor and high school football will be prominently featured as the pre-game Timbits scrimmage will feature the Woodstock Minor Football Flag teams. Eight teams, representing each CFL club, will display their skills. As part of the second year of the Level The Playing Field program, sponsored by Tim Hortons, the Downsview Secondary Mustangs, who have taken the field for the first time since 1986, will be introduced with the Argos during player introductions.
After the game, the popular See You on the Field returns. Fans can come down on the field to meet many of the Toronto Argonauts players and cheerleaders for autographs and photos. Following See You on the Field, the Argos are pleased to present the second annual Real Deal post-game event as 2000 young Christians will gather to hear Michael "Pinball" Clemons and several Argos players share how their faith affects their sport, hosted by 100 Huntley Street's Melinda Estabrooks. The largest faith event in Canadian professional sports will conclude with an energetic performance from the Dove Award-winning band Building 429.
Following the game, fans are invited to head over to the Official Post-Game Party at Jack Astor's, 144 Front Street West, to say hi to some of your favourite Argos players and the 2010 Argos Cheerleaders, presented by the Toronto Sun. The party will also feature a Budweiser special.