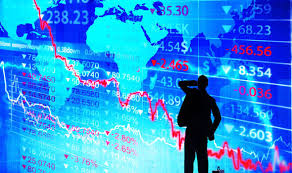 This article was last updated on April 16, 2022
Yesterday's positive momentum coming out of US gains that saw the Dow regain 21,000 and the NASDAQ Composite reach 6,000 propelled Asia Pacific indices higher overnight but enthusiasm has faded into the morning with European indices and US index futures trading pretty much flat.
There wasn't much in the way of news overnight for traders to react to. Traders appear to have fully priced in the French election results and prospects for a Macron second round win. Meanwhile, the latest UK election polls show the Conservatives holding on to their huge lead with Panelbase and Ipsos Mori showing 49% for the Conservatives vs 26-27% for Labour and about 10% for the Liberal Democrats.
Crude oil held steady overnight despite surprise increases in US API inventories for crude oil of 0.8 mmbbls and gasoline of 4.5 mmbbls. Energy markets could be active around today's DOE reports with the street expecting a 1.8 mmbbl drawdown from crude oil and a 0.2 mmbbl increase for gasoline
The Euro is giving back some of its recent gains in a normal trading correction, while the Pound is consolidating its recent smaller advance. The ECB meets tomorrow with traders expecting the central bank to hint that it could ease stimulus again sooner if the Euroskeptic Marine Le Pen is defeated in France. The Yen is holding steady ahead of tonight's Bank of Japan meeting with no major changes expected. CAD has stabilized overnight at a lower level after a big selloff with no new threats on trade from President Trump (yet).
US indices are also holding on to their gains as corporate earnings from big industrial companies continue to come in above expectations. United Technologies and Texas Instruments beat the street by big margins, plus Chipotle appears to have finally resumed its growth momentum following a year or more of scandals and setbacks.
President Trump is expected to announce his long-awaited tax reform plan centring around an expected cut in business taxes to 15% and a reduction in personal taxes as well. The big questions for traders now is whether the reforms meet or exceed what has already been priced in to the market, and what is the timetable. The market has been expecting tax reform to be done by the end of summer, end of the year latest but we've already seen with repealing Obamacare that pushing through political reforms can take longer than the market would like.
There appears to be movement on other files as well with the President apparently willing to be flexible on Mexican wall funding to avoid a government shutdown this weekend, and Republicans in congress inching toward agreement on health care reform. Progress could support stocks but surprise setback could have a negative impact on trading.
Chart Signals: Mind the gaps and breakout points as markets consolidate
For the most part, major indices and currencies have paused for a rest after staging big moves earlier in the week. So far, markets have been holding on their gains trading above breakout points and the top of breakaway gaps, confirming the moves. US 30 and US SPX 500 are nearing tests of their March 1st highs which could lead to breakouts or double tops. Meanwhile, CAD is starting to show early signs of bottoming.
North American and European Indices
US 30 has paused just above the 21,000 round number trading between there an 21,050 as it digests the quick move up from the 50-day average near 20,730. Next resistance in place near 21,130 its March high where a rest could end in a big breakout or a double top.
US SPX 500 continues to advance toward the top of its current 2,325 to 2,400 trading channel with support moving up toward 2,372 and the index trading just below 2,390. RSI indicates upward momentum increasing.
US NDAQ 100 is consolidating recent gains and starting to work off an overbought RSI near 5,555. It remains in an uptrend above support in the 4,480-4,500 area with next measured resistance possible near 5,600.
UK 100 looks like its latest trading bounce may be ending with the index falling back from a lower high near 7,300. Its inability to retake its 50-day average or 50 on the RSI indicates an emerging downtrend. A break under would confirm a head and shoulders top and signal a new downleg with next support possible near 7,200.
Germany 30 continues to struggle with 12,500 resistance while a negative RSI divergence indicates upward momentum is slowing. So far, the index appears to be consolidating gains at a higher level, holding above its 12,380 breakout point.
Commodities
Gold is still drifting back a bit, trading near $1,265 in what appears to be a normal trading correction within an ongoing uptrend. The price continues to hold above a $1,250 to $1,255 support zone between a Fibonacci level and its 200-day average while RSI continues to hold 50 confirming underlying upward momentum. Meanwhile, the 50 and 200-day averages continue to inch their way toward a golden cross.
Crude Oil WTI has stabilized in the $48.90 to $49.20 range just above its 200-day average near $48.70. Next downside support possible near $47.70, with initial resistance possible in the $49.80 to $50.00 area.
FX
US Dollar Index has stabilized in the 98.55 to 99.00 area where a double bottom appears to be forming. RSI remains in a downtrend, however, with next potential support on a breakdown possible near a measured 97.90. Initial resistance possible near 99.5 the bottom of a breakaway gap, then 100.00.
USDJPY continues to climb up out of a rounded bottom. Support has moved up from 110.65 toward 111.00 with the pair advancing on 111.30 and next resistance looming at the 50-day average near 111.65 then 112.15, a 38% Fibonacci retracement of the previous uptrend.
EURUSD is still having difficulties clearing $1.0945 Fibonacci resistance with more possible near $1.1000. The pair has dropped back under 1.0900 toward $1.0885 with next potential support I the $1.0810 to $1.0830 zone near a Fibonacci cluster and the top of Monday's breakaway gap.
EURGBP is sitting on 0.8500 and 50 on the RSI trying to decide whether recent gains were a trading bounce or the start of a bigger upturn. Next potential resistance at the 50-day average near 0.8570 then the 200-day average near 0.8600. Next downside support near 0.84690 a Fibonacci leel and the top of a breakaway gap, then 0.8400.
GBPUSD remains well supported as it consolidates recent gains in the $1.2800 to $1.2840 area well above its $1.2715 breakout point but still stuck below $1.2900 its recent high with more resistance possible near $1.3000.
USDCAD may be peaking with the pair trading back near $1.3570 after a spike up toward $1.3625 failed to hold above $1.3600. A negative RSI divergence suggests upward momentum could be starting to slow. It would need to fall back under the $1.3500 round number to call off its current uptrend.
CADUSD appears to be trying to establish some support near $0.7365 having bounced up off of $0.7310 on Tuesday. Initial resistance appears near $0.7380 but it really would need to retake $0.7410 to call off its currenct downtrend.
You can publish this article on your website as long as you provide a link back to this page.