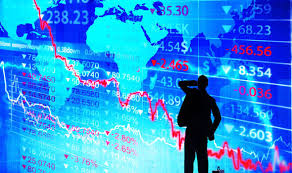 2020 is almost over, and even though some investors have had a rough year, some have found some gems in the stock market that are on a great growth track. The COVID-19 pandemic has brought about some seismic economic shifts that are ushering out some old companies while bringing in new ones, or opening doors that have never been open for others. Right now it's time to identify stocks which are on the move and set to double or triple your portfolio value. Remote working technology, cybersecurity, and e-commerce are major sectors that are on the rise, but even some other industries like construction and finance have opportunities coming as the economy is slated to get going when the virus subsides. Here are four of the best stocks for 2021 that you should consider adding.
Cisco Systems Is A Must Buy
Cisco Systems (NASDAQ: CSCO) is a well-known publicly traded company that has been a leader in networking technology, cybersecurity, and mass communication. It's one of the most trusted brands in its sector, and it's constantly been innovating and upgrading its products and services to get ahead of the latest tech trends. The pandemic has only spiked the need for Cisco's solutions with more businesses jumping into the remote working space, and public schools and universities having to hold classes online. But it's not just the demand for Cisco products that's making them a hot buy. Cash flow has been managed extremely well there with the second fiscal quarter of 2020 showing their current cash on hand valued around $30 billion. According to Money Morning, "The company is very unlikely to run out of cash anytime soon, as it's generating more than $10 billion of free cash flow a year." On top of that, their dividend payments to preferred shareholders keep rising. You really don't want to miss out on a chance to buy this stock before share prices rise even more.
Salesforce.com Is Another Must-see Big Tech Stock
Along with advanced networking and communication solutions being in higher demand, business process automation and data analytics are also becoming important today. Salesforce.com (NYSE: CRM) is a cloud-based company that's been making a lot of headway in this space, and their stock has been doing the same with a growth rate of about 53% so far tracked through 2020. The base of Salesforce.com is their customer relationship management software which is important for businesses to centralize customer data gathering and run a collaborative platform for their salespeople to communicate with each other. But they've now added in a Revenue Cloud program and several other solutions that have helped businesses better organize their marketing and HR departments. Salesforce.com's revenue has been rising pretty steadily over the last few years, and it should continue to do so. This is another big tech stock you don't want to miss out on buying while its share price is a bargain.
Don't Overlook Martin Marietta Materials In The Stock Market
Even though the pandemic has slowed some real estate and construction activities down, there are some projects that are still ongoing. One supplier for construction companies that has a chain of warehouses and logistics centers across the nation is Martin Marietta Materials (NYSE: MLM). This company supplies primarily cement and aggregate materials used in both road and commercial building construction, and it's projected that many new residential construction projects will be on its agenda for the following year. Unlike some construction suppliers who run into heavy operational and overhead expenses that deplete their cash flow, Martin Marietta Materials has managed theirs pretty well in avoiding that, and investors have seen good returns in dividend payments from them. While construction and manufacturing may be the biggest wealth generators in the stock market, this company is one you need to look at buying into.
Check Out Chewy Inc
If you're a pet owner and you buy your pet's food online, you may have heard about Chewy (NYSE: CHWY). This place is becoming an all-in-one stop for buying different pet food brands and supplies, and it runs a bit like Amazon in that it has its own physical fulfillment centers as well. But it also has vet telemedicine services now, and with COVID-19 limiting visits to vet clinics, this breakthrough is seen as a real game changer for the pet care industry. Chewy has some of the strongest revenue and cash flow growths in its industry, and it's only looking better for 2021. Even if you're not a pet enthusiast, this brand may be one of the most talked about pet brands in the coming years, and now is the time to buy Chewy stocks before they explode with growth.
At the end of the day, cash flow amounts coupled with profit margins tend to be high factors when ranking top stocks for the coming year. But tech developments and new solutions for customers are a huge reason why these stocks are ranked among the best stocks for the upcoming year.