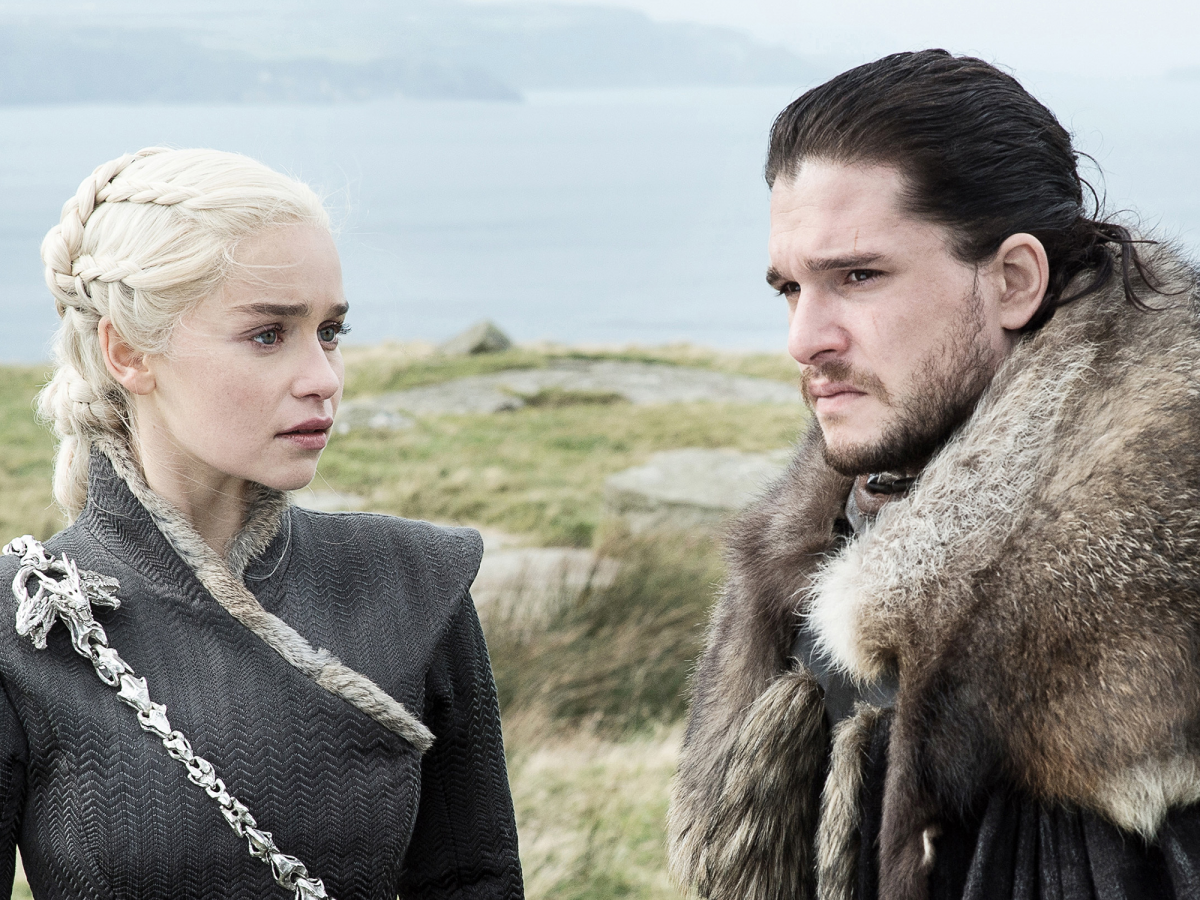 Warning: Major spoilers about the Game of Thrones season 7 finale ahead.
The Game of Thrones season 7 finale was emotional. To quickly run through some of the biggest moments, Arya and Sansa teamed up against Littlefinger for trying to play them both, Cersei and Tyrion had a powerful heart-to-heart that showed the Lannister siblings at their most vulnerable, and we finally saw zombie Viserion in all his horrifying glory.
But there was one scene in particular that we won't be able to scrub from our minds any time soon: Jon Snow and Daenerys Targaryen had sex right at the same exact time Bran Stark confirmed that the two were 100% undeniably related.
After Sam Tarly told the young Stark about what he read in one of the maesters journals (um, to be fair, Gilly was the one who actually should be credited with learning about Jon's true identity, not Sam), Bran went on a mission to uncover the truth. Using his powers, Bran went back to the day Jon was born to Rhaegar Targaryen and Lyanna Stark, where he learned that the man he thought was his bastard brother was destined to rule, and that his real name is Aegon.
"He's never been a bastard. He's the heir to the Iron Throne," Bran can be heard saying as Jon and Dany got down in her chambers. "He needs to know, we need to tell him."
So, yes, Jon had sex with his aunt, and Twitter had all the feelings: love, disgust, confusion, sadness, angst, you name it.
When youve been waiting for Dany&Jon to get together and it finally happens-as Bran narrates the story of how theyre related. #GameOfThrones pic.twitter.com/ayxwY3EKpY
— Alyssa Doyle Labare (@lysslabare) August 28, 2017
"he loved her"-Jon knocking dany's door- " and she loved him"-Dany opening the door. Intense eye contact #GameOfThrones #BoatSex pic.twitter.com/5Wcc0zdmgP
— Karito (@KaritoRuMe) August 28, 2017
Me trying to figure out if I should be happy or disgusted with what I just saw Jon and Dany doing on that boat #GameOfThrones pic.twitter.com/5uItuShi13
— Luca Blue (@TheLucaBlue) August 28, 2017
What were the odds that the first dragon Jon would ride would be Dany #GameOfThrones #TalkTheThrones pic.twitter.com/kZAckri5KC
— Jasper Liston (@jasper_liston) August 28, 2017
When Bran decided to tell Jon the truth the minute he decided to get it on with Aunt Dany. #GameOfThrones pic.twitter.com/YPy01OzzMZ
— Grace Edwards (@Gracienna) August 28, 2017
everyone: incest is gross with jamie and cersie..it's gross with dany and jon. period.
me: BRING IT ON #Jonerys ??#GameOfThrones pic.twitter.com/LVQc1DHD7E
— Kyra ?Lucchetta (@kyralucchie) August 28, 2017
*Jon and Dany close the door*
Bran: *in corner* Hold the Door, I have something to tell you.
#GameOfThronesFinale
— Joy Cozby (@lifeismymixtape) August 28, 2017
#GameOfThronesFinale totally not not gonna rewatch that dany and Jon scene like 10 more times… pic.twitter.com/OodEV1lOe0
— Madelyn (@madelynjoyy24) August 28, 2017
The way Jon is looking at Dany. The way Dany is breathless.
The way his hand is caressing her. #GameOfThrones pic.twitter.com/p0DzXyflNr
— . (@malikdelena) August 28, 2017
Everybody buggin' about Jon & Dany needs to understand that Targaryen sibs been marrying & such since who knows when. #GoTS7 #ThronesYall?
— FreshOuttaChill (@FreshOuttaChill) August 28, 2017
But, but, Dany is Jon's aunt! #GameOfThrones twitter: pic.twitter.com/wxBtGwi6of
— Adumb (@TheRealDonLobo) August 28, 2017
Click HERE to read more from Refinery29


Loading ...