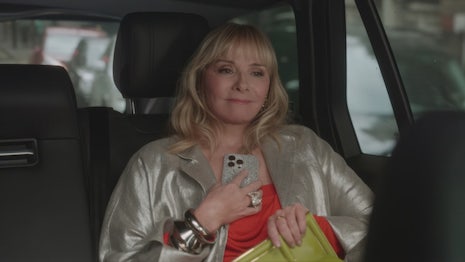 This article was last updated on August 25, 2023
Canada:

Oye! Times readers Get FREE $30 to spend on Amazon, Walmart…
USA:

Oye! Times readers Get FREE $30 to spend on Amazon, Walmart…
Kim Cattrall Negotiating to Make More Cameos in Season 3 of "And Just Like That"
Kim Cattrall's surprise cameo in the season finale of "And Just Like That" has been a massive hit
You might recall that we were the first to reveal that Kim Cattrall made a surprise cameo in the season finale of "And Just Like That" and just as we predicted, the episode is already shattering expectations, drawing HUGE ratings. The powers that be at HBO know a good thing when they see it, so they're now negotiating with Kim (begging her) to make a few more cameos in the upcoming season 3.
Kim's Successful Cameo
Kim Cattrall's surprise appearance in the season finale of "And Just Like That" has caused a major stir among fans of the show. Her return as Samantha Jones, a character she portrayed in the original Sex and the City series, has been met with overwhelming praise and excitement. The episode, which marked the first time Cattrall appeared on screen with her former co-stars Sarah Jessica Parker, Cynthia Nixon, and Kristin Davis in over a decade, has become one of the most talked-about television moments of the year.
With the episode drawing in record-breaking ratings and generating a flood of positive reviews, HBO executives are eager to capitalize on Cattrall's star power. They are now in negotiations with the actress to secure her involvement in the upcoming third season of the show.
Hoping for Kim and Kristin's On-Screen Reunion
The negotiations for Kim Cattrall's return to "And Just Like That" are not without their challenges. It's widely known that Cattrall and Sarah Jessica Parker, who plays the iconic Carrie Bradshaw, have had a well-documented feud for years, which was rumored to be one of the reasons behind Cattrall's departure from the original series.
Given the strained relationship between Cattrall and Parker, HBO is looking for alternative ways to incorporate Cattrall's character into the show. Their current hope is to have Cattrall film scenes with Kristin Davis, who portrayed Charlotte York in the original series. The two actresses were reported to have a good working relationship during their time on the show, making Davis' character the likely choice for an on-screen reunion with Cattrall.
Dealing with Potential Roadblocks
While negotiations are still ongoing, there are a few potential roadblocks that could hinder Cattrall's return. One major factor is the current actors strike, which has halted production on several television shows, including "And Just Like That." Until the strike is resolved, the show's future remains uncertain.
Additionally, Cattrall's return to the series would depend on the terms of the negotiation and her willingness to commit to filming. The actress has been vocal in the past about her desire to move on from the Sex and the City franchise, and it remains to be seen if the prospect of reprising her role as Samantha Jones is enough to change her mind.
Fans Await a Resolution
As negotiations continue, fans of "And Just Like That" eagerly await news of Kim Cattrall's potential return. The addition of Cattrall's character to the show would undoubtedly add a new dynamic and excitement to the storyline. Whether or not the stars align and Cattrall agrees to make more cameos, one thing is for certain – her surprise appearance in the season finale has left a lasting impact on the show and its viewers.
You can publish this article on your website as long as you provide a link back to this page.