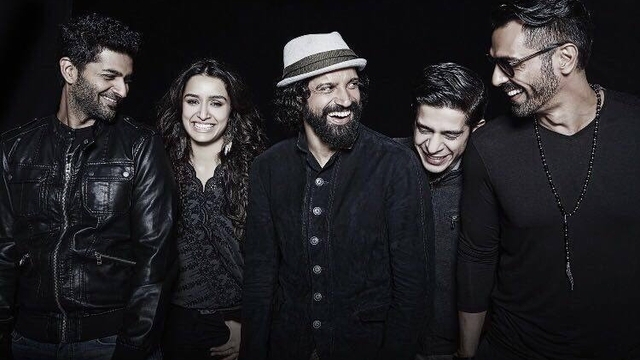 Rock On 2 cast has been concert touring across the cities and has been bestowing the audiences with live rock concert in every city!
The cast isn't leaving any stone unturned in order to spread the vibe of a rock concert in each and every city. From Bombay to Shillong to Bangalore and most recently Aurangabad, the cast is rocking each and every city and the audiences seem to get not enough of it!
Infact the team will be visiting Pune, Hyderabad and Delhi too and will be performing and all these cities. However news is that the team is set to visit a very popular spot in Delhi called Majnu Ka Tilla during their visit to capital. The thought being, this particular hangout is one of the most popular spots in Delhi wherein the north eastern community hangs out and visits pretty often. Majnu-ka-tilla (MT) is a Tibetan colony in Delhi and so the cast is very keen to visit this spot and actually interact with the north eastern there!
Spokesperson, "the film is shot and is set in the north eastern region (Shillong) and so visiting this particular spot would be very ideal, the team is very keen to visit this popular hangout"
Spokesperson added, The team and cast has heard so much about this place and decided that they should be visiting it when in Delhi. This spot at Delhi allows the students and people from north east to hang out and is exclusively set for them. Infact whenever Farhan has performed in Delhi in the past, students have also mentioned about this particular popular spot wherein majority of the college students hangout pretty often. The team is very keen to visit the spot and have an experience ourselves.
The cast, Farhan, Arjun, Purab, Shraddha, Shashank, Prachi, Shujaat and Ritesh are all very keen to visit the spot. The team is on the capital today!