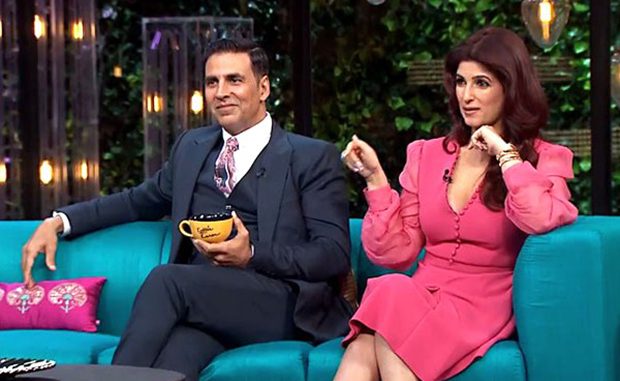 This article was last updated on April 16, 2022
Canada:

Oye! Times readers Get FREE $30 to spend on Amazon, Walmart…
USA:

Oye! Times readers Get FREE $30 to spend on Amazon, Walmart…
So if Twinkle Khanna is around then politically incorrect statements flow effortlessly and then she's a fine writer so there's a lot of food for the imagination as well. Akshay Kumar and Twinkle Khanna came together for a cracking episode of Koffee With Karan and their sparkling chemistry was simply brilliant. The fact that Akshay lets his better half be herself is a wonderful example and she compliments him fabulously too. Here are 16 memorable moments from their blockbuster episode.
1) Twinkle shows her newspaper columns to Akshay who checks the matter with his critical eye, "He thinks he's Salman Rushdie and I guess I am Chetan Bhagat," said Twinkle.
2) The relationship between Akshay Kumar and Twinkle Khanna started with a fling in Calgary when she thought he's a "Six feet of chocolate ice cream."
3) Akshay Kumar asked Twinkle to marry him and she said that if Mela doesn't work then she will. The film flopped and on Monday post it's release Twinkle said yes.
4) Before giving her consent, Twinkle made a family chart of Akshay and found out the details of diseases etc. in Akshay's family. Akshay admitted that it is better to check family trees than kundlis.
5) Karan Johar admitted that Twinkle was the only girl that he ever loved to which Twinkle replied, "I had testosterone 11 and a moustache and that's why you thought I was hot."
6) Twinkle candidly admitted she was a terrible actress. "People who have seen would know that it flopped because of me," she said.
7) Akshay stated that its difficult to fathom what all he goes through to match the high standards of his wife. "I told him we won't have second child till the time he starts doing sensible movies," Twinkle butted in to specify a few of the crazy situations that Kumar has to go through.
8) Twinkle revealed that she had said no to Karan's directorial debut Kuch Kuch Hota Hai which was eventually done by Rani Mukherjee.
9) Akshay Kumar beautifully sang 'Strangers in the night' by Frank Sinatra for which he had practised for a month. Music Composer Raghav Sachar joined him on stage with a saxophone. Twinkle and Akshay danced together too and it was a beautiful sight.
10) Twinkle was easily the more politically incorrect and sharp in the contentious Rapid Fire round and won it too even though Akshay believed it was rigged like most of the popular award shows.
11) Twinkle believes how Akshay is different than the Khans is because of a few inches of height.
12) When asked to choose between the three Khans, Shah Rukh, Aamir and Salman, Twinkle said that let's add Fawad Khan to that list and you tell me. "Moving on, pun intended," Karan said with a smile.
13) So what will be the name of a book written by Karan Johar on Bollywood? "Tentacles to testicles," Twinkle said unabashedly.
14) When Karan asked to choose between Shah Rukh and Salman, Twinkle said Shah Rukh because everyone calls Salman as Bhai and he can be sent a Rakhi.
15) When Akshay was asked that amongst Shah Rukh, Salman, Aamir and himself who would last longer, Akshay said, "If they stop smoking then they will, else I will."
16) When Twinkle Khanna was asked about her experience of being on the Koffee with Karan for the first time, Twinkle said that she was apprehensive initially but," It was slightly better than that hostage video of yours." (referring to the viral video where Karan Johar promised that he won't work with Pakistani actors any more).

Source: Bollywood Masala original article at 16 MEMORABLE moments of Akshay Kumar and Twinkle Khanna's Koffee with Karan episode
You can publish this article on your website as long as you provide a link back to this page.
You can publish this article on your website as long as you provide a link back to this page.