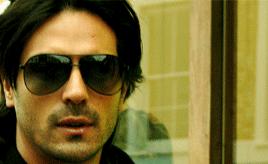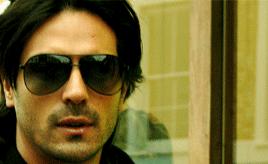 Arjun Rampal's office is in a most unlikely Mumbai neighbourhood. Not in a by-lane of Bandra or a high rise in Andheri or even in a bungalow in Juhu. It is, in fact, in the quiet, leafy and extremely un-Bollywood locale of Dadar Parsi Colony. But one look at the building name explains it: Jesia Building, obviously a connection to his wife Mehr.
The day we meet, Rampal is gently ramping up his day, following an all night shoot for Nach Baliye, the actor's foray into television as a judge on the reality show (more on that later). On the coffee table lies a laminated blow up of a five star review of hit film Rock On. Rampal, who plays the brooding and disappointed guitarist Joe Mascarenhas in the film, earned largely complimentary reviews for his performance which was respectably followed up by his portrayal of movie director Siddharth in Rituparno Ghosh's The Last Lear. Along with the positive reactions he received as the negative character Mukesh Mehra, the crooked producer in Om Shanti Om, Rampal has turned a significant corner in his career.
A friend who watched all three films asked me, 'when did Arjun learn what to do?' and I pose the same question to him on that sunny afternoon in Dadar Parsi Colony. He smiles before answering. "With time you get the opportunity to do different things, take on new challenges and roles and grow with the people you work with. You decide that you'd rather do things for yourself; you want to be gauged by your own parameters. When things were not going my way, I used to believe that the script I read would be executed in a new way. An actor does what he can, but if you are in an uncomfortable space, it shows on screen." 
As he assesses his relatively short career in Bollywood, which began with Rajiv Rai's Pyaar Ishq Aur Mohabbat in 2001, he thinks he 'learnt what to do' when he began to take on roles and projects he believed in. "Once I was enjoying myself, the change showed. We usually shy away from 90 per cent of the roles we are offered, opting to play safe instead, but now I want to push the envelope and take risks. I can safely say that I'll be proud of my last four films (Don, Om Shanti Om, Rock On, The Last Lear) for the rest of my life."
Models can act
And yes, these performances have silenced his critics. "Thank god!" he sighs, before adding, "When I first came into the film industry I too had to deal with generalisations that models can't act. When I got into acting, I gave up modelling because models can be stiff in front of the camera. If you can wipe clean people's memory of you as a model, you have a better chance of being accepted as an actor." He might have shaken off the tag of 'model turned actor', but he's not going to escape the first reaction to him – his sheer good looks. Ask him about it and he says modestly, "I don't see it. I can't spend much time in front of the mirror. Nor am I one of those actors who stands in front of the mirror and looks at his expressions. I try to keep it real. Of course it is flattering, but I'd rather be a messenger for fitness. Funnily enough, when Abhishek Kapoor first met me for the part of Joe, he said, 'dude, you're too good looking!'"
Why TV?
Just when it seems he cannot put a foot wrong in his film roles, he opts for a reality show platform largely associated with jobless or fading stars. And I have to ask, why? "I disagree that people get on to reality shows and TV when they have nothing to do. Nach Baliye is very popular and only takes a week of my time for three months. Anyway, imaging is now a thing of the past because TV is about accessibility and broadening our appeal as entertainers." he says, between sips of black coffee. "I thought it would be a nice way of getting into millions of homes and a great way to explore TV as a medium." 
Rampal is now referring to his production company, Chasing Ganesha Entertainment, which launched with feature film I See You in 2006 and is now flirting with the idea of branching into television software production. His next movie production is likely to be an action movie on which work will start sometime next year.
Comfort zone
Rampal likes to stick to a comfort zone of friends and colleagues in the film industry, especially Farhan Akhtar and Shah Rukh Khan. He doesn't refute this comment but elaborates: "It's not about camps but about people in creative industries having to work with people they are comfortable with because that bond reflects on screen. Shah Rukh, Farah, Farhan and I enjoy working together and our relationship is free of ego and insecurities. But there is a great pleasure in working with new talent too."
Rampal is now working with Prakash Jha – and he's impressed. "He first came to me four years ago with Rajniti but things didn't work out then, and he came back to me four years later, before Rock On," says Rampal. "When I asked him what had happened in the meantime he said he needed to see and learn a lot more before he could make this film. So in the ensuing time he had become a politician, and was recently helping the Bihar flood victims. Dedication like that in a script requires research and preparation from the cast too."
Rampal commends his parents and wife for being his biggest support, even through his hardest phase when his career was floundering. "They are relieved and happy that things are going well now," he says. His wife Mehr is his biggest critic while his two girls Mahikaa (6) and Myra (3) love singing along to the Rock On soundtrack. "Children are a responsibility and it is very important that I should be around for them." He rolls up his sleeves and reveals the names of his daughters tattooed his forearms. "They cried when they saw it and said 'Daddy, it will never go' and I said, 'nor will you'."