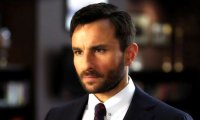 This article was last updated on April 16, 2022
Canada:

Oye! Times readers Get FREE $30 to spend on Amazon, Walmart…
USA:

Oye! Times readers Get FREE $30 to spend on Amazon, Walmart…

When Ian Fleming learnt that Sean Connery was to play James Bond on the big screen he was aghast. So what did Sriram Raghavan think when he learnt that he was writing the Agent's role for Saif Ali Khan? Well, here's the twist. When the first poster came out, audiences took an instant liking for India's very own Bond – Saif Ali Khan AKA
Agent Vinod
. I met Saif very briefly at his Illuminati Films office when I went there to meet the hot Mallika Haydon. A chanced encounter, a confident hand shake and a firm question, "What are you doing here? And who are you?" I got it! He seems in his character is what I thought of. But now after a few weeks when I speak to him over the phone he has plenty to say and opinions to burn. Still revelling in the freedom of delivering his most ambitious film coming out of his production house, Saif's voice had energy of an Agent who is hell bent on cracking the mystery.
Agent Vinod
promises to be higher, faster and stronger. Higher for some spectacular aerial shots and more, faster for the Agent is going to move at a lightening pace, to solve the puzzle and stronger because in Saif's words – "
Agent Vinod
will open very strong". Need I say more? Presenting you…Vinod, Agent Vinod!
Will people take back Agent Vinod home or Saif Ali Khan?
Sriram Raghavan hasn't just made an action thriller where the spy is going along with the flow, but with his personality and the certain things he does, there was a performance called for. I hope people appreciate that too about Agent Vinod. It's the character that they should remember long after the movie is over.
Have you brought your own humorous streak into the film?
I haven't tried bringing my own humour. I feel Sriram has written the humour into the script. But when you tend to express the humour, you tend to express in the way you actually do it as an individual and not as an actor. But I also find some situations humorous in the movie. It's Sriram all the way who will be tickling the funny bone in Agent Vinod.
Will Agent Vinod redefine the action genre?
I wouldn't go too far to say that Agent Vinod is going to redefine action genre. It's a little unfair and a bit arrogant to be saying that. But Agent Vinod is more of an action adventure than a thriller. It's a fun roller coaster ride. We had to take a call on what action we want and we decided not to rely on computers and trickery. Everything happening in the film is real and violent but it's not too over the top and at the same time it's stylised. I don't think we've redefined anything.
Who's your favourite from the three – Bond, Bourne or Tin Tin?
My favourite from Bond, Bourne and Tin Tin is very hard to say, you know! All three are very different movies. It all depends on your mood. Sometimes you want to be taken on a fun filled ride and so 'James Bond' is the best. But if you want slightly more intense, realistic, thinking kind of plot then 'Jason Bourne' is perfect and if you want a cartoon with exciting locations with a great screenplay, you've got 'Tin Tin'. All three have very different styles. I like all three depending on my mood (laughs).
What was the toughest action sequence you've shot in Agent Vinod?
The climax of the movie is the chase that we shot in Delhi. It was the most difficult action sequence to pull off as I developed a spasm in my hamstring in the morning. I had to do a lot of running with my leg in agony. I remember calling Hrithik Roshan as he knew a lot about these tricky situations. He not only knew how to medicate it but was well aware of how to approach an action sequence in such situations. I am very grateful to him for that. Besides the chase, there was lots of jumping, slipping, and bruising and honestly, I was quite severely bashed up in this film.
Is it a deliberate attempt on Illuminati Films to choose diverse genres?
It's precisely the same approach at the moment what we've done in our past two films released under Illuminati Films. The good thing about being in this production is that it's exciting to create a world in a creative manner. We are tilting towards the action genres, at least I have. I like a bit of a darker space, a slightly supernatural, slight detective crime thriller movies. Dinesh Vijan likes mushy and cheesy love stories (laughs). Both put together makes a brilliant combination.
In a male dominated industry and that too an action movie, does Kareena Kapoor stand a chance to showcase her brilliant talent?
Sriram Raghavan knows that Kareena Kapoor is a very good artist and personally speaking, she is a very good actor and she has a tremendous amount of screen presence. In this film Kareena has got a solid role. She isn't playing a Bond girl. There are couple of Bond girls in the movie too (laughs). Kareena Kapoor represents a Pakistani interest in the movie, something that's shown in a more positive light and in a more realistic way. I'm sure that the NRI's and Pakistanis will be proud of.
Do we see Agent Vinod coming out of the water in his trunks and six packs?
I am not coming out of the waters in my trunks. Oh no! You may see by the end of the movie a beautiful girl walking out from the waters. I chose not to put myself in that situation (laughs).
How physically challenging was it to play Agent Vinod?
I have challenged myself physically in roles before. One such role was of Langda Tyagi in Omkara. In Agent Vinod, I had to be fit, very fit. I had to train hard. It was a gruelling schedule to do action. It is very demanding. I have a lot of respect for action heroes because I've got to know what it takes to be one.
In times when the industry is only concerned about the three day collections, will Agent Vinod sustain itself at the box office?
I want both the things to happen – Agent Vinod will open very strong and I know that but by and large it will be its long run at the box office that matters. The concept is appealing to the people and it's got an exciting plot. That's why Sriram Raghavan is directing this movie for me. The style, the narrative – the strength of the story and its Tin Tin qualities is the USP of Agent Vinod. Times have changed and so have our movies. This is the right time for Agent Vinod.

You can publish this article on your website as long as you provide a link back to this page.