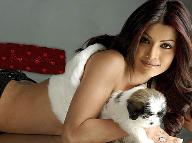 This article was last updated on April 16, 2022
Canada:

Oye! Times readers Get FREE $30 to spend on Amazon, Walmart…
USA:

Oye! Times readers Get FREE $30 to spend on Amazon, Walmart…

In case you've been wondering why Koena Mitra was missing from the promos of the film Anamika, here's why – she is angry about her voice being dubbed by someone else and also claims that her role was left "incomplete".
"Why should my voice be dubbed when other actresses who can't even speak Hindi can speak in their own voice?" Koena told IANS. The film stars Minissha Lamba and Dino Morea in the lead roles.
Says Koena: "If the producers have been saying that I kept away because I was the mystery element in the film then they're not telling the truth. I chose not to promote the film because they dubbed my voice without even asking me.
"Not only that, my role is incomplete. We were supposed to shoot some more scenes to justify the character. They took my bulk dates and never shot those scenes."
"I was very happy with the way my character had been written. I was given to understand it'd be something like Kajol in Gupt and Priyanka Chopra in Aitraaz. But I didn't get any of the projection that those actresses did in the publicity. And audiences had no clue why I was a killer beyond one passing dialogue. And by covering my face with a mask on the posters they gave away the suspense."
Koena is most certainly upset. "Throughout the pre-release they kept calling and saying, 'You must see the way you've performed'. Arrey, why were they taking credit for the way I performed? They should've been more concerned with what they promised and didn't deliver."
According to Koena she had to request for the smallest of requirements. "I've never had this experience before. Normally, these are things that are taken care of automatically. I was really pissed off. That's why I didn't attend any of their press events or even the music release."
She takes a deep breath. "Suddenly one day someone from the production called and said my voice had been dubbed. Without my consent! I was shocked. I called to ask why they did this to me. Normally you need a letter of consent before doing something like this…I feel it was totally uncalled for.
"Sad, because it was a great role and the director Anant Mahadevan worked really hard on my look and character."
"I didn't want to talk about all this. But from now on I'll have everything in writing. I did the film because of Dharam Oberoi who was at that time with Sanjay Gupta. Because of them I didn't even discuss money. But later my cheque for Anamika bounced repeatedly. Till now they haven't cleared my designer's dues, the cheque bounced three times. I had to pay my designer from my own pocket. And now the producer's office has vanished. No wonder stars shy away from independent producers."
You can publish this article on your website as long as you provide a link back to this page.