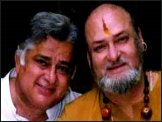 You can publish this article on your website as long as you provide a link back to this page.
This article was last updated on April 16, 2022

They are known as the First Family of Bollywood, and rightly so. We are indeed talking about the Kapoor family. On one hand, while their 'latest entrant' Ranbir Kapoor is going great guns, the two of the elderly lot (A.K.A yesteryear's heartthrobs) Shammi Kapoor and Shashi Kapoor are not in the best of their health. It was only last month that Shammi Kapoor (who was suffering from acute kidney failure) developed high fever, while he was still in hospital, and was admitted in the ICU. On the other hand, Shashi Kapoor too got admitted in a city hospital. Reportedly, the common factor of them both is that, both the actors have requested their families to discharge them from their respective hospitals, so that they can spend some more time with their families. Reports also have it that both the doyens have strictly expressed their desires that not to be taken abroad for treatment.