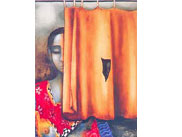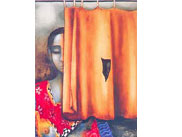 Ongoing financial slowdown forced artists to slash down the prices of their paintings since expectations from buyers are low.
The Indian art industry has come a long way and has now been recognised in the international market. But the recession has not spared this industry.
The worst sufferers are the small artists and budding artists.
Sanjay Kamble, an artist from Maharashtra, who had worked in Dubai for almost 15 years, said that the recession has affected the Indian market by 60 per cent.
He appeared a little apprehensive about one of his upcoming exhibitions in terms of buyers" response.
"Indian art was doing well, but now because of everywhere recession is going on and definitely it has affected. Unfortunately, my exhibition also falls in that period. I am little scared," said Kamble.
Shiladitya Verma, an abstract artist, said that the artists have brought down the prices of their paintings to cope up with the crisis.
"The established artistes have put down the prices. Somebody who was selling for a lakh of rupees has now come down to 75," said Verma.
At the same time, Verma feels that one should focus on his work in such tiring times.