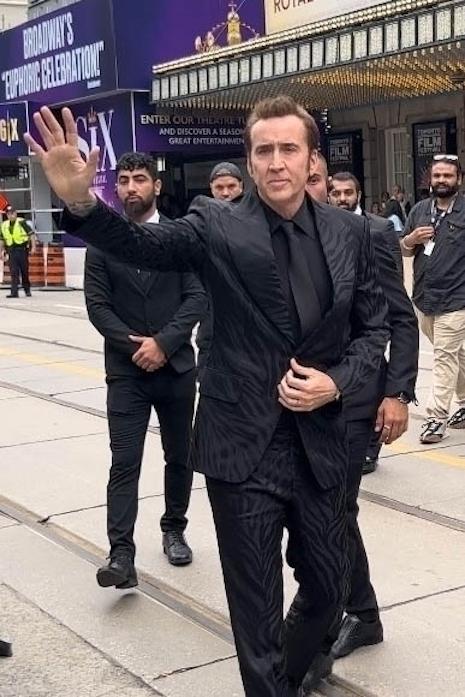 This article was last updated on September 11, 2023
Canada:

Oye! Times readers Get FREE $30 to spend on Amazon, Walmart…
USA:

Oye! Times readers Get FREE $30 to spend on Amazon, Walmart…
Nicolas Cage Rocks Black Attire at Toronto Film Festival
New Movie "Dream Scenario" Features Cage as an Ordinary Family Man
Renowned actor Nicolas Cage made a striking appearance at the Toronto Film Festival, dressed in all black. The reason behind his polished look? Cage wanted to ensure that audiences do not mistake his on-screen character in his upcoming movie, "Dream Scenario," for his current appearance. The film depicts Cage as an ordinary, bald, and out-of-shape family man, a stark contrast to his real-life persona.
Dream Scenario is a comedy that centers around Cage's character, who suddenly becomes a viral sensation when he starts appearing in the dreams of millions of strangers. However, as the initial fame fades, the dreams take a dark turn, transforming into terrifying nightmares. The intriguing plot promises to captivate audiences.
Cage's Commitment to Character
Nicolas Cage is well-known for his dedication to his roles, often undergoing major physical transformations to bring his characters to life. In Dream Scenario, Cage has embraced the challenge of portraying an average, middle-aged man struggling with his own insecurities. Despite the temptation to rely on makeup and special effects, Cage has opted for a more authentic approach, allowing the character's physical appearance to reflect the complexities of his journey.
During an interview at the Toronto Film Festival, Cage spoke about his commitment to embodying his character and the importance of not allowing assumptions about his personal appearance to interfere with the audience's perception of the film. He emphasized that the physical transformation in Dream Scenario serves as a testament to the character's evolution rather than a representation of Cage's current appearance.
A Comedic Exploration of Dreams and Nightmares
Dream Scenario delves into the realm of dreams, presenting a unique premise where Cage's character inexplicably becomes a fixture in the dreams of countless strangers. As these dreams morph into nightmares, the narrative explores the blurred boundaries between reality and imagination, raising intriguing questions about the power of the human mind.
The film's comedic elements interplay with the darker undertones, promising an immersive and thought-provoking viewing experience. Cage's talent for blending comedy and drama makes him the perfect fit for the role, ensuring that audiences will be kept on the edge of their seats as the story unfolds.
Award-winning Team Behind the Film
Dream Scenario is helmed by acclaimed director, Sarah Johnson, known for her ability to navigate complex narratives with a deft balance of humor and emotion. The film's screenplay, penned by Oscar-winning writer Michael Peterson, has garnered attention for its clever dialogue and well-crafted character development.
In addition to Cage's standout performance, Dream Scenario also features an impressive ensemble cast, including Emmy-nominated actress Olivia Johnson as his wife and rising star Alex Parker as a persistent dream analyst determined to uncover the truth behind Cage's dream intrusions.
Anticipation Builds for Dream Scenario
The buzz surrounding Dream Scenario continues to grow, with audiences eagerly anticipating its release. The film promises a unique blend of comedy, drama, and psychological intrigue, offering a fresh take on the exploration of dreams and nightmares.
As Nicolas Cage defies expectations once again and immerses himself into the challenging role of an ordinary family man, viewers can expect a captivating performance that will leave a lasting impression.
About Nicolas Cage: Nicolas Cage is an Academy Award-winning actor known for his diverse range of roles and intense character portrayals. With a career spanning decades, Cage continues to challenge himself and captivate audiences with his performances.
About the Toronto Film Festival: The Toronto Film Festival is one of the most prestigious film events in the world, showcasing a wide range of international films and attracting renowned filmmakers, industry professionals, and film enthusiasts. The festival provides a platform for both established and emerging talent to showcase their work to a global audience.
You can publish this article on your website as long as you provide a link back to this page.