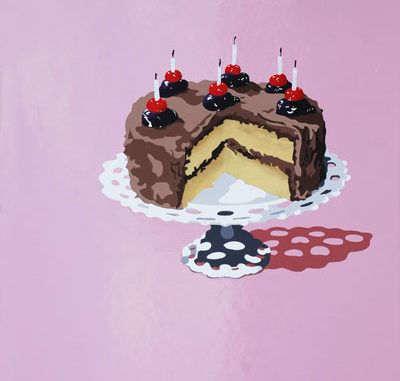 This article was last updated on April 16, 2022
Canada:

Oye! Times readers Get FREE $30 to spend on Amazon, Walmart…
USA:

Oye! Times readers Get FREE $30 to spend on Amazon, Walmart…

Two artists talk about their work, their upcoming shows and what inspires their art.
The work of artist Lori Larusso will be featured in a solo show at Skidmore Contemporary Art at Bergamot Station on Saturday April 13th from 6-8pm. Larusso is originally from Ohio, and is currently living in Kentucky. She started working with Skidmore Contemporary Art in 2011 and is looking forward to the opening.
Over the years many artists have inspired her work. Larusso explains "It changes…James Rosenquist was certainly an early influence on my work, as I would often (and still do) work from found imagery and advertising. Patrick Caulfield and Frances Barth are painters who deal with space in a very interesting way. I enjoy their work immensely. "
The work of fellow artists has also been a source of inspiration. She continues, "A few of my peers' work has had a great influence on me, studio mates I've worked with and shared processes with, specifically Lily Mulberry, Mike English, and Carter Gilliss."
Finally she adds, "Although not a painter, Janine Antoni's early performances have meant a lot to me in terms of presenting objects, images, or actions to an audience and allowing them to find the connections that exist between them, as well as their own relationships to them. I am also interested in intersections between excess, consumption, and domesticity." Be sure to pop into Skidmore Contemporary Art, Saturday April 13th (4-6pm) located at Bergamot Station (D-2) 2525 Michigan Ave., Santa Monica. The Show runs through May 25th.http://lorilarusso.com/ http://skidmorecontemporaryart.com/
Artist Charles Swenson enjoyed a successful career as an animator working in film and TV in series such as "Rugrats," and more. He now works out of a studio at the Brewery in downtown LA. He believes, as an artist, it's important to visit Los Angeles galleries. He recently saw the The Prince show at Gagosian and the Burnsoo Song show across the street at the Garboushian Gallery.
He explains, "They are a great juxtaposition: Prince doing large figurative cowboy themed work in oil on canvas and Song doing smaller dimensional abstractions of plant life using hand made mulberry paper. Both are very finely conceived and flawlessly executed. Very different one from the other but alike in terms of artistic consciousness."
Charles will be participating for the 2nd time in the Brewery Art Work on April 27th and 28th. When asked what he is currently working on he replies, "Stick FIgures: a series of images of the female figure juxtaposed with bits of wood, sticks and branches.
The Brewery Art Walk takes place twice a year. Stop in to say hi to Charles Swenson at 1918 N. Main # 202. For more information about Charles Swenson, see his website. http://charlesgswenson.com/
The Brewery Art Walk takes place on Saturday, April 27th and Sunday, April 28th from 11:00 a.m. until 6:00 p.m. on both days. http://www.breweryartwalk.com
The Brewery is located at 2100 North Main Street, Los Angeles, 90031. Admission is free. Parking is free (Lot donated by UPS, closes at 6pm). For a full list of participating artists, see website. http://www.breweryartwalk.com
You can publish this article on your website as long as you provide a link back to this page.