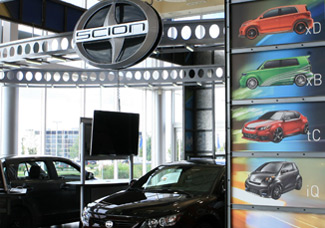 This article was last updated on May 20, 2022
Canada:

Oye! Times readers Get FREE $30 to spend on Amazon, Walmart…
USA:

Oye! Times readers Get FREE $30 to spend on Amazon, Walmart…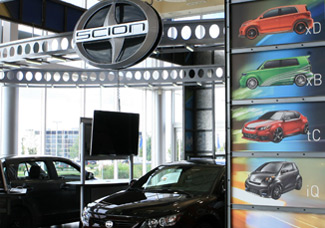 Scion. The word by definition means descendent, heir, or younger member of the family. The name refers both to the marque's cars and their target market.
On September 28th, Toyota Canada opened the doors to 45 dealerships that will carry the Scion brand vehicles. Keeping with the idea of selling Scion vehicles to an urban youth market, these initial dealerships are located in Montreal, Toronto, and Vancouver.
"There's a new demographic of drivers in Canada ‐ younger drivers who demand a new type of vehicle and a new style of doing business. And today, they can finally get that from Scion," says Larry Hutchinson, Director of Scion in Canada. "Scion now offers a full line‐up of distinctively styled, wellequipped models, a unique in‐dealer and online experience, and a new business model designed to address the needs of a new generation."
Despite the word "new" being used repeatedly, the offerings from Scion are new to Toyota, not to the entire automotive marketplace. Vehicles targeted to a more youthful audience have been around for a while now, the latest notable one being Kia.

The reason Toyota created Scion is because for a long time, the majority of Toyota buyers were middle aged families and retired pensioners. For the first time, the company has a product offering that is aimed specifically at a younger audience. With bolder designs, colours, and options than what you'd find with most Toyota vehicles, Scion hopes to be the brand for young people looking to be stylish.
The Vehicles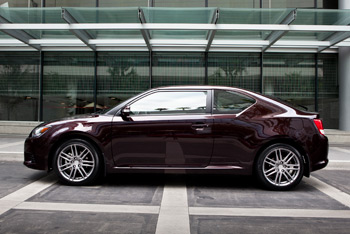 The 2011 Scion tC
Scion does not offer varying trim levels on their models, rather individual customization options for each model. With that in mind let's take a look at the models.
There's the sports coupe, tC; equipped with a 2.5L 4‐cylinder engine producing 180 hp, and 173 lb.ft. of torque, rides on standard 18 inch wheels. Priced at $20,850 for the manual transmission, this may be the car everyone looks at first.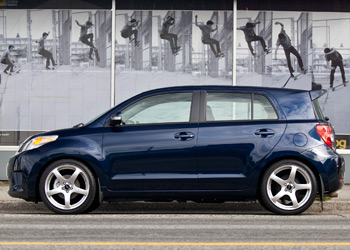 The 2011 Scion xD
Then there's the compact hatchback
xD
which brings a relatively economical 1.8L 4‐cylinder engine boasting a government fuel consumption rating of 6.8L/100km, and a good range of interior electronic options. Priced at $17,200 for manual transmission, this model comes in as the least expensive Scion at this time.
The distinctive box shaped wagon was the first Scion back in 2003, and is called the xB. With a 2.4L 4‐cylinder engine that is neither very powerful nor very economical, it takes a safe middle path between power and economy. Priced at $18,270 for a manual transmission, potential buyers will appreciate the youthfully stylish and roomy interior.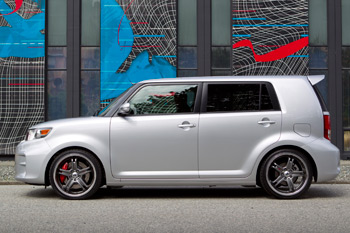 The 2011 Scion xB
Scion also has a fourth model in the pipeline which will be released in the near future and could hit the streets as soon as spring 2011. The hatchback called
iQ
will be very small; in fact, it will be smaller than a traditional sub‐compact. However, it's not an entirely new model as it has been on sale in Europe for a couple of years now badged as a Toyota.
Throughout their line‐up, Scion aims to sell cars that they encourage buyers to accessorize and customize. Although the manufacturer's accessory options are nowhere as comprehensive as what you would find in the aftermarket customization world, there still are a number of things you can buy from your Scion dealer to accessorize your new car.
Browse through scionnation.ca for an idea of what's available and for an overall feel for this new brand.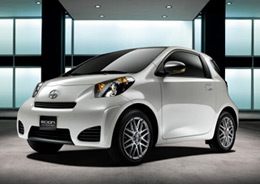 The 2011 Scion iQ
All of Toyota's marketing efforts for a youthful and unique brand image aside, Scion vehicles at their very core are well engineered, mildly upbeat, and most importantly, cheaper than the Toyota brand. I'm not sold on the youth oriented brand hype, but give Scion a thumbs up because it represents all the good things that are Toyota with a little more vibrancy, and variety.
Contact Kanishka Sonnadara at kanishka@oyetimes.com
You can publish this article on your website as long as you provide a link back to this page.