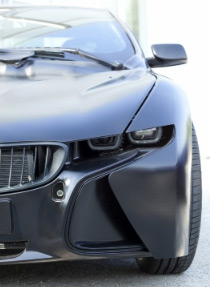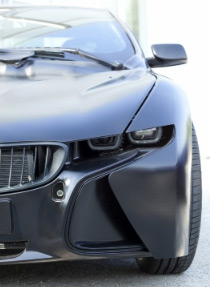 At the Frankfurt International Motor Show in 2009 BMW showcased an exercise in supreme efficiency. They had built a concept vehicle that not only looked every bit like something you would find in a sci-fi movie, but was fully functional as an automobile.
On November 5th, 2010 BMW announced they will build this car.
A marriage of futuristic design and trail blazing engine technology, BMW calls it 'BMW Vision EfficientDynamics'.
The car is just 1.24 metres (4 feet) high, and is said to weigh in at just 1,395kg (3,076 lbs). It is equipped with both a combustion engine and electric motors. The engine, a 1.5L 3-cylinder turbo diesel puts out 163 hp and 214 lb-ft of torque. Combined with the electric motors total vehicle power climbs to 365 hp and 590 lf-ft of torque.
In addition to being light weight and having a respectable power output the BMW Vision ED boasts a very slippery drag coefficient of 0.22. To put that number in perspective consider that a skier has a drag coefficient of 1.1, and a bullet 0.295. With lines so sleek, so sharp, one could cut themselves just walking by.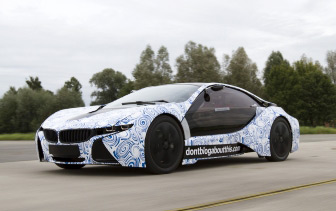 So what do all these numbers give us as drivers? Well, a 0-100km/h time of 4.8 seconds, a top speed of 250km/h, and an average fuel consumption rating of 3.76L/100km. Now compared to what's on the road today, these numbers seem unreal. But that's what BMW is claiming at least, for the skeptics, we'll have to just wait and see.
BMW say they will build the Vision ED in limited numbers beginning in 2013.
Until then look at the pictures, and hope the real thing comes to the country that always gets denied the exuberant cars; oh, Canada.
Contact Kanishka Sonnadara at kanishka@oyetimes.com