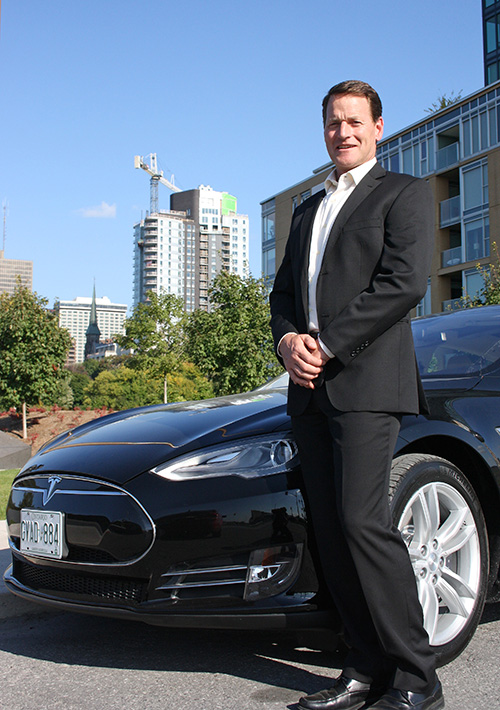 Jeff Westeinde's car glides silently to a stop in the shadow of his company's newest condo development on the edge of downtown Ottawa.

In the final stages of construction, Windmill Developments' energy-efficient Cathedral Hill condo tower boasts 130 environmentally-friendly units overlooking the Ottawa River from atop a lofty escarpment. The company claims to be Canada's leading sustainable developer, and the building itself is expected to achieve LEED Platinum certification.

But on this day, the company's co-founder is more interested in his car – a Tesla Model S sedan he picked up just two days prior.

Powerful, svelte, and all-electric, the Model S sits at the forefront of a growing segment in the automotive landscape. Its range, approximately 450 km, speed 0-100 km/h in 5.4 seconds, and the ability to carry five adults and two kids have made it the most capable and practical EV to date.

Over a thousand Model S sedans have found homes with Canadian buyers since its December, 2012 introduction.

"I lived in Vancouver for years – my buddies out there have had them for a couple of years, so I've driven one for a week at a time," said Westeinde, who regularly travels between Windmill's main office in Ottawa and its satellite location in Toronto.

"I didn't get this sooner because currently you can't make it to Toronto (on a charge), but they've got a Supercharger opening in Kingston in two weeks."

Part of a network of Tesla-designed–and financed–charging stations, the Kingston location joins others already open in Cornwall and Toronto that cater to 401 corridor EV drivers.

As EVs find their way into more and more Canadian garages, charging stations both public and private are increasing in numbers. Developers of urban condominiums, including Windmill, have started to cater to this emerging demographic of drivers – most of who live in urban areas and would be a likely candidate for a new condo.

Cathedral Hill will have five EV charging stations, and a recent promotion offered to install more for buyers who requested them. Windmill's latest Toronto project – Union Lofts, located in the Junction Triangle neighbourhood – is no different.

"All of our buildings have (the capability)," said Westeinde. "I think these cars, over the longer term, will replace gas cars. We've got an electrical grid everywhere, so getting a charge to your car isn't a problem, it's just a case of connecting something to the grid that charges your car."

Connecting to that grid has proven a challenge for EV owners residing in older condos without dedicated charging infrastructure. When the first EVs (and partial EVs like the Chevrolet Volt) entered the market at the beginning of the decade, battles soon cropped up in places like Toronto and Vancouver.

Condo-dwelling EV owners found themselves pitted against neighbours (and the condo board) who didn't want to fund the charger installation or the electricity being used. Not surprisingly, enterprising lawyers were quick to offer their services, but so too were organizations dedicated to easing EV owners into the gas-free lifestyle.

"We've been approached by a number of people who live in condos, who want to buy an electric car, but are held back by their living situation," said Brian Millar, communications advisor at Plug 'n Drive, an Ontario-based non-profit that aims to accelerate the adoption of EVs in Canada.

The big problem that arises, he said, is billing. Charging an EV owner for the installation and usage of a charging station in a common area (the garage) isn't something most condo boards are used to dealing with. That's why Plug N' Drive developed a downloadable guide to navigate owners through the process.

Integrating charging stations into new condo builds makes sense, said Millar, given the high cost of retrofitting them at a later date. Some can even be pay-per-use, where a driver simply taps their credit card to cover their charge.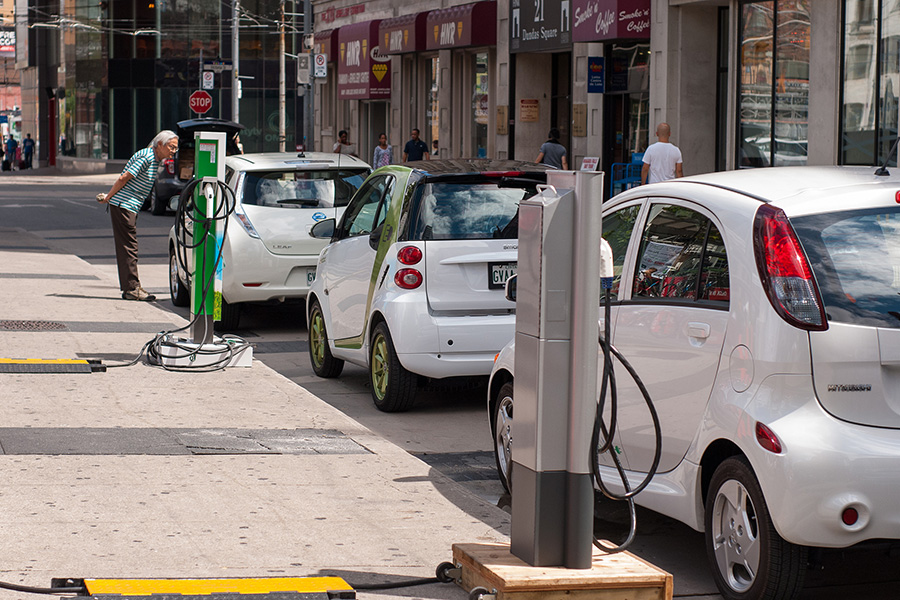 Given its environmental leanings, Windmill's EV infrastructure is commonly owned and makes up part of residents' condo fees.
Chantal Smith, who heads sales for the company's Ottawa division, said buyers who enter into a condo purchase knowing of the building's EV infrastructure and billing setup aren't likely to raise a fuss. That's been the experience at Cathedral Hill so far.
"The people who buy our condos are environmentally aware and want to promote the green features in the building," said Smith. "It's actually seen as a plus and a benefit to everybody."
With the help of organizations like Plug 'n Drive and others like it, EV ownership is becoming less stressful for condo buyers, and the federal government seems ready to make it even easier.
Since 2009, Canada's Electric Vehicle Technology Roadmap (evTRM) has looked at ways to foster the adoption of EV technology, using 2018 as a target date. The industry-led initiative, coordinated by Natural Resources Canada (NRCan), aims to bring a half million EVs to Canadian roads by that date through the updating of infrastructure, business models and regulatory policy.
Among the roadmap's recommendations is the amending of "building codes and other regulations to require that at least the rough-in for outlets for charging EVs is included in all new buildings."
Millar said that he and other members of Plug 'n Drive met with representatives from NRCan in late September and confirmed that is the direction the government is going.
"They've built into the new building code that all new buildings will be pre-wired for EV charging stations," said Millar. "That hits legislation in 2017."
The EV phenomenon–so far, anyway–has been more 'evolution' than 'revolution', but it has succeeded in delivering more choice to consumers and shows no signs of fading away. Hopefully, with more recharging infrastructure on the way, EV owners can soon say goodbye to range anxiety and constant battles with their neighbours.
Photographs by Plug'n Drive and Steph Willems