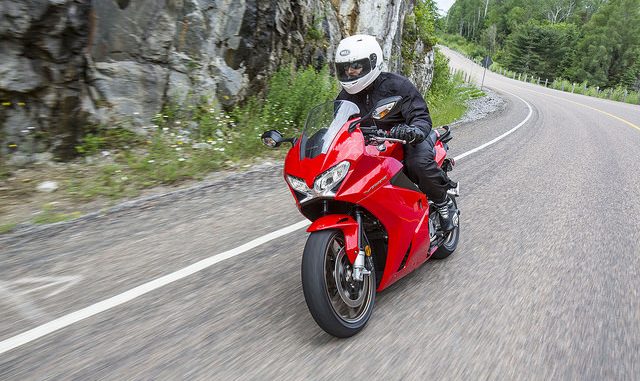 This article was last updated on April 16, 2022
Canada:

Oye! Times readers Get FREE $30 to spend on Amazon, Walmart…
USA:

Oye! Times readers Get FREE $30 to spend on Amazon, Walmart…

You see them on the street, in the city and in the country. The riders seem free as they go past you. You want to experience what it's like to be on two wheels. Becoming a motorcycle rider isn't cheap, but that feeling of freedom riding down a country road is priceless.
So you have your motorcycle license and now you are ready to purchase your first motorcycle? Here are a few pointers to get you started.
First bike and insurance
There are differing views on what kind of motorcycle to start with. In my opinion, any 250cc – 300cc motorcycle is a great beginner bike. By starting on one of these you don't have to worry about twisting the throttle and pulling a wheelie or losing control of the bike.
When you start with a less powerful bike, you can learn while giving yourself a little room for error and build a solid foundation of skills that can later be transferred to a larger motorcycle.
The now defunct Honda CBR250R and the Kawasaki Ninja 250R are popular starter motorcycles that can often be picked up for under $4,000 on the used market. If a new bike is more your speed, then there are multiple models of Suzuki 250s and Honda and Kawasaki 300s to choose from. With prices ranging from the low $4,000s to the mid $5,000s, they are small price to pay for that new bike smell.
I would suggest buying used however, because as a new rider you will most likely drop your bike at least once, and dropping a used bike doesn't hurt your ego as much as dropping a brand new bike.
Small displacement bikes hold their resale value very well. With a lot of new riders opting to start on these, they are always in demand on the used market. Often you'll find that you can sell your bike a year later for very closed to the price you paid for it.
Another good reason to start on a small displacement bike is the lower insurance premiums.
Personally, when I got my Ninja 250 I was 25 years old with less than a year of riding experience and I was paying $75 per month for it on insurance. Compare that to young riders insuring a 600cc+ motorcycle and they are easily paying double or triple that.

The safety conversation
Most people will tell you that riding a motorcycle is very dangerous, and yes it can be, for those who aren't prepared.