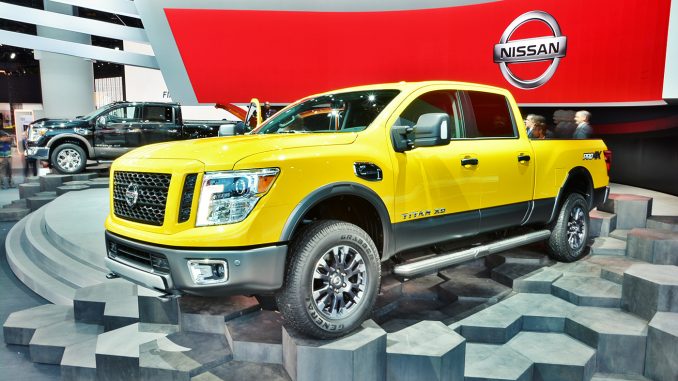 You can publish this article on your website as long as you provide a link back to this page.
This article was last updated on April 16, 2022

It may be badged a Nissan, but don't mistake the company's new truck as an Americanized Japanese vehicle. Nissan's all-new 2016 Titan is as American as they come.
The 2016 Nissan Titan was planned in Tennessee, designed in California, engineered in Michigan and Arizona, and being built in Mississippi. Nissan is sourcing most of the vehicle's components in North America with the diesel Cummins motor coming from Indiana.
Nissan made its national debut of the completely redesigned Titan pickup truck at the 2015 Canadian International Auto Show in Toronto this month.
Aiming to shake up the segment, Nissan will first be launching the Titan XD Crew Cab in late 2015.
Equipped with a 5.0 L V8 turbo diesel motor from renowned diesel engine builder Cummins, the Titan XD is rated for towing up to 12,000 lbs (5,443 kg) and carrying a 2,000 lbs (907 kg) payload.
"We worked hard with Cummins to push this motor to the power output we have now," said Rich Miller, the Chief Product Specialist for Titan and Director of Product Planning for Nissan North America. "By launching the turbo diesel equipped Titan, we are challenging the midsize pickup truck segment and expect positive reactions [from buyers] to the combination of power and fuel efficiency."
The Cummins motor in the Titan XD is an all-new unit for the engine manufacturer. According to Cummins General Manager for Global Pickup Business, Jeff Caldwell, the new turbo-diesel V8 features NVH (noise, vibration, handling) characteristics very similar to that of a gasoline motor. Ensuring that the motor can perform even in the cold climates–cue Northern Canada–the company uses ceramic glow plugs which are capable of a cold start in two seconds.
The Canadian connection
Two of the lead designers working on the Titan project are in fact originally from Canada.
Randy Rodriguez, originally from Surrey, British Columbia is the Project Lead Designer working on the new Titan's exterior design. He credits movies like 300 as inspiration for the truck's warrior facade.
"Our intention was to create a design that conveyed muscle and structure […it is] a very beefed up, bulked up look," says Rodriguez.
Senior Designer, Steve Moneypenny worked on the interior design of the 2016 Titan and grew up in Brampton, Ontario. His vision for the cabin of the truck involved combining warm and inviting with strong and durable.
"This is first and foremost a work truck […] and there is an honesty to the materials we've used," says Moneypenny about choosing materials for the interior of the Titan.
Here's an overview of the features you can expect on the 2016 Titan XD:



The second-generation Titan will also be offered in additional cab, bed, powertrain and model configurations aimed at increasing Titan's market segment coverage. Along with the Titan Crew Cab shown in Toronto, the new Titan will be available in King Cab and standard cab versions and with a 4×4 drivetrain. Future engine options will include a new gasoline V6 and V8. Further details on the 2016 Titan will be available later in the year.
Photograph by Kanishka Sonnadara. Images by Nissan Canada.
For editorial inquiries, Kanishka can be reached at kanishka[at]oyetimes.com.