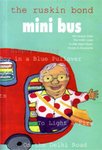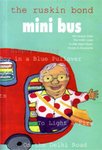 The book justifies its name. It is a journey of Ruskin Bond starting with his childhood and finally graduating to the present day. And for a change the journey ends with a foreword.
This journey is divided into four major sections
++ Himalayan Tales
++ The India I Love
++ A Little Night Music
++ Roads to Mussorie
Ruskin Bond takes us through his childhood through the Himalayan Tales.
The journey of discovering a pool, a river, mountains, glacier….the tales of childhood innocence where they were all eager to listen to a spooky story but post the story even a knock at the door was scary.
My favorite story from this section is The Cherry Tree, where a kid sows the cherry seeds he has eaten. What's his reaction when he sees the grown cherry tree after some years?
'Just one small seed, I Wonder, Is this what it feels to be God?'
This one line says so much. There are days when we question our existence & contribution to the world hardly realizing that we do make contributions through every smallest action.
In The India he loves, RB talks about the people he has met in life, about his extended family. The India he loves is the India he relates to, it's made of people he has met, bonded with, lived with. India for him is all about people, love & moments.
I loved the essence of this section. We go to new places, meet new people, acquire new assets and sometimes even start a new life. We always imagine ourselves to be in love with our new house, our new laptop, our new handset, our new friend. But is that what we carry forward later?
Nah! it's the memories which remain with us forever. People come in your life, move ahead, they even hurt you but what they can't take with them is the magic of those moments & memories, they will remain with us FOREVER.
A Little Night Music is a collection of lovely poems of Ruskin Bond. Ranging from a poem on cricket to flowers to children…sample this
Cricket never will be fair
Till Bowlers get their rightful share
For toiling in the mid-day sun.
What should be done?
It's simple –Make those wickets broader, taller!
That should make it much more fun, for the poor perspiring bowler.
PS And in the interest of the game, the size of the bat remains the same…
It is a collection of some lovely & simple thoughts. Many a times while reading this book I had a hearty laugh. Mr. Bond uses simple witty lines which make you smile.
Wouldn't you smile if he says that his overgrown tummy is a 'balcony'
Wouldn't you smile when he is explaining that writing under a chestnut tree is better than sitting on a chair & writing and bang falls a chestnut on his head….
In the third and final section of the book RB tells us about his life & escapades in Mussorie. He talks about places near Mussorie, about his days there it is a collection of random thoughts of days & nights spent in the city. His love & affection is reflected here…
When asked why did he not move out of Mussorie? He says, " I forgot to go away."
All in all, this book is a collection of thoughts & events. Sometimes random, sometimes in flow, one thing which keeps the book bound by is the theme. The theme of living your life to the fullest, taking in the bad with the good. Enjoying the simple things of life & moving forward.
I don't know how many times I have read this book but do you know how? I never leave a book mark in this one. I pick it up and randomly open a page and start reading it but never feel lost. Its so because it's a collection of thoughts, which can never be book marked, they are always in a flow; you can meet them wherever you want to.
This book is a must read for all Ruskin fans, wanna be fans, for those who enjoy simple things in life, those who are missing something or someone in their lives…those who want to smile….the book is a must read for all book lovers….
~~~~~My Dream~~~~~
There is a knight in shining Armor, he picks me up and transports me to Mussorie.
I land under the Chestnut tree, where Mr. Bond is busy scribbling his thoughts.
He is shocked to see me…
Hey Gal what are you doing here?
Sir, I had a dream to meet you and here I am with a small request.
He asks me, What's your request dear girl?
Sir, will you take me through the mountains, the pools, the river, the nook & corner of Mussorie?
Will you let me put my hand in the crook of your arm?
Will you show me these places as you see them?
Will you show me how to see the beauty in these simple things?
I want to learn to live with these simple things, I want to smile on the simplest things…
Sir, will you teach me????
I will also thank him for being with me through my sad days & bad days, will thank him for making me realise through his writings that life is all about loving, caring, finding joy in small things & living.. Its about meeting new people making memories with them, take them with you if they want to, if they don't gift them some memories so that even if you are not around you are missed….its about letting go and moving forward in life…..
Trivia about Mr. Bond
He is yet to use any kind of word processor. He prefers writing by hand and writes on anything he can get his hands on. The reason for not using the word processor is simple, he says he can not carry it with him to mountains; valleys; he can not carry it with him under his
favourite chest nut tree…
Our dearest author can read the book upside down….he got this habit in his childhood when he used to accompany his father to school and used to stand opposite the students
Book : The Ruskin Bond Mini Bus
Publisher: Rupa & Co.
Price: Rs. 295/-
Click HERE to read more book reviews.