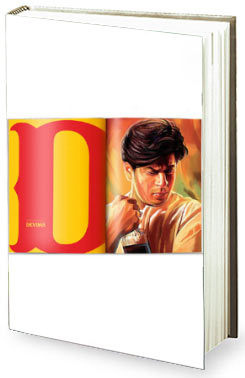 'SRK – 25 Years of a Life' – That's a very well worded title of the book that has just been unveiled. When the superstar in question is none other than Shah Rukh Khan and it is time to celebrate his 25 years in the industry, everything about it has to be ultra-special. This is something that you realize the moment you catch hold of the coffee table book and one thing that immediately strikes you is 'packaging'. Never before, that's right, never before has a coffee table book from Bollywood entertainment business carried a look and feel like the way SRK – 25 Years of a Life carries and this is what catches your attention.
The book has an ultra-elegant design with a classy appeal to it, something which justifies (to an extent) a steep price tag that it carries. Right from the external casing to the cover to cover design to the quality of material that has gone into making the book to the perfect mix of written and picture content that is on display, you just can't help but fall in love with this effort that has been put together by author Samar Khan and designer Nitin Srivastava. In fact such high quality is the product that is on display that you want to pretty much preserve it for eternity. That, when you are yet to turn over a single page of the book.
Fortunately, the content that you get to read is also truly engaging (and at many places, entertaining) which makes the book a further interesting fare. The intent of the book is to introduce (and at places re-introduce) Shah Rukh Khan from the eyes of the filmmakers that he was worked with over the years. Each of them dedicates a chapter each about the man who has been living life on his own terms for over 25 years in the industry. While Shah Rukh Khan pens the introductory chapter and Samar Khan too shares a few snippets about what led him to author the book, one moves on what the makers have to say.
Samar Khan, with good help from writer Sonali Kokra reaches out to 30 directors with whom Shah Rukh Khan has worked over the years. Of course there are the usual suspects like Rohit Shetty, Karan Johar, Farah Khan, Yash Chopra, Aditya Chopra and Sanjay Leela Bhansali from the recent times who talk about the man that he is. While it is interesting to read what they have to say, there is a lot of stuff in there that you have either read in countless interviews during the promotion of their movies or come across some of the other generic feature write-ups.
What makes this book further exciting is to go through chapters by those filmmakers from whom you haven't heard much about Shah Rukh Khan in the years gone by. So when Mansoor Khan talks about Shah Rukh Khan, you want to check out why Aamir Khan hated Josh and felt that he could have done a better job than Shah Rukh Khan. Or when Mahesh Bhatt remembers the time spent with Shah Rukh Khan, he shares an interesting anecdote around how he is the only filmmaker to have given two flops with the superstar.
Or when Abbas-Mustan remember Baazigar, they reveal how Shah Rukh came with the idea of one of the characters wearing contact lenses and another spectacles. Or when Kundan Shah talks about Kabhi Haan Kabhi Naa, he reveals how Shah Rukh was whisked away from the sets at gunpoint by the makers of Deewana. Or when Shimit Amin reminisces Chak De! India, he mentions how an industry insider told him to stop airing the film's promos since he felt that they were terrible!
It is these very anecdotes that make SRK – 25 Years of a Life a truly brilliant read since you get to know many incidents from the actor's life that have probably not been documented in the past. As a matter of fact, some of the filmmakers also come out in open and talk about things that they have possibly not spoken to Shah Rukh Khan before. This is evident most in Subhash Ghai's chapter where he talk about how things changed from
Trimurti
to
Pardes
and then it all ended on a bitter note when the duo couldn't end up working together on former's passion project, Motherland.
What stays common though in each of the chapters is every filmmaker pretty much acknowledging how Shah Rukh Khan has carved his own destiny, how he was a superstar in the making right from the time he stormed into the scene, how he is a professional who thinks from his heart and makes decisions from his mind, how he has carried himself successfully with the sense of respect staying consistent right through and how as an emerging brand, his decisions to work on films that demand a lot from him as an actor has been comparatively lesser when compared to his earlier days.
That said, while the book is a collector's delight, what makes it all the more beautiful on eyes are the countless paintings of various characters that Shah Rukh has played over the years. This is what makes this a true coffee table affair though surprisingly the painters (Uday Mohinte and Rohit Sharma) find only a passing mention. There are a few typos/errors as well that could have avoided, case in point being Shah Rukh Khan's character in Chennai Express been mentioned as Raj instead of Rahul (and that too in the first chapter itself), Goregaon been tagged as Gurgaon, Rahul Rawai's Bekhudi been mentioned as Betaab and Anubhav Sinha's movie Cash been mentioned literally as 'cash' as a part of the sentence! This isn't all as in the pictures section, there are a couple of pictures that are repeated twice, and alarmingly a pair of repeated pictures comes on the same page!
As is the case though with any piece of art, there isn't anything that eventually comes across as flawless. SRK – 25 Years of a Life is one such piece of art as well, though nothing could really stop a Shah Rukh Khan's aficionado to catch hold of a part of his life through this book!
Price: Rs. 4500/=
Rating: ****1/2
Click HERE to read the original article.



Loading ...