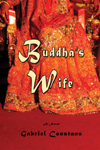 You can publish this article on your website as long as you provide a link back to this page.
This article was last updated on May 19, 2022

Buddha's Wife
is a novel about empowerment, compassion, inspiration, love and forgiveness. Thousands of books, texts and stories have followed Siddhartha's path to becoming The Buddha and his teachings, but little has been written about his wife Yasodhara, how she reacted to his leaving her in the middle of the night and her fight in later life for nuns to have equal rights.
Several acclaimed authors and writers were gracious enough to read Buddha's Wife. Here's what they say:
Buddha's Wife tells a fascinating story, little known in the west, about the woman whom Buddha left behind. Gabriel Constans focuses the reader's attention on the strong and complicated women who surrounded Buddha and makes us rethink the nature of spiritual life.
~ Chitra Divakaruni, American Book Award winner, International best-selling author of Mistress of Spices, Sister of My Heart, Palace of Illusions, among others
Buddha's Wife is an awesome read, insightful, woman loving—a challenge to all spiritual seekers to rethink, revise, and dream anew.
~ bell hooks, Professor, activist, and author of national best-seller all about love
Buddha's Wife is a remarkable re-creation of Yasodhara's life. It is very readable and engages readers in the complexity of issues many women have raised about Gotama the Buddha's life and practice.
~ Katherine Thanas, Abbot, Santa Cruz Zen Center
Buddha's Wife is a novel about compassion, inspiration, and forgiveness. What happened to Yasodhara and her newborn son, Rahula, after her husband (Siddhartha, a.k.a. Buddha) left her sleeping in the middle of the night to seek enlightenment?
As Yasodhara lies close to death and shares her experiences as a young girl, a wife, a parent, and then a nun, her son Rahula, who has been in self-imposed exile in Sri Lanka, attempts a perilous journey with his wife and child to reach his mother before she dies and release the secrets about his father, Buddha, that he's kept buried inside. Will Rahula and Yasodhara's dharma sister reach Yasodhara in time to ask for forgiveness? Can anyone ever forgive the unforgivable?
REVIEWS: Elephant Journal. Book review: Buddha's Wife (Gabriel Constans)
by Todd Mayville on Jul 15, 2009
The story of what happened to Yasodhara, the wife of Siddhartha, and their son after he left them both in the middle of the night to seek enlightenment is one of the more compelling yet least talked about stories in spiritual literature. In Buddha's Wife, author Gabriel Constans explores that story in a fictional tale that is both captivating and moving. Buddha's Wife opens at the end of Yasodhara's life. Long time friend Ananda is caring for the ailing Yasodhara as friends and family gather to say their goodbyes (the Buddha himself having passed away some years earlier). Rahula, who in this story has outlived his father and did not choose ordination, has become estranged from his family, but is on his way from Sri Lanka to say goodbye to his mother. Ultimately, this tale is about the role of women in the life of the Buddha and within Buddhism's earliest days as much as it is a story of compassion and forgiveness.
Yasodhara's life and that of those close to her are replayed through a series of flashbacks framed as conscious memories being relived by the various characters in the novel. In a similar vein to Marion Zimmer Bradley's Mists of Avalon, Buddha's Wife retells an important story from the point of view of the women of that story. It explores many issues during Buddhism's initial appearance and development from a different point of view, especially that of the Buddha's view on women and enlightenment, including the famous conversation around that issue with Ananda. Through Buddha's Wife, we see the Buddha not only as an enlightened being, but we especially see him as a man, and it is this humanizing of the Buddha that makes his achievements all the more attainable for all of us. One of the best books I've read this year, Buddha's Wife is available in August and available for pre-order from your local, independent bookstore. (Shop local, shop independent, and tell 'em you saw it on Elephant Journal!)
ABOUT THE AUTHOR: Gabriel Constans (see photo under product images above) is a freelance journalist who writes for magazines and newspapers throughout North America, Europe, Asia, and Africa. His short stories have appeared in numerous literary journals and magazines. Other passions (besides his 5 children, grandchild, and wife) are raising funds for the Rwandan Orphans Project in Kigali.
Buddha's Wife
by Gabriel Constans
Category: Fiction
Soft cover, 192 pages, $14.95
ISBN: 978-1-934759-29-5
Publication Date: August 24, 2009
World Rights Available