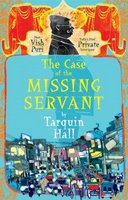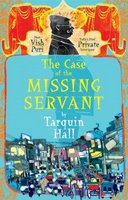 Let me make myself very clear at the outset. I have never been a fan of who-dun-it novels by Indian authors or who-dun-its based in India. The only one that I have liked in recent times was Krishnna's Konfession & that too I attribute to the fact that it was chick-lit cum mystery novel. My last attempt at Indian thriller (though I must accept it wasmore of a love story) was "My Friend Sancho" by Amit Verma. The book though listed Man Booker Prize in 2007 (!!!) was just about average. So when I heard about "The Case of the Missing Servant" I wasn't very excited but two facts made me pick up the book
– It has got rave reviews
– It was listed in the 'HT Page Turners to pickup in 2009' & the list is yet to fail me.
The cover & the catch line "Meet Vish Puri India's Most Private Investigator" reminded me of "The No. 1 Ladies Detective Agency" but that's where the similarity ends.
Vish Puri, a pot bellied 51 year old man is the MD of India's Most Private Investigator Ltd. From screening grooms for matrimonial alliances to murder mysteries Mr. Puri has done it all and is considered to be the BEST in the business.
He has a team of undercover operatives with cutest nick names in town; Tubelight (because the man is slow), Facecream (because the girl is fair), Flush (his was the first house in the village to have a flush) and his ways of investigating are bollywoodish!!!
Mr. Puri's lands with one of the most complicated cases in recent times when a Public prosecutor is accused of murdering his maidservant Mary.
He faces the indomitable task of finding Mary who was just another face in the crowd & has now vanished in thin air. Even before he can seriously start his search the police claim to have found her body and arrests Mr. Kasliwal.
Can Mr. Puri solve the case?
Can he prove the innocence of his client???
Well that's not the only worry that he has in his mind. While watering plants at his home Mr. Puri miraculously escapes an attempt on his life and it is then that the detective instincts of his mother raises its head and nothing he says can discourage her from the case of shooting on his son. Needless to say the situation gets quite a many chuckles out of us.
The book is
– A Page Turner
– Racy
– Cute
– Funny
– Adorable
Sample this, Mr. Puri a hot shot detective leaves for Jaipur for an overnight trip but no one at home has any clue about the trip and this is how he explains things to his zapped driver
"I have packed my overnight things in the cardboard box. It was not possible to explain all this to you at home. Everyone is doing gossip".
A detective who can not keep secrets in his home 😀
The writing is taut and the description of India very colorful & real. The driver of Mr. Puri, Handbrake loves his job but hates the fact that his boss asks him to follow traffic rules & speed limit. The later meant giving way to traffic & this humiliated him to no ends. Isn't that the mentality of every 2nd Indian?
What makes the accurate description specials is the fact that the author is not an Indian national. No where does he go overboard in description. The mystery when solved leaves some loose ends but I felt the humor & the writing quite makes up for every small flaw.
I won't spend much time in shredding or appreciating the book & all I will say is.
A who-dun-it with Indian Tadka can not get better than this. Not at all over the top, has lovable characters & the taut writing makes the book an immensely entertaining read. I am now waiting for a series of cases to follow. So go grab your copy NOW!!!
I would give it a 4 star rating!!!
Author: Tarquin Hall
Publisher: Random House
Price: Rs. 430/-
Click HERE to read more book reviews.