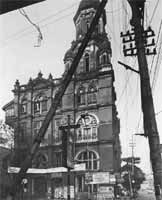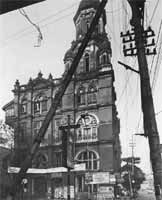 Some cities are defined by light, some by sound. Venice, poets say, is beautiful at sunrise. The cornices and columns are more prominent. Their silhouettes, more striking than their features. Daylight is less kind to Calcutta, especially on those parts that make visible the evidence of past grandeur. White & Black, an exploration of Calcutta's social history through text and pictures, focuses on the imperial quarters — Dalhousie Square — and the people who live beside it.
Dalhousie is Calcutta, not Kolkata — that ungainly bastard child birthed by Bengali chauvinism and the politics of a degenerate state. In Calcutta, the Armenian Church was an equal landmark with Laldighi and Victoria Memorial. There was an audience for live bands at the Great Eastern Hotel. Nahoum's, a Jewish patisserie, did good business in New Market.
Grand offices, roads, arcades, as the book points out, airlifted London, as it were, in the days of the Empire. This was the Second City of the Raj.
The reverse couldn't be more true. Shabbier, poorer, isolated and cloaked by an end-of-empire melancholy, Dalhousie is now the detritus and the drying up of West Bengal's cosmopolitan spirit, which, to begin with, wasn't egalitarian and inclusive.
The book is thus a fitting museum of 'objects' and people, some tied to dying professions: the solitary typist smiling wanly into the camera in front of the court; the small-time trader for whom this city was the city of fortune; a Marwari businessman's old and unused family gaddi; walls plastered with idiosyncratic graffiti; a pavilion at Fairlie Place erected by the Nawab of Dhaka, now turned into a makeshift kitchen.
Dalhousie, in White & Black is, however, a beautiful frieze. The visual portrayal of decay is not quite matched by the text of Soumitra Das, who seems to have experienced that 'falling apart' from the outside.
Desmond Doig, who wrote and illustrated Calcutta An Artist's Impression, published by The Statesman, had found a way to make buildings tell their own story. That way, is the way of flânerie and anecdote. So, while we had a Mr Mukherjee telling Doig about a Raj Bhawan bearer, who when asked about the Ceasar busts in the complex, replied without hesitation that they were of "Calcutta's first memsahibs", in Tagore Villa, a young Tagore outlined his contribution to the family residence thus: "filling the pool with a ton of river mud to raise lobsters." Stories of decay need good characters. But you have to keep asking them the right questions.
White & Black Journey to the Centre of Imperial Calcutta
Photographs: Christopher Taylor
Text: Soumitra Das
Niyogi books