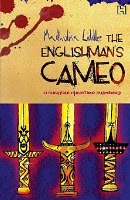 This article was last updated on May 19, 2022
Canada:

Oye! Times readers Get FREE $30 to spend on Amazon, Walmart…
USA:

Oye! Times readers Get FREE $30 to spend on Amazon, Walmart…

This was one of the books mentioned in the "Page Turners to Pick Up in 2009" which appeared in Hindustan Times. I wrote about it here.Having read some encouraging reviews I decided to pick the book.
What is it all about?
Set in 1656 the book is a murder mystery. Muzaffar Jang is an aristocrat who has friends in unlikely places. By unlikely places I mean people in low places like a boat man, a worker in a jewelry shop etc. H had been leading a peaceful life when one fine day a lady decides to pay visit to him. The lady's husband Faisal (Muzaffar's good friend) is accused of murdering Mirza Murad Begh a tax official. Muzaffar Jang takes it on him to solve the murder mystery and get Faisal acquitted of all charges.
What follows next is an encounter with a beautiful courtesan, a trail of murders, some adventure and the solving of the mystery.
What I think about the book!!
I had loads of expectations from the book but it doesn't rise beyond being a mediocre read. Though the mystery is solved in the end but it leaves you with so many questions
Why would an aristocrat show so much interest in solving a murder mystery? Not only that why would he risk his own life?
It is unbelievable that somebody is so free that he is ready to travel for 3 days to a different city only the basis of a hunch that too in older times when traveling was a pain.
The way Muzaffar Jang shown investigating the case is beyond me. On the basis of the mere fact that his Brother-in-law is a kotwal he manages to get in through everywhere and even people co-operate! Unbelievable!
The escape in the end, the Englishman's appearance, coincidences, conclusion etc. are all little too convenient & despite the fact that the murder is solved there is a sense of incompletion and the motive behind the whole thing is not strong enough.
There are many more points which I can write here but then the fact is it's not worth the effort. For me a murder mystery is good only if the motive is strong enough and at the end of the book you should feel "yes it makes sense" and this is where the book lacks hugely. I felt that it has been written for the sake of writing and the passion is missing in here.
I finished the book because all said and done you can not leave a murder mystery in between but it was a half hearted read. I was more interested in finishing this because I wanted to start the next book in line and trust me as I read the last page I was relieved! You can read it if you want to read about Mughal Era Delhi but then I feel even the setting is incidental and doesn't leave you enthralled & nor does it leave you wanting to know more about Delhi.
I would give the book 1.5 stars! A disappointing read because a murder mystery without the chills thrills & correct motive is as bad as Golgappa's without spice & water 😉
The Englishman's Cameo – A Mughal Murder Mystery
Author: Madhulika Liddle
Publisher: Hachette India
Price: 295/- INR
Click HERE to read more book reviews.

You can publish this article on your website as long as you provide a link back to this page.