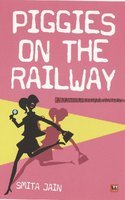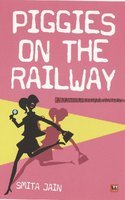 This book topped my most awaited list of books for the simple reason that I had loved the last book from the author and have been an avid follower of her writing through her blog, needless to say but I love her style of writing. The book was grabbed as soon as my book store got it for me.
Piggies on the Railway is a chick-lit cum mystery cum detective novel and is the 1st in a series of detective novels. Kasthuri Kumar (Katie), an ex-IPS officer is trying to establish herself as a Private Investigator in Mumbai when she lands up with a high profile case. Kaustav Kapoor, Bollywood's leading film producer contacts her to find the heroine of his movie who has suddenly gone missing.
Our leading lady tries to make some inroads in this case when she stumbles upon a corpse and thus begins the roller coaster ride called Piggies on the Railway. Katie has too much on her plate with too many a suspects & each of them having a strong enough motive, Tejas Deshpande (another PI) behind her trail, more corpses and some false alarms. Her fantasy about Kaustav Kapoor, her already married ex-boyfriend & the attraction she feels towards Tejas is only making the matters worse for her.
Where did Urvashi go?
Could it be her affair with Kaustav which brought this on her?
Or is it just a publicity stunt by the producers?
Read the book to know more….
The book has everything going for it BUT it failed to turn me on and I would largely blame the editing for it. For a who-dun-it the book runs too long and meanders here n there unnecessarily. The beginning where Katie is shown fantasizing about being a Page 3 Icon, wearing some glossy gowns et al looks unnecessary, forced and makes you think that there is a hangover of Becky Bloomwood lurking around. The worst thing is that this characterization i.e. of a wannabe film star is conveniently forgotten later, may be it would come in the later books of the series but here it is a total waste of space & words.
The other grouse that I had with the book is that it sticks to the myth that too much confusion & too many suspects make a good mystery. Unfortunately it leaves us with too many things on our plate and too many lose ends left lose. What pops out is a bollywood masala kind of book which has too many convenient twists & turns.
I remember when I was just few pages away from the end I thought "what's the significance of the title." You need to read till the last few pages to know that!
What could have been an entertaining read remains an average read for me. Yes, I would agree that once you start reading this book you would want to finish it because it is difficult to leave an unfinished mystery but for me the whole journey to read the book should be a pleasure and sadly in this case it isn't! I tried too hard to like the book but unfortunately I disappointed myself because the book disappointed me.
What is commendable about the book is an effort to create a series of books with a lady protagonist in center. This is something new and really contemporary 🙂
Read it if you like a cocktail of chick-lit & murder mystery. An enjoyable read in parts but loses focus here & there! If only it was edited well & too much was not put into it. Despite my disappointment with the book I am looking ahead for the next book in the series.
My Rating : 3 stars!
Piggies on the Railway
Author: Smita Jain
Price: 295/-
Publisher: Westland
Click HERE to read more book reviews.