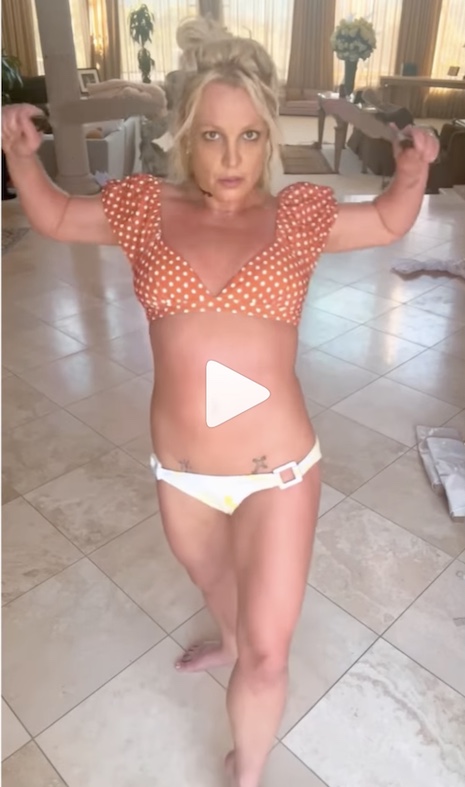 This article was last updated on September 27, 2023
Canada:

Oye! Times readers Get FREE $30 to spend on Amazon, Walmart…
USA:

Oye! Times readers Get FREE $30 to spend on Amazon, Walmart…There's one group of people who might NOT be so thrilled that the strikes in Hollywood seem to be ending – those in charge of promoting Britney Spears' upcoming memoir, The Woman In Me. Britney's tell-all tome is supposed to hit bookstands on October 24, but according to our insider, her publishers were NOT upset that the Hollywood strikes might have prevented her from doing publicity to promote the autobiography. Now that the strike seems to be ending, some connected to the project fear that Britney is in no mental condition to go on a grueling book tour. If she babbles incoherently, it's going to be a hard sell to make any reader believe she wrote any of the book!
Over the past few years, Britney Spears has been in the spotlight for her personal struggles with mental health. From her highly publicized breakdown in 2007 to the ongoing conservatorship battle with her father, Spears has faced numerous challenges. While she has made a comeback in recent years with successful music releases and a Las Vegas residency, the question remains – is she ready to face the pressures of a book tour?
The Woman In Me
Britney's upcoming memoir, titled The Woman In Me, promises to reveal a side of the pop star that few have seen before. The book is said to delve into her personal life, including her rise to fame, relationships, and struggles with mental health. Fans have been eagerly anticipating its release, hoping to gain a deeper understanding of the woman behind the music.
Fears of an Unstable Tour
With the Hollywood strikes possibly coming to an end, there is concern among those involved in the promotion of Britney's book that she may not be in the right mental condition to embark on a demanding book tour. The fear is that her rumored incoherence could lead to a lack of credibility in her role as the author of the memoir.
One industry insider stated, "We don't want Britney going on a book tour if she isn't able to effectively communicate with her audience. It's crucial that she comes across as coherent and genuine during promotional events." The concern is valid, as a book tour requires extensive interviews, public appearances, and interactions with fans.
Supporters and Skeptics
While some are worried about the potential impact of Britney's mental health on the book tour, others argue that her struggles could actually be seen as a strength. They believe that her honesty and vulnerability in sharing her story could resonate with readers and create a deeper connection.
A fan of Britney's, who had early access to a copy of the memoir, expressed their support, saying, "Britney's book is a raw and powerful account of her life. It's brave of her to open up about her struggles, and I think people will appreciate her honesty." This sentiment is shared by many who believe that Britney's experiences could inspire and uplift others who may be facing similar challenges.
However, there are skeptics who question the authenticity of Britney's story. They argue that with the ongoing conservatorship battle, Britney may not have full control over the narrative presented in the memoir. These skeptics worry that the book could be censored or manipulated to fit a certain image, making it difficult for readers to truly connect with Britney's experiences.
The Future of the Book Tour
As the end of the Hollywood strikes looms near, the decision regarding Britney's book tour hangs in the balance. It is clear that there are valid concerns about her ability to effectively promote the memoir in her current mental state. However, it is also important to consider the potential impact of the book and the support of her dedicated fanbase.
The final decision will ultimately rest with Britney, her team, and her publishers. Whether she chooses to go ahead with the book tour or not, one thing is certain – the release of The Woman In Me is highly anticipated and will undoubtedly generate significant media attention.
Moving Forward
Regardless of the outcome, Britney Spears' bravery in sharing her personal journey is commendable. Her willingness to open up about her struggles with mental health has sparked important conversations and shed light on the challenges faced by many in the entertainment industry.
The impact of The Woman In Me may extend far beyond its initial release, serving as a source of inspiration for those who have felt silenced or marginalized. Whether through a book tour or other means, Britney's story has the power to make a lasting impact.
You can publish this article on your website as long as you provide a link back to this page.