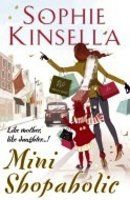 This article was last updated on May 20, 2022
Canada:

Oye! Times readers Get FREE $30 to spend on Amazon, Walmart…
USA:

Oye! Times readers Get FREE $30 to spend on Amazon, Walmart…

It's a known fact that I am a big big fan of the Shopaholic series and Becky Bloomwood and thus I made it a point to buy the book as soon as it was available in India. I paid big money for it as it's a trade Paperback copy but now I can that it was money well invested.
Yes the new offering from Sophie Kinsella doesn't fail you. The book starts from where the last one (Shopaholic & Baby) ended, Rebecca Brandon nee Bloomwood, her husband Luke & newborn Mini have shifted to Becky's parents place and her husband is fighting a mighty corporate house for what is right.
Cut to two years later they are still putting up with Becky's parents; as each of their home deals has fallen through as if shifting to their own place is jinxed. Mini, Becky's daughter is quite a handful and is bordering on being a problem child though in her typical manner Becky is in denial. Our lady is still a true blue shopper and is proudly passing on the genes to her little one; yup Mini too is a shopper to the core 😀
When recession hits everyone hard Luke makes Becky promise to stop her shopping ways! But will Becky keep her promise? Can a true Shopaholic stop herself?
Then there is this small surprise Birthday Party which Becky is planning for Luke. The only problem with the party is that no one trusts Becky to handle a party (going by track record) lest keeping it a secret. Will the party be a success or will it fall through?
The book is a typical Shopaholic series & is a pleasurable breezy read. The best part about it is that it is readable even if you haven't read any of the other from the series. Becky in her typical manner gets into a soup and manages to come out of it. I specially loved her interaction with her parents who are a laugh riot. Their ways of saving money to ride off recession are hilarious. Another highlight of the book is Becky's interaction with Luke's secretary. My only grouse with this book is that it has very little of Mini, Becky's daughter. I was anticipating a lot on that front but didn't find it.
As I said a breezy pleasurable read this one has Becky in true form. Gives you many a chuckles a total time pass. The book ends on a promising note of another one in the series 🙂
If you are Becky fan go for this one and even if you aren't am sure if you read it you will become one 😉
4 out of 5
Author: Sophie Kinsella
Price: 550/- (Available @ Rs. 385 at Flipkart)
Publisher: Random House
Click HERE to read more book reviews.