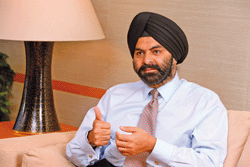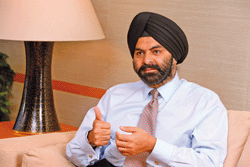 Ajaypal Banga, Asia-Pacific CEO of crisis-ridden behemoth Citigroup, will get a package of about Rs 90 crore as the new second-in-command at payment services firm MasterCard–an offer that could be billed as the biggest package in the current state of the global economy.
Banga will join MasterCard as its new President and Chief Operating Officer on August 31 and could possibly become CEO of the global financial services giant within a year's time.
As per his employment contract with MasterCard, Banga will be paid around USD 2.15 million (about Rs 10 crore) in salary and other allowances every year and would also get a one time benefit totalling about USD 15.9 million (about Rs 80 crore) including a sign-on bonus of about USD 4.2 million.
The package, which includes over USD 11 million to be paid through stocks and remainder in cash, makes Banga the highest-paid banker after American Express CEO Kenneth Chenault and Citi chief Vikram Pandit as per the disclosed remuneration paid to the two in the year 2008.
For the year 2008, Chenault's total compensation amounted to USD 42.8 million, while Citi's Vikram Pandit received pay packet of USD 38.2 million.
However, the package for both Pandit and Chenault could come down in 2009, which could probably make Banga the highest paid banker. Pandit has already said he will only take a token salary of one dollar while the other components of his compensation package are also expected to go down.