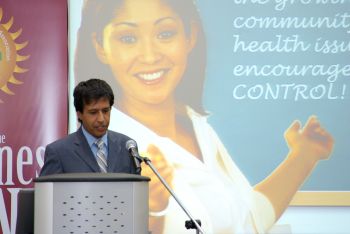 SAPNA celebrates its 1st year of working to increase awareness of health issues facing South Asians in Canada on June 26. We'd like to thank you for being a part of SAPNA – through word of mouth, emails, Twitter, Facebook, LinkedIn, and attendance at events.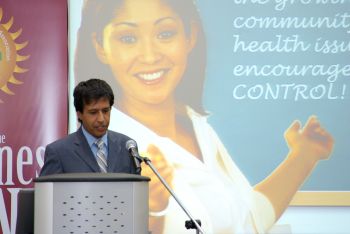 In 12 short months, with the support of members like yourself and many volunteers, SAPNA has achieved the following:
Formally marked the beginning of a not-for-profit organization which focuses on raising awareness of the health issues facing the South Asian community in Canada through a launch party at GSK.
Increased the number of Board of Directors to help provide better strategic direction and transparency.
Recruited about 40 volunteers (also known as the "Dream Team") to help refine SAPNA goals and objectives and keep things moving forward.
Creation of the Health Education and Networking Team, the Healthy Cooking and Cookbook Team and the Health Expo Team. These are initiatives developed by the Dream Team. Talk about community involvement!
Partnered with a number of organizations such as the Heart and Stroke Foundation of Ontario, other South Asian non-profit groups like SAHHG, government, and corporate partners such as GSK, and AstraZeneca. This added credibility to the organization and provided SAPNA with more tools and resources to increase awareness.
Demonstrated our support of various South Asian organizations via attendance at numerous Community Health Fairs, the SAHHG Annual Awards Night, Sikh Centennial Foundation Gala, RBC DesiFest, and the ICCC Gala.
Through partnership with Glenn Abbey Golf Club and Whole Foods Market, AND participation of Sunita Mohan and Sona Khanna, launched successful Cooking Demonstrations where participants learned how to cook tasty foods in a healthy way.
Hosted a tremendously successful Healthy Heart Networking Event at AstraZeneca with a full capacity attendance of over 200.  Dr. Colin Saldanha and Dr. Milan Gupta presented statistics on the prevalence of heart disease and other health issues affecting South Asians and the associated risk factors. Sunjay Nath – an engaging professional speaker, talked about his 10-80-10 principal, a concept that helps organizations and teams perform at a dynamic level. Overall, it was an interactive event and the crowd particularly enjoyed the networking.
Garnered a fair amount of media attention in the past year including features in a number of newspapers, radio and television networks such as The Brampton Guardian, StarBuzz, The Weekly Voice, 680 News, CBC Radio, OMNI Television, ATN, and Rogers Daytime TV.

So what's in store for the future?
SAPNA will continue to hold events that raise awareness, educate and empower South Asian Canadians. We plan on initially focusing on heart disease and diabetes since those are the major health issues facing South Asians. We will continue to build strategic alliances with established and mentor organizations that share SAPNA's goal of a healthier South Asian Canadian community. We will also have more grassroots initiatives to help individuals take control over their health and wellness.  Since personal growth is part of our mission, we will continue to hold networking and other events that give members the opportunity to contribute their expertise, and also learn, grow and develop or augment their leadership and general business skills.

Want to be a part of that future?
 In addition to coming to the events, we need your help with spreading the word, leading and organizing events and even initiating your own events that are consistent with SAPNA's mission of improving the awareness of health-related issues within the South Asian community and personal growth of its members. Send us an email at info@mysapna.org and we'll take it from there.
If you haven't already done so, formally join SAPNA, follow us on Twitter, and connect with other SAPNA members on the Facebook fan page and LinkedIn Group. You can also help by forwarding this article to those that you think would benefit from knowing about the health issues facing South Asians and what SAPNA is doing about it.