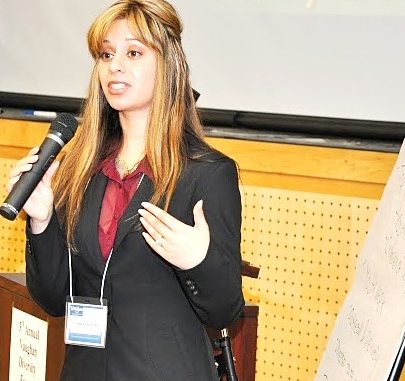 Tahmena Bokhari, social worker and diversity professor at Seneca College, speaks at a diversity forum in Vaughan. Ms. Bokhari started by discussing the importance of community involvement. She thanked the attendees for getting connected to the issues, however she asked the audience to consider, "Who is not here and why?".
The event was the third of its kind in Vaughan, organized by the City's Community Diversity and Equity Committee. The Committee is chaired by Thornhill Councillor Alan Shefman and run by dedicated community volunteers. The event comes just a short while after the City shares its new Master Plan.
Oye! Times had an opportunity to chat with Ms. Bokhari after the diversity forum. Bokhari, a long time advocate and expert in diversity asserted that we must expand our definition of diversity from ethno-racial identity to all forms of diversity including disability, gender, and sexual diversity. Bokhari says that we should not be reinventing the wheel, but we can certainly modernize it. "Far too often we equate diversity initiatives with multiculturalism, and that is the wrong path to go down. We have a chance to learn from other cities as well as decades worth of research and writing on diversity in Canada." She further went on to say that cultural festivals are a good start, but not the solution.
The event was structured with break out sessions to discuss in detail four main areas including city services, barriers diverse communities can face and the role the city can play in promoting diversity. In Bokhari's small group discussion with community participants, grants for cultural groups and equitable access to public space was discussed. She stated that, "We know sports, cultural festivals, pageants, concerts, displays of dance, clothing and food, are all fun and non-threatening ways of meeting our neighbours, educating our children on diverse communities and promoting a connection to one's local community. However, we need to go further than the fun stuff to address serious matters such as hiring barriers, glass ceilings, racism and hate crimes. The City must take on a leadership role with strong champions spearheading this cause."
Earlier in the week, Ms. Bokhari attended another event in Vaughan which was meant for municipalities to look at issues of anti-racism. It was held by the Canadian Coalition for Municipalities Against Racism and Discrimination, supported by the Ontario Human Rights Commission and driven by UNESCO, a United Nations agency. Speakers included Vaughan's Councillor Shefman, along with others including staff from municipalities across the country. "I am proud that Vaughan was the first municipality in the Region of York to join this coalition", says Bokhari. Bokhari previously worked on the Town of Markham's diversity initiative as well as chaired one of the Region of York's Inclusivity Action Plan Committees. "We have an opportunity as a city to demonstrate leadership not only to businesses and organizations in Vaughan, but to all cities across Canada."
Bokhari lectures on diversity and discusses the importance of understanding equity as oppose to equality. She stresses the awareness on accommodation and special rights, indicating that "we must get our heads around the idea of treating different people differently in order to achieve social justice and equitable outcomes." This would mean making city services accessible to the hearing impaired, deaf and blind communities, ensuring language is simple on signage and multilingual services are provided over the phone and on written materials. It would also mean equitable human resource policies and appropriate outreach to ensure all communities are engaged. In addition, there is the issue of inclusivity vs diversity, wherein Bokhari stresses we must ask if persons of diverse backgrounds are all included in the centre of civic activities.
With all the debates surrounding this issue, Ms. Bokhari remains optimistic. "With all the work ahead of us, I am still very confident that we as a city made of diverse and talented people can do it!" She hopes to continue to raise awareness and work in the community on these and other important social causes.