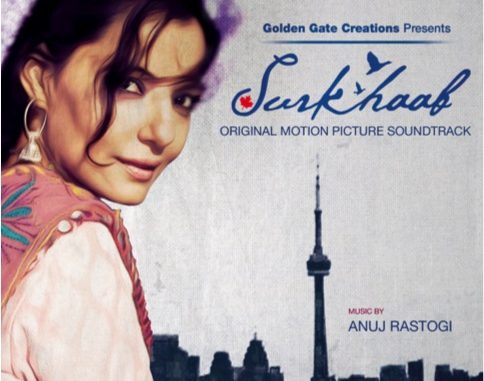 Rising film composer and music producer Anuj Rastogi will be releasing the soundtrack for "Surkhaab", the second feature film produced by Golden Gate Creations LLC. Releasing on Omnesia Records, "Surkhaab" the Official Motion Picture Soundtrack features a haunting and evolving original music score that spans as many styles and situations as the film's protagonist through her incredible journey.
Featuring 34 tracks, all original music cues from the film as well as additional renditions of the title track "Des Mera Pardes Hua" are featured. Musical styles span Indian Folk and Classical, to intense Western orchestration, contemporary electronica, old school funk, Hindi Pop/Rock, Urban and Jazz influences. Bringing together a line-up of haunting compositions, Anuj's musicianship and arrangement explores tremendous ground with the help of strong performances by incredible musicians including Hasheel Lodhia (Bansuri), Jay Banerjee (Sarod), and Vivek Nankissoor (Electric Guitar), Shirsha Chakroborty (Vocals), and Falitaa Chhabra (Lyrics).
"Working with the team of Surkhaab has been a journey as incredible as that of our protagonist, Jeet. In bringing her tense and moving story to life, I freely explored the different sonic characters of the land she left, and the land she arrived in, leaving no stone unturned in between. The result is a score I'm proud of; one that gives as much weight to contemporary Western cinematic orchestration, as to Punjabi folk, dubstep, funk, ambient and light classical influences. With such a strong screenplay, performances, sound and visuals, I hope that the audience experiences the film's at a deeper level with my music."
The film's title track "Des Mera Pardes Hua" is a high-energy Rock-infused take on the film's journey and has proven resonant with listeners world wide. In addition to the film's soundtrack, a handful of music videos will also be released to the public, featuring music from the film as well as original 'behind the scenes' footage providing a look into the making of this wonderful score.
Surkhaab has already been selected in several international film festivals, including St. Tropez (France), Santa Monica (USA), Perth (Australia), Madrid (Spain), Houston (USA), Toronto (Canada), and London (UK), and has amassed a number of awards for Direction, Production, Screenplay and Best picture along the way.
The soundtrack album releases on CD (for international shipping), and digital download exclusively at www.omnesia.com on October 1, 2013. Full digital download through major online retailers such as iTunes, Rhapsody, Amazon and others will release October 8, 2013.
For more information: