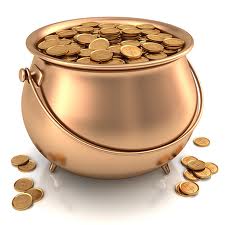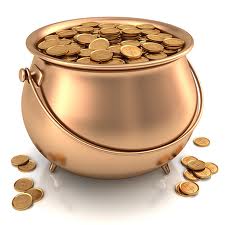 Oh my God. I'm so excited. Where's my ticket? I have to check my numbers. This has to be my moment in the sun. After all, it is only one chance in over twenty-eight million; why shouldn't it be me? Heck, I am supposed to write a report for my boss over the weekend. Who knows? Not only may I not have to write that report, maybe I don't even have to show up for work on Monday!
Okay, I can picture you sitting there reading this article chuckling away at what a goofball I am, but give a guy a break, eh? Let me have this one brief respite from the daily grind, that infernal, and possibly eternal, time on the hamster wheel where I try to eke out a living. [sigh] Financial independence. Freedom fifty-five as London Life Insurance Company likes to publicise it. It's not the cars, the boats, the super duper cottage in some far flung resort spot, no, it's the freedom to not have to go to work to pay the rent. The opportunity to do other things, see what else life has to offer. Take up painting. Write that novel. Travel to exotic destinations I've only dreamed about. [sigh again looking longingly out the window] Pretty silly, I guess.
[laughs] Then there's the story of this Anne Lepine of Fort Smith, N.W.T. who wins the 6/49 twice. Twice!!! I've spouted off several times in this column about the odds of winning at all and here's a woman who's won twice! [shakes head] How can such a thing be possible? I'm trying to win once and she wins twice? She and her husband won $11 million back in 2007. She has since separated and now, on February 26, 2011, she wins $7.6 million at the 6/49… again! By herself! Unbelievable. And that should be unbelievable followed not by one, but three exclamation marks. Unbelievable!!!
Lotto Max: Fri Mar 11
According to the OLG's list of winners, we have one winning ticket for the big prize of $50 million and one ticket for $1,204,696. Heck, I'll take that!
Out of the 32 MaxMillions, 11 were won by 13 tickets; that is, two one million dollar prizes are split.
Lotto Max: Fri Mar 18: $31 million
Sign me up! Another kick at the can.
6/49: Saturday, March 12, 2011: $7 million
Nobody won this past Wednesday so the pot has increased. One more chance this weekend at the brass ring or the pot of gold or my ticket out of this hell hole. Take your pick of the most appropriate expression. Ha!
All the latest winning numbers
You can visit the Lotto web site and check out all the latest winning numbers including Poker, 49, Lottario, Keno, Pick 4, Pick 3 and Payday. Of course, all the Encore numbers can be found there as well.
Click HERE to read more from William Belle
Article viewed at: Oye! Times at www.oyetimes.com