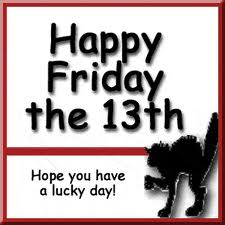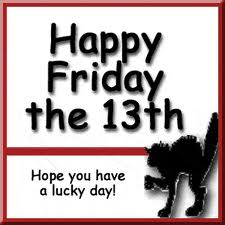 The Lotto Max prize of $16,325,905 for Friday, May 6, 2011 walked away without a winning ticket. That chunk of change was rolled over to the jackpot of Friday, May 13 estimated at $25,000,000! The Lotto 6/49 this past Wednesday of $3,278,937.40 – Where the heck does the forty cents come from? – also didn't have a winning ticket so it has been rolled over to Saturday for an estimated prize of $7,000,000. Oh how I love typing out all those zeroes!
Now considering that today is Friday the 13th, a day of supposed bad luck and ill-fortune, could we see some lucky person the beneficiary of something we could call reverse bad luck? That is, they win the lottery. Then again, could this turn out to one of those stories where the person wins the lottery then when they walk out of the OLG offices after picking up their winnings, they get hit by a bus. Ha!
Check out some of the oddities of this day of horror: Oye! Times, May 11, 2011: Friday the 13th and maybe you could end up being able to say, never mind spelling, friggatriskaidekaphobia or paraskevidekatriaphobia.
Google image search: Friday the 13th
In all seriousness, this is something of a black day: Syria: 750 dead; 8,000 missing. I sometimes find it hard to believe what's happening elsewhere in the world. Thank God we live in Canada.
And let's not forget: Japan: 2 months later: on-going leaks, 10,000 still missing.
Mark it down: May 24th, Bob Dylan's birthday. see "Do something for Bob Dylan's Birthday" by Stephen Pate. (Oye! Times May 12/2011) Bob Dylan has written 500 songs? Holy Hannah!
Ah yes, one other thing: some great songs: Simply Red: It's Only Love; Robin Trower: Day of the Eagle; Garbage: Push It
See you all around on the pages of Oye! Times.
Lotto Max: Fri May 13: $25 million (No MaxMillions)
Lotto Max: One chance in 28,633,528
6/49: Sat, May 14, 2011: $7,000,000
Lotto 6/49: One chance in 13,983,816
All the latest winning numbers
You can visit the Lotto web site and check out all the latest winning numbers including Poker, 49, Lottario, Keno, Pick 4, Pick 3 and Payday. Of course, all the Encore numbers can be found there as well.
Click HERE to read more from William Belle
Article viewed at: Oye! Times at www.oyetimes.com