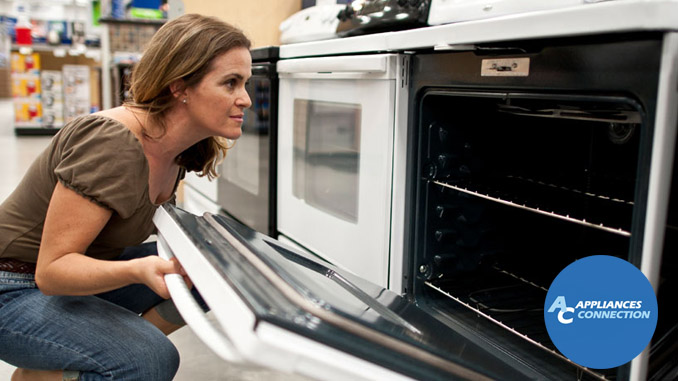 This article was last updated on April 16, 2022
Canada:

Oye! Times readers Get FREE $30 to spend on Amazon, Walmart…
USA:

Oye! Times readers Get FREE $30 to spend on Amazon, Walmart…
Brought to you by Appliances Connection
Gas or electric powered appliances first made their debut in twentieth century America, and they've been raising the standard of living for people all around the world ever since. Whether it's a refrigerator, or a specialty steam oven, appliances meet our needs and wants, and they're an investment for long-term enjoyment. At Appliances Connection, we understand how exciting (and intimidating) it can be to shop for new appliances—whether you're a new homeowner or just in the market for a replacement. The industry is constantly expanding as new innovations take the stage and the decision get harder and harder to make. We encourage our customers to call us whenever they have questions about specific products or need help choosing what to buy, and we're extending that help to all of you as well! We help match countless people to their perfect appliance, and we've found that the most common reason people don't know what they want is that they're not asking themselves the right questions.
Here are the top five things to keep in mind when you're shopping for appliances:
What's for dinner (and breakfast and lunch)?
This may seem trivial, but many people often overlook their dietary habits when shopping for appliances, and it's one of the most important things to keep in mind. It's especially important when picking a refrigerator. Think of it this way: if you don't eat meat, you don't need a lot of freezer space. Alternately, if your diet consists of copious amounts of meat and frozen dinners, you'll likely need more freezer space than the average person. This also applies to cooking appliances because your preferred method of cooking should dictate which range cooktop and/or oven you buy, how powerful you need your range to be, whether your burners should have a simmer option, etc.
How many people do you usually feed?
Note that this question isn't about how many people live in your home. Although our own immediate families are the ones we feed the most, we often overlook those extra place settings that are set out more often than you think. Your friends come over for coffee and dessert, your child's friends come over for a playdate, you're the holiday host, your neighbors come over for a potluck—the list goes on. The bottom line is, we're always surrounded by people and many of our social interactions happen over a plate of good food so it's important to consider how many mouths you're feeding so you know what cooking and refrigeration appliance features you should be shopping for.
What are the measurements of the space where you want the appliances to be?
On our website, we try to provide as much information on each specific product as possible, including the exact measurements of the item. Taking accurate measurements is especially important when you're trying to replace your old unit and you just want to slide the new appliance into the space. You won't want to end up with an unsightly gap, or an appliance that's too big to fit. Moreover, space is a precious commodity in our lives and our homes; when you buy an appliance or new piece of furniture, you're exchanging your free space for a product that will occupy that space. If you want to retain as much of that open space as possible, a standard-depth refrigerator may have the same features, with a lower price tag, as the built-in model, but you'll be sacrificing your free space, and that may be more valuable to the atmosphere of your kitchen than the monetary value a cheaper alternative. It may also better contribute to your kitchen's overall style, which brings us to our next question:
What's your style?
We spend a large portion of our day either making a meal, eating in, or cleaning up after cooking. The Appliances Connection team understands the value of creating a space that's unique to you and matches your home's design. Our in-house design team has been trained by Scavolini cabinetry to create custom designs from over 32 distinct cabinetry collections that range from ornate and traditional to modern and minimal. We've got a host of designs by our team on display in our new Brooklyn showroom and every style evokes a different feeling. Your kitchen's style can speak to the rest of the home or standout as an accent room in the heart of your home. Whether it's something as simple as a new paint job on your cabinets and walls, or a complete aesthetic overhaul, you can create a new look that better speaks to your dream home's design. The appliances you choose should complement this style both in structural design and color/finish. Stainless Steel has been a crowd favorite but Slate, Black Stainless Steel and even white are emerging as contenders for this classic finish. The appliances themselves also have their own style and it's important to take this into account when shopping. AGA and Ilve have some great collections that can transform your kitchen into an antique, old-school culinary time-warp without sacrificing power. Ilve also lets you customize the color of your range. The options are endless and the look is important to create a cohesive environment. Countless memories are made in your kitchen; making holiday cookies, preparing family meals, making birthday cakes, and the list goes on. Make the backdrop of those memories a beautiful reflection of your personal taste.
What's your schedule like?
This is especially important when you're looking at different possible features. If you're always on the go, chances are you won't have time for maintenance and after dinner clean-ups. We carry appliances for the daily chef and food fanatic, the but-first-coffee professional and out-the-door workaholic, and everyone in between, so we know what to look out for. If you don't have time, you should consider low-maintenance or maintenance-free appliances like the Viking VCSB5423SS Refrigerator with its maintenance-free condenser and air purifier. Additionally, dishwashers, speed cookers and rapid wash laundry pairs in general are great appliance choices for squeezing as much time out of your day as possible.
Keep these five key questions in mind the next time you shop and if you're still stuck give us a call at 800-299-9470! We'll happily help you pick your next purchase and even process your order over the phone to make the entire shopping experience as personal and easy as possible! An appliance is an important investment so shop smart and choose wisely!
For more product information, helpful tips, and unbeatable prices, go to http://www.appliancesconnection.com/
You can publish this article on your website as long as you provide a link back to this page.