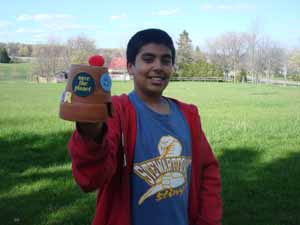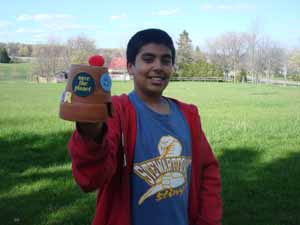 Harnoor Gill – Gr. 7 student – I believe that our love of Mother Nature is always within us but how we express it and care about it matters. For example, I walked to school from grades 1-5. Bad weather conditions only made me more committed and a stronger person who cares about the environment. I don't recall if my parents ever drove me to the school unless I was really sick. Walking to school was a great foundation which had impacted my life in a meaningful and positive way. In additional to my habit of walking to school, I also participated in environment friendly activities inside and outside of my school since kindergarten.
We can be green wise by not consuming so much energy. Something as simple as turning off the light in a room helps the planet. Mother Nature has a lot to offer us but we need to have a keen eye to look deep into our own actions. By following the four Rs (reduce, reuse, recycle and rethink) we can reduce the need for more space in our landfills. A landfill nowadays is more efficient because of all the things we can recycle or put in the compost bin for later use. Without the recycling or compost bin, we would not be able to conserve what the planet has offered to us. Over packaging is a really big issue among companies that's why people voice their opinions. Let companies know that they shouldn't be wasting so much packaging paper. It is very important that you express your opinion, because you never know if your opinion satisfies others. Always keep in mind to let your parents know to be fuel efficient. By reducing the stuff in the trunk of your car will improve the fuel efficiency save gas by reducing 'drag'. Keep in mind that by improving your vehicle's fuel efficiency you don't consume as much gas so in the end you don't waste as much money. Carpooling is the same concept as taking the bus so both are energy-efficient. These are some tips on being green wise.
To follow through my passion and dedication to nature, I volunteered with the 'Maple Syrup Program' which was an amazing event. A sweet, seasonal treat was introduced, and I listened to the native legend of how maple sugar was discovered. I learned how to tap a tree and how to make syrup at home. I learned that maple syrup is more than just a pancake topping. I helped in serving the maple syrup to the audience. I also assisted in the activities demonstrated by the officials at the event.
On another event, I made a habitat for a frog/tadpole. Having regard for the different types of plant life is another way to be green wise. Just recently, on Mother's Day we went around the park and had a wildflower walk with the kids for their mothers. We discovered all the diverse wildlife that make an ecosystem wonderful. We made a broken pot into a whole new diverse habitat for a wetlands creature. So if you ever break a flower pot this might be really handy for you. We decorated the broken pot with different designs that showcased your creativity that you had. Inside the pot a frog/tadpole will go in it on a really sunny day and by doing that it will stay really cool and moisturized.
These activities which led us to think green stay green and living green actually will save this planet. We need to educate ourselves and others more and more about the environment. If we all put a little effort and contribute our actions it will help us to make our communities a safe and better place to live forever. We just need to choose a role model to have the motivation that flows through us for our family, friends, peers and the local community. Make sure, we all do our best to make this world a better place for everyone.
Stay tuned for my next article on "Big DADDY Rocks!"
Article viewed on Oye! Times at www.oyetimes.com