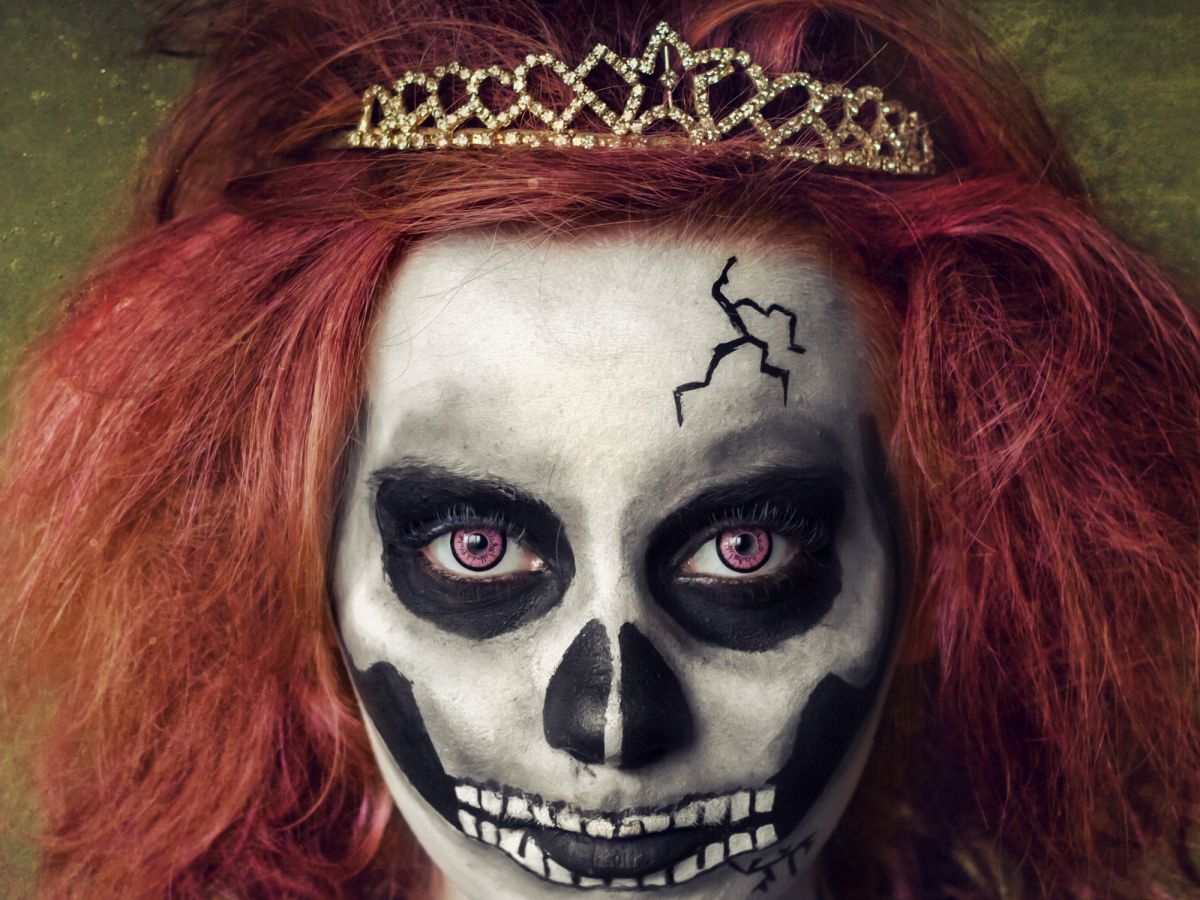 Whether you blame your jam-packed schedule, or cop to being lazy, no one deserves to be feverishly scrolling though Pinterest at 4 p.m. on Halloween looking for a last-minute costume. This time is meant for indulging in mini candy bars and the waxy goodness of candy corn, not stressing over what to wear. Luckily, this year can be different.
We feel you — in fact, we are you — so we've put together a step-by-step costume makeup guide that'll give you time to spike your blood sugar in peace and still look great later. In fact, you can wear anything you want with the costumes ahead (no cat ears needed) and you probably already have the makeup, too.
For help, we tapped horror makeup veteran Valerie Star of Caravan Stylist Studio for all the ins and outs of letting your makeup be your look. Read on to find your costume, plus everything you need to pull it off.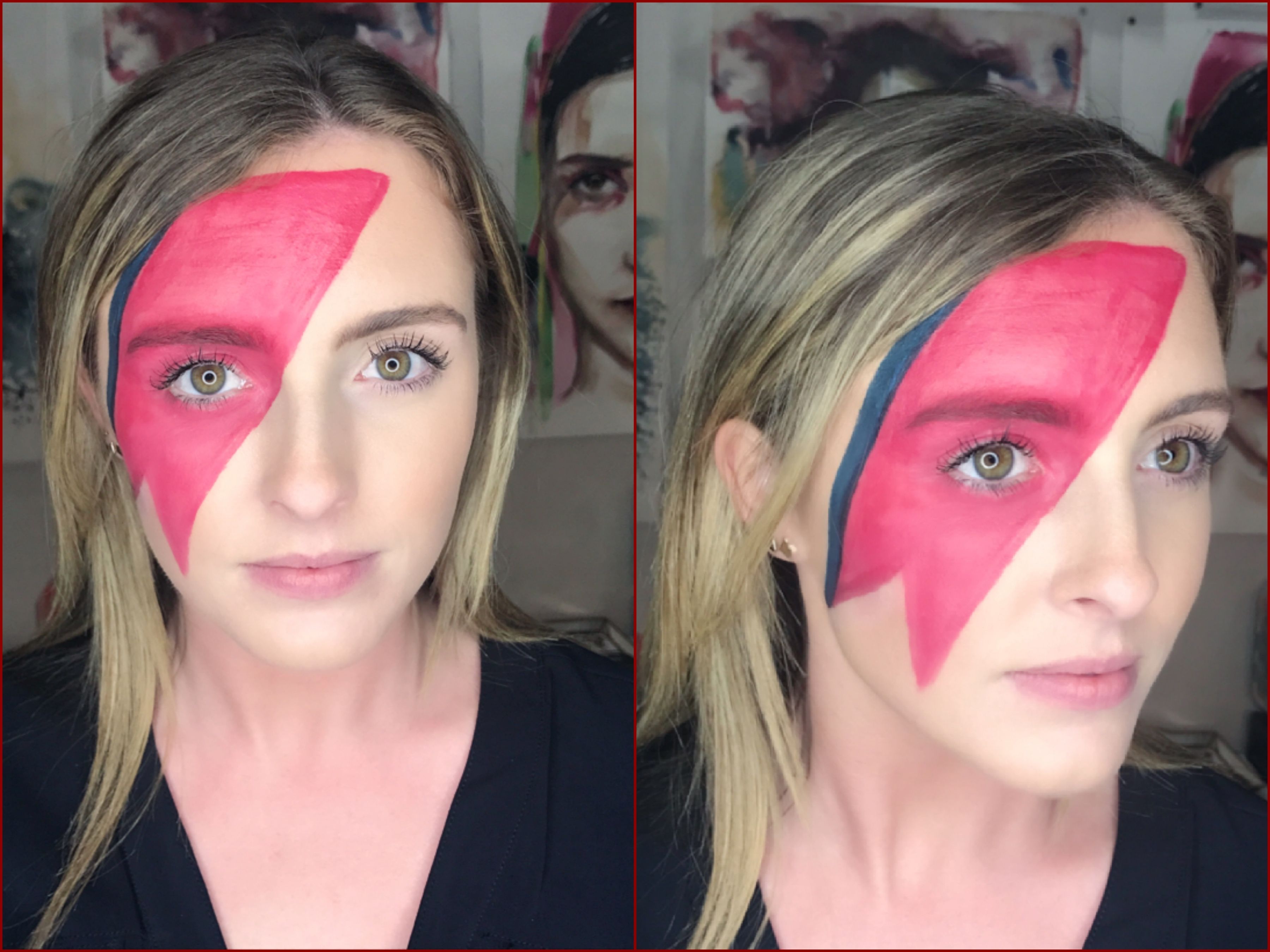 David Bowie
Difficulty Level
: 1
You'll Need:
Red lipstick
Blue eyeliner
How-To: Applying red lipstick on your face is easy — removing it isn't. To help prevent staining, skip liquid or long-wear formulas and opt for the one in your kit that wears off quickly, or pick up a bullet at the drugstore in a classic, creamy texture.
Start by outlining your lighting bolt shape (a brush will help) beginning at the top left and ending at the base of your right cheek, Star says. Then, after you've made the outline, fill it in. To finish off the look, add the blue liner like you see here. "Let the blue overlap onto the red slightly," Star explains. "This will give a little bit extra dimension to the shape."
Pro tip: You can use a blotting sheet, tissue paper, or a toilet seat cover to blot the red color if the lipstick looks greasy, Star says.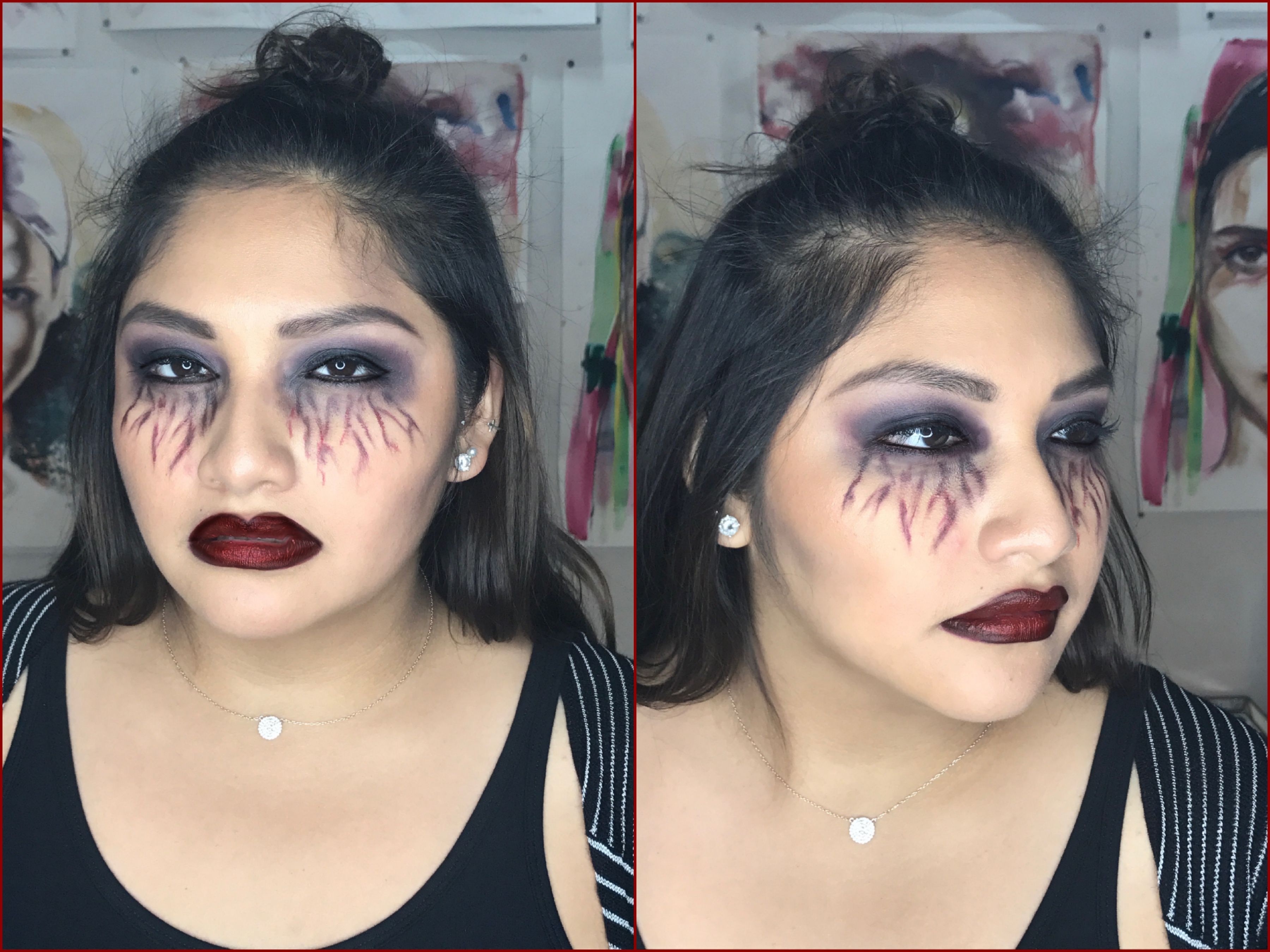 Vampire
Difficulty Level: 2
You'll Need:
Matte black and red eyeshadows
Black and red eyeliners
A small makeup brush
How-To: "Start by applying a dab of foundation or primer on your eyelids," Star says. "While the foundation is still tacky, apply your matte black eyeshadow all across the lid, starting at the lash line and blending upwards towards the natural crease of the lid." Go ahead and pack it on — you want the shadow to be totally opaque.
Then, for even more impact, go over the black with a red pigment. "Start blending the red shadow into the black, fading it out along the crease of the lid," Star says. Line the upper and lower lash line with a black pencil liner and smudge it with a small shadow brush or a clean finger.
To copy these undereye veins, take a small eyeliner or lip brush, dip it into your red lipstick, and draw squiggly lines under the eyes, Star says. To diffuse the look, mix a little black and red shadow on the back of your hand with the same brush and gently apply it over top. To finish, line your lips with the black liner, slick on some red lipstick, and lightly smudge 'em together with your pinky finger.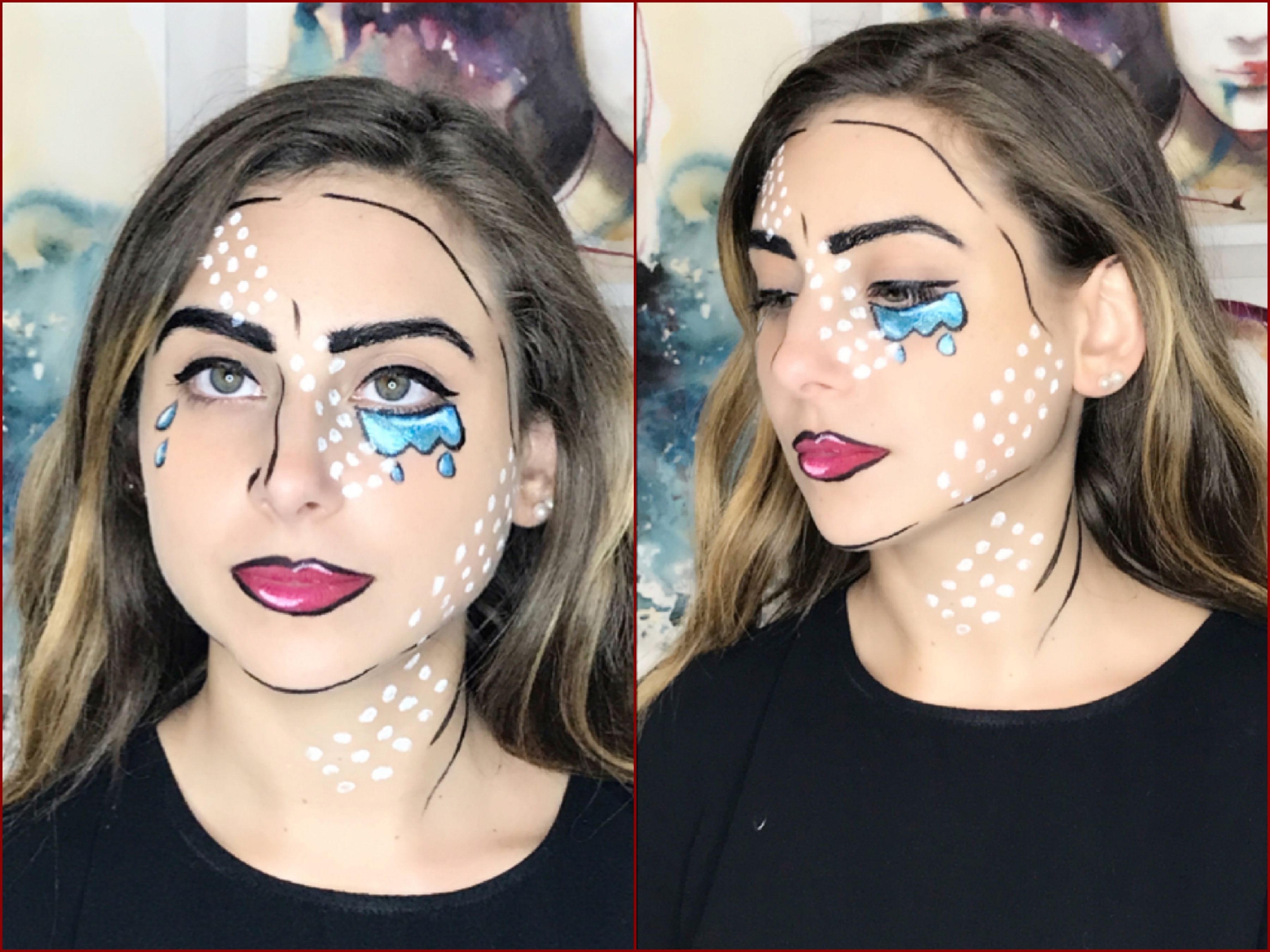 Comic Book Art
Difficulty Level: 3
You'll Need:
Black liquid liner
White eyeliner
Bright blue eyeshadow
Red matte lipstick
How-To:
The success of this look lies in your black liquid liner — it needs to go on smoothly, set fully, and stay in place. Ready? Grab your liner and let's start.
"Outline around the outside of the face, near the hairline," Star instructs. "Create these lines in sections of about three to four inches, working your way all the way around the face." Then, apply a thin line along one side of the bridge of the nose and create a 'C' shape around one nostril. Define your brows and line your lips with the same liner.
Below one eye, use that same liner to outline the shape of a teardrop or two, Star says. "Fill in the teardrop outline with white eyeliner, and then apply blue shadow on top of the white," she says. Blend together using your pinky for dimension.
"Fill in the lips with a matte red lipstick, then use the white liner to highlight a little area on the lower part of the lip and a little area on the upper part of the lip," Star says.
Now it's time to add classic comic book dots. "Create a row of three uniform white dots above the arch of one brow, near the hairline," Star says. Repeat as you see here, going down and across the face, or make your own design, just make sure you keep them even.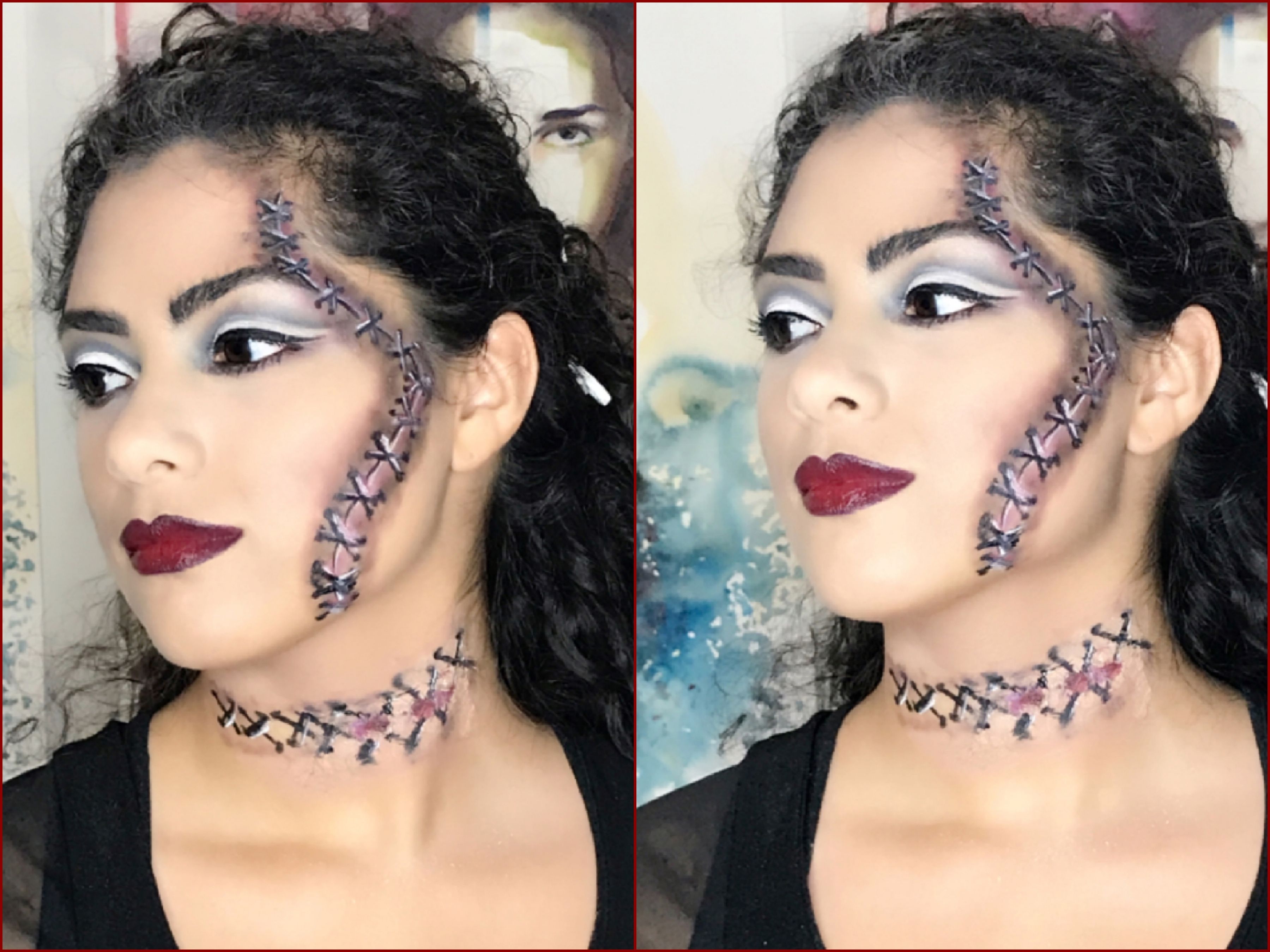 Frankenstein
Difficulty Level: 4
You'll Need:
Matte eyeshadow in a dark color
Black liquid liner
Matte red lipstick
White and black eyeliners
How-To: Don't worry — this look only appears to be complicated. Let's start with the stitches: Create dash marks where you'd like your stitches, then draw a small 'X' between each dash. Now add a circle to the end of each point in your 'X' marks. Grab your white liner and lightly outline each 'X'.
To give the stitches a realistic, gory look, "Take a small makeup brush or a Q-tip and rub it in some red lipstick, use a tissue to wipe off the bulk of the red pigment, then apply the excess all around the stitches, blending it outward," Star says. Smudge any excess lipstick under your bottom lash lines.
Blur the harsh lines of your stitches by lightly dusting black shadow over top."Sweep some of the black shadow into the hollows of the cheeks and continue blending it up, above the arch of the brow to the hairline," Star says.
Lastly, Star says to finish the look by outlining your lips with a black pencil liner and filling them in with the red lipstick.
Click HERE to read more from Refinery29


Loading ...