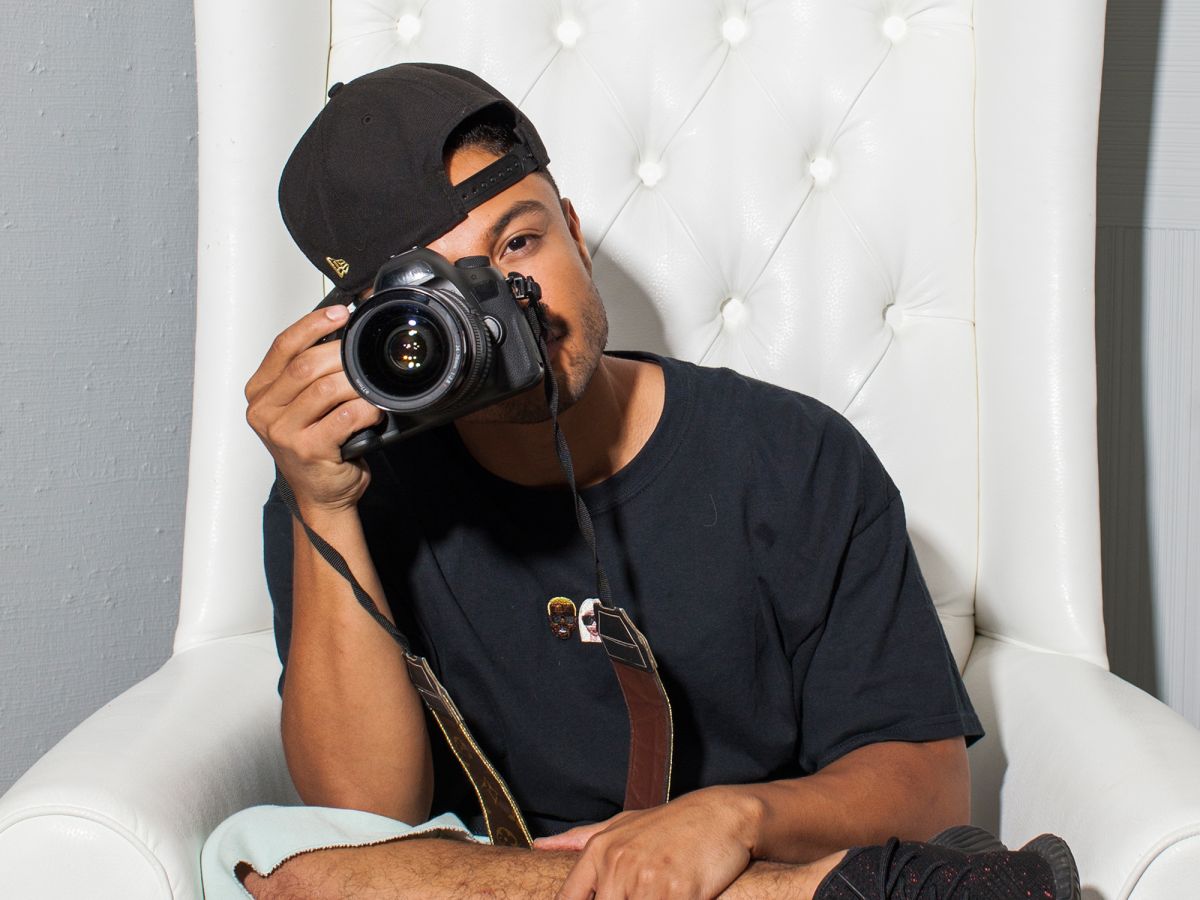 Ever wondered what it's like to be in a celebrity's inner circle? In our series The Plus One, Arianna Davis offers a peek inside the world of assistants, backup dancers, BFFs, and other right hands to the world's buzziest celebs. Check out the last installment here.
When Alfredo Flores jogs up to greet me at the bottom of the Wisdom Tree hiking trail in Los Angeles, my first thought is wow, this kid is a ball of energy. He immediately starts chatting at rapid speed, slightly out of breath from the uphill climb from his car. Throughout our day together — hiking, art show brainstorming, touring his home, and eating a late sushi lunch — all five feet, five inches of Flores' energy never wavers once, and neither does his wide, contagious smile. It quickly becomes clear how his many high-profile gigs as a videographer and photographer for the likes of Justin Bieber, Selena Gomez, and most recently, Ariana Grande, have also turned into personal friendships: Flores is simply one of those people who's instantly really, really likable.
And also, clearly, a hustler. Between answering questions, he bounces on his toes, never hesitating to weigh in on angles and backdrops for our photo shoot (clearly used to being behind the camera instead of in front of it). He also smoothly fires off text messages without ever missing a beat and politely keeps track of time — he's got a flight to catch later this afternoon to New York, where he'll meet his grandparents, who are flying in from Puerto Rico in the aftermath of Hurricane Maria.
His hustle is something the New Jersey native is both proud and protective of.
"People are always like 'Oh, I thought you were just friends with Justin, and then you started shooting him, and that's how you got this job!'" the 28-year-old says. "And I'm like, I didn't know that kid! I'm not from Canada! We started working together and then we became homies. Our friendship came naturally because we worked for years together — the work came first. That perception is something I want to shake off, because I've worked really hard to get to where I am. But I also try not to think about it too much, because regardless of what people think, I'm doing my thing."
The real story on Flores' rise to success begins at the New York Film School in 2007, when he applied to intern with music video director Eric White in Los Angeles. When Flores made it to the final rounds of the interview process, he packed up and moved to L.A. on faith, with fingers crossed that he'd get the internship. He did, and soon was a production assistant on gigs like Chris Brown's "With You" video and the 2009 set of a Nickelodeon movie directed by Nick Cannon called School Gyrls. The film included several celebrity cameos, including one by an up-and-coming, pre- Baby era artist named Justin Bieber. When a member of Bieber's team saw Flores with his camera, he asked if he could shoot a quick behind the scenes video for Bieber's YouTube. Not long after, Bieber asked Flores to come film a performance at Universal Studios' City Walk.
"It was a free show and there were only like, a few hundred girls there," Flores remembers. "Bieber still very much had the baby voice and the hair swoop. After that, we started working together more often, and then it kind of just snowballed from there. Before I knew it, we were touring the world together and filming the highest-grossing music documentary of all time."
That 2011 doc, Never Say Never, featured mostly Flores' footage. But landing in the middle of Bieber fever was just the beginning for the videographer. More than six years later, Flores has directed music videos, filmed for several artist documentaries, and worked on six concert tours, including two with Bieber, Selena Gomez's We Own The Night, Rihanna's Loud, and most recently the Dangerous Woman tour with Ariana Grande, whom Flores met while she was opening up for Bieber on his Believe tour. (Good luck keeping up with that sentence.)
Throughout our day together, we'll talk about his journey from New Jersey kid with a dream to becoming the go-to person to capture the lives of some of pop music's biggest stars — plus what it's like having his own fan base, the prejudice he's encountered in the music industry, and how he, Grande, and the rest of the team coped after the horrific Manchester bombing in May.
But first things first: Time to channel all that energy into a workout.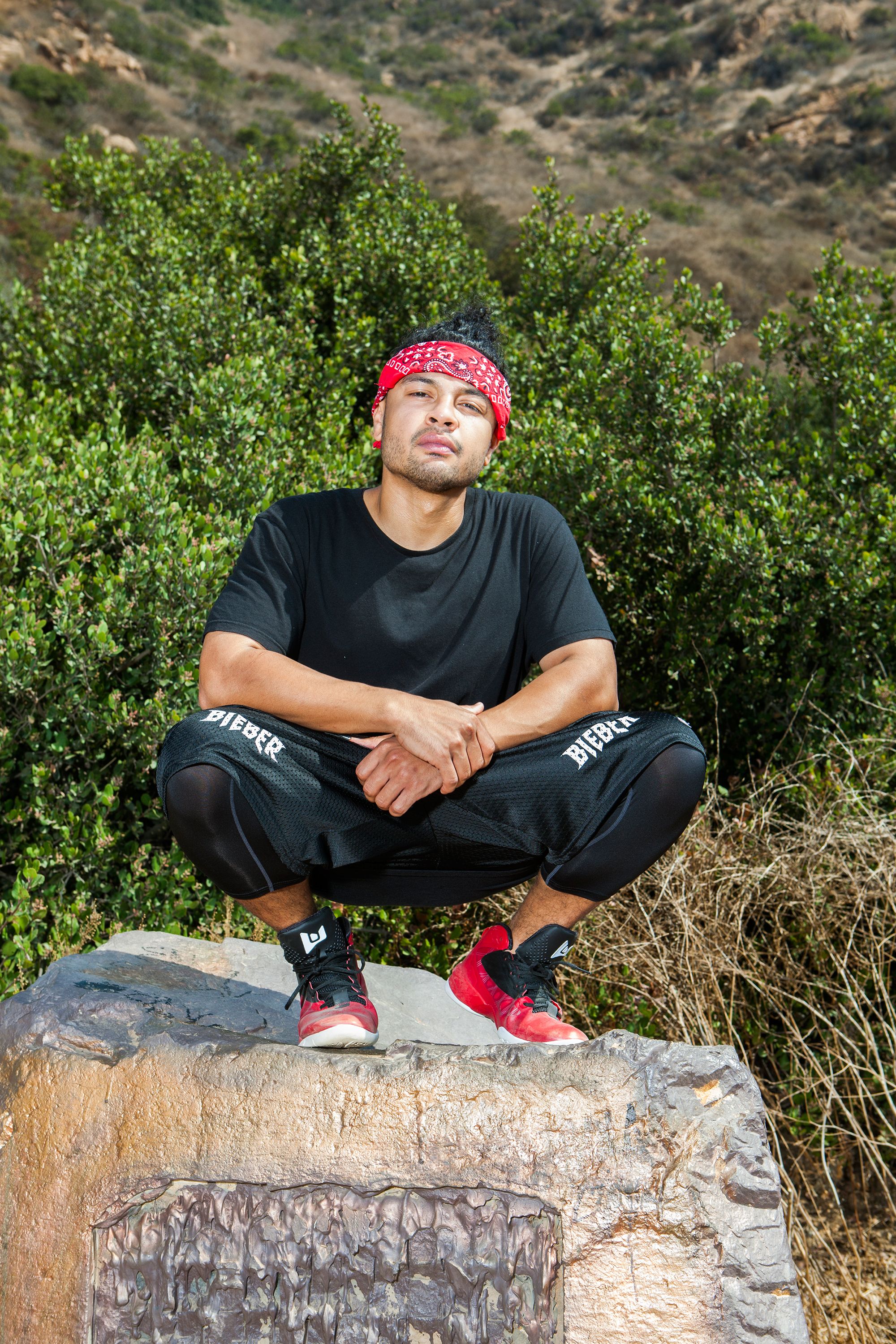 Flores has known exactly what he wanted to do since he was a sick 8-year-old, stuck at home watching an episode of VH1's Pop Up Video that featured Mariah Carey's "Honey" video. "One of the pop-up facts was that it was shot in Puerto Rico, where my family is from, so that caught my attention, you know?" Flores says, New Jersey accent in full effect. "I was reading all these facts about the director, who was Paul Hunter. I didn't even know what that meant, exactly, but in that moment it clicked for me that one day I also wanted to make beautiful things that people could watch."

Less than a decade later, Flores' first-paying job in the video world would be shooting behind the scenes footage for a DVD that would accompany Carey's album Memoirs Of An Imperfect Angel, a full circle moment that still makes him incredulous. "I was so fucking nervous when I met her!" he remembers. "Mariah Carey was the person who started it all for me."
Throughout Flores' time as a student at Santa Monica College, he was also waiting tables at a TGIFriday's and interning for Eric White, which included long nights working on projects like editing Carey's DVD footage.
"I was so lonely when I moved to L.A., because all of my family was back in New Jersey," he says. His voice softens noticeably whenever his family comes up. "So I just delved super hard into work. I was like, I'd rather work 20 hours a day and sleep four, because at least I'm keeping myself busy. And I was 19 — I didn't really need sleep! Eventually, though, it got too hard to handle, so I had to either let go of my internship chasing my dream or working at Friday's. Friday's had to go, obviously!"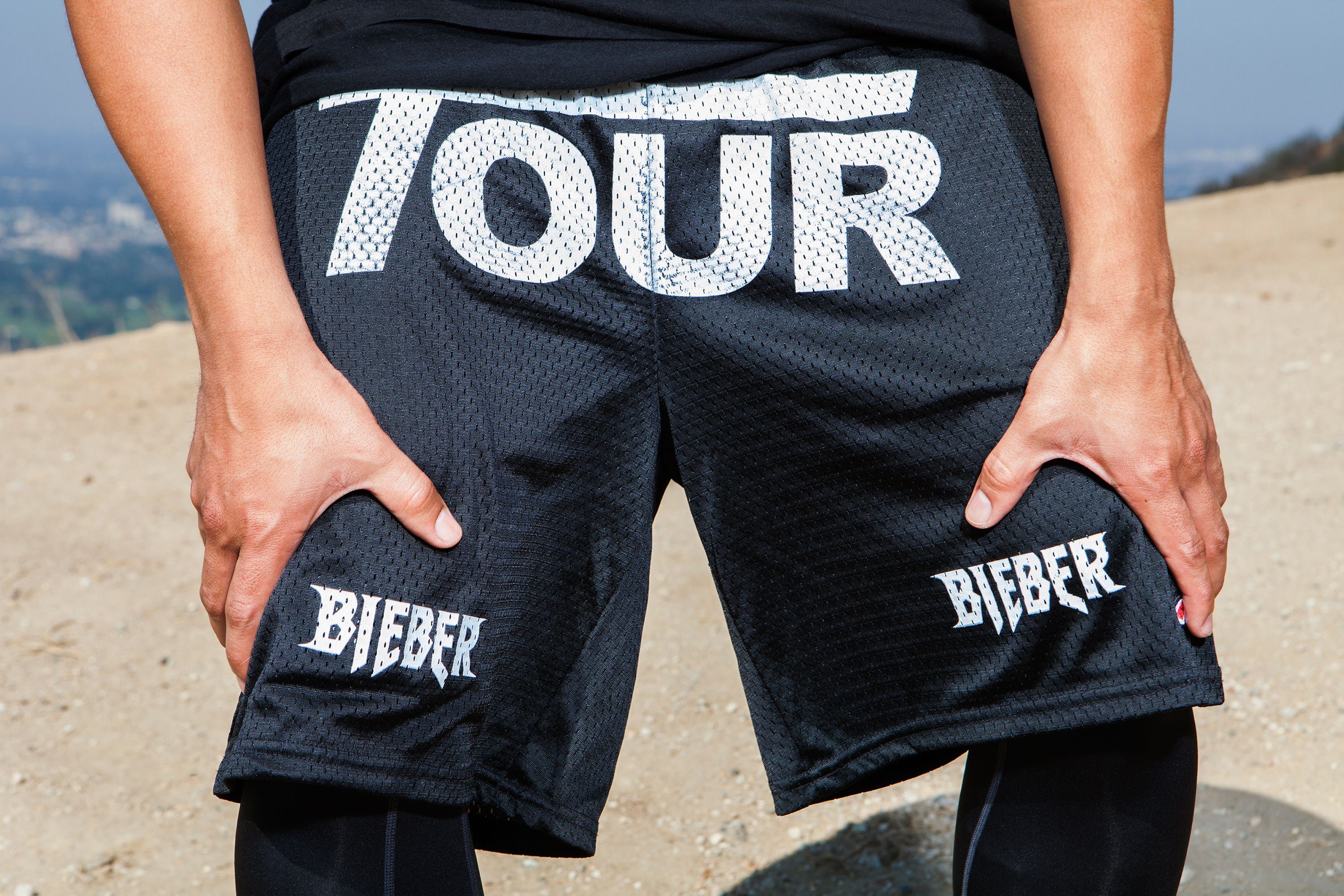 Flores says he typically gets his workouts in by going to the gym, boxing, or running the stairs at arenas while he's on tour, but hiking is one of those activities that L.A. people coerce you into loving once you move there. For Flores, that person was Bieber: the singer was the one who brought him to this trail for the first time a few years ago, with sweeping views overlooking Universal Studios and a sprawling tree at the top where visitors write down wishes on tiny pieces of paper.
"If you Google 'Justin Bieber running,' there's a million paparazzi shots of him running here," Flores laughs. "We lived together for a few years in a house in Calabasas, but back then we never really did active stuff. So when we came here together, it was something cool and new. Back then it was part of a recovery process for him to heal and get better through what he was going through in life. Whenever we come, we like to write down wishes at the wisdom tree. But we'll read other people's, too. It's allowed, I promise!"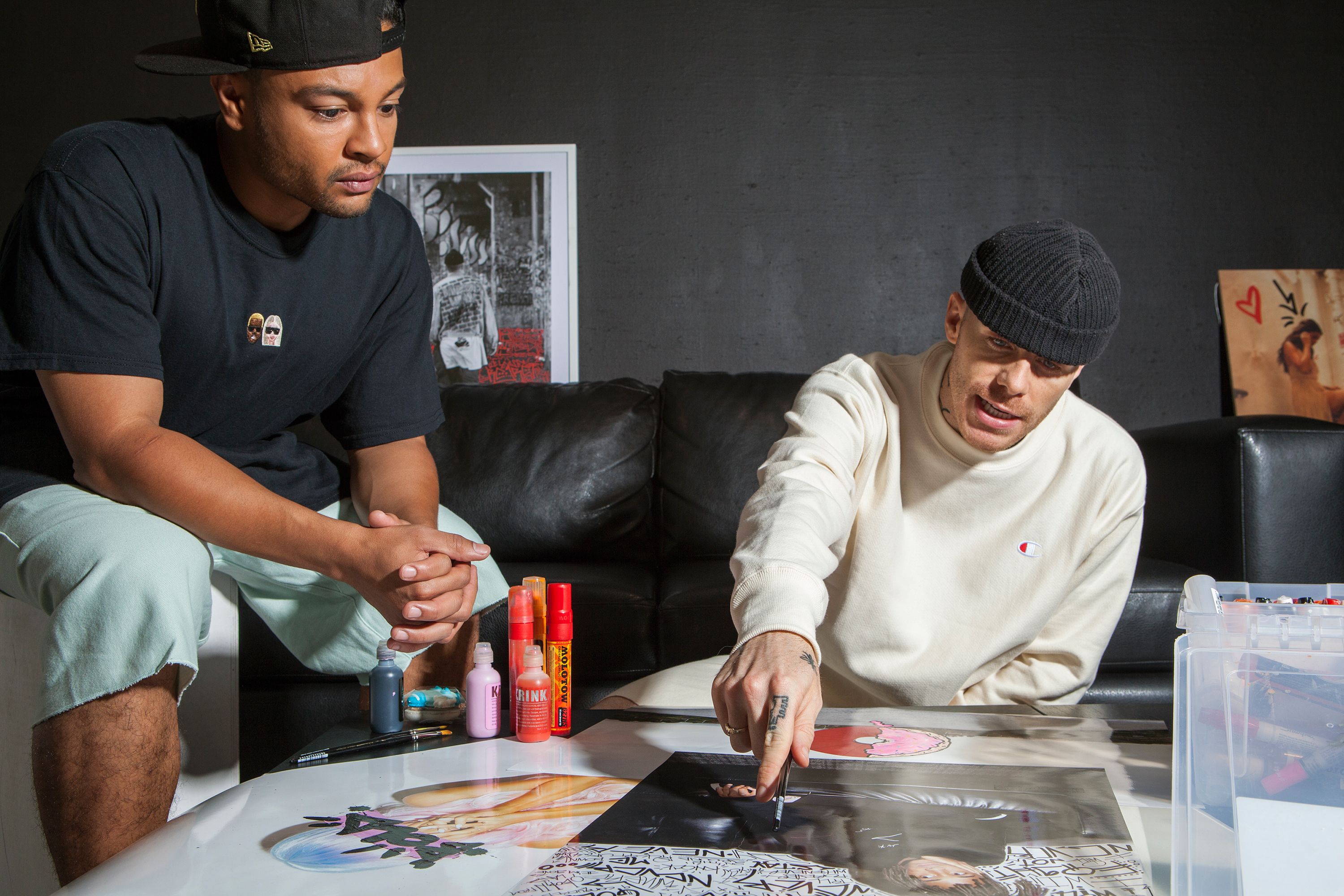 After working up a sweat, we head back to Flores' house in North Hollywood, a 70's style ranch house he bought about a year ago. The interior is half renovated; he hopes to begin the second half before the end of the year, now that he's finally going to be in L.A. for more than a few days at a time. The decor is black and white, with a living room centered around a sleek black pool table that Bieber gifted him as a housewarming present and surrounding walls with sports memorabilia, a small bar, and vintage arcade games. Avocado and lemon trees sway beneath the sun in a spacious backyard.
While Flores changes into a black tee (one he bought in Japan that has tiny embroidered faces of Kim Kardashian and Kanye West on it), Brian Nicholson aka Kid Orange, Grande's former choreographer and now creative director, greets us. He's here to talk with Flores about their next art show, the follow-up to a collaboration they did earlier this year called "Fluorescent," a collection of 25 photos taken by Flores and painted over or graffiti tagged by Nicholson that they debuted at a 500-person warehouse party in Burbank. The duo first met on the set of Grande's "Problem" video in 2014, which was also the first time Flores officially worked with Grande.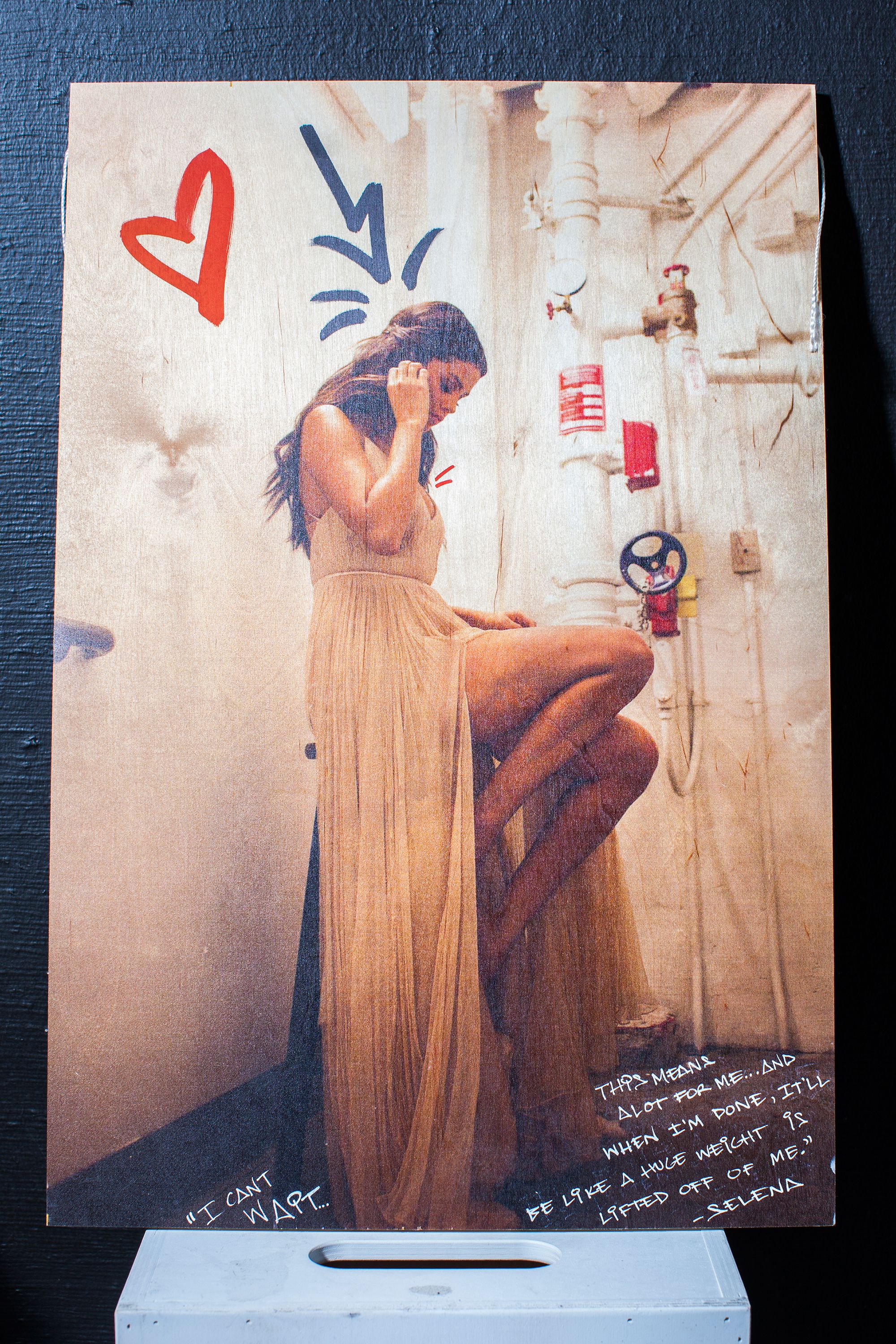 "I picked about 100 photos and together we narrowed them down, according to the ones I loved the most and the ones Brian felt inspired by," Flores says, "and then we just started playing. We did the whole thing over four days during a break from Ariana's tour, so we're excited to really take our time and think about the next one."
This piece is a photo Flores took of Selena Gomez backstage before her performance at the American Music Awards in 2014 — her first since a very public breakup with Bieber. The work includes an actual quote from Gomez, tagged by Nicholson, that reads: "I can't wait…This means a lot for me…And when I'm done, it'll be like a weight is lifted off of me."
Later, I'll notice a copy of the book 13 Reasons Why on Flores' bookshelf. "I remember like seven years ago, Selena told me her mom found this book and she wanted me to read it because she wanted to turn it into a TV show," Flores remembers. "At one point we were going to work on it together, but fast forward like seven years and she was able to make it happen with Netflix. I'm really proud of her for having an idea and now turning it into a television show. A lot of people have ideas, but not everyone sees them through. How dope is that?"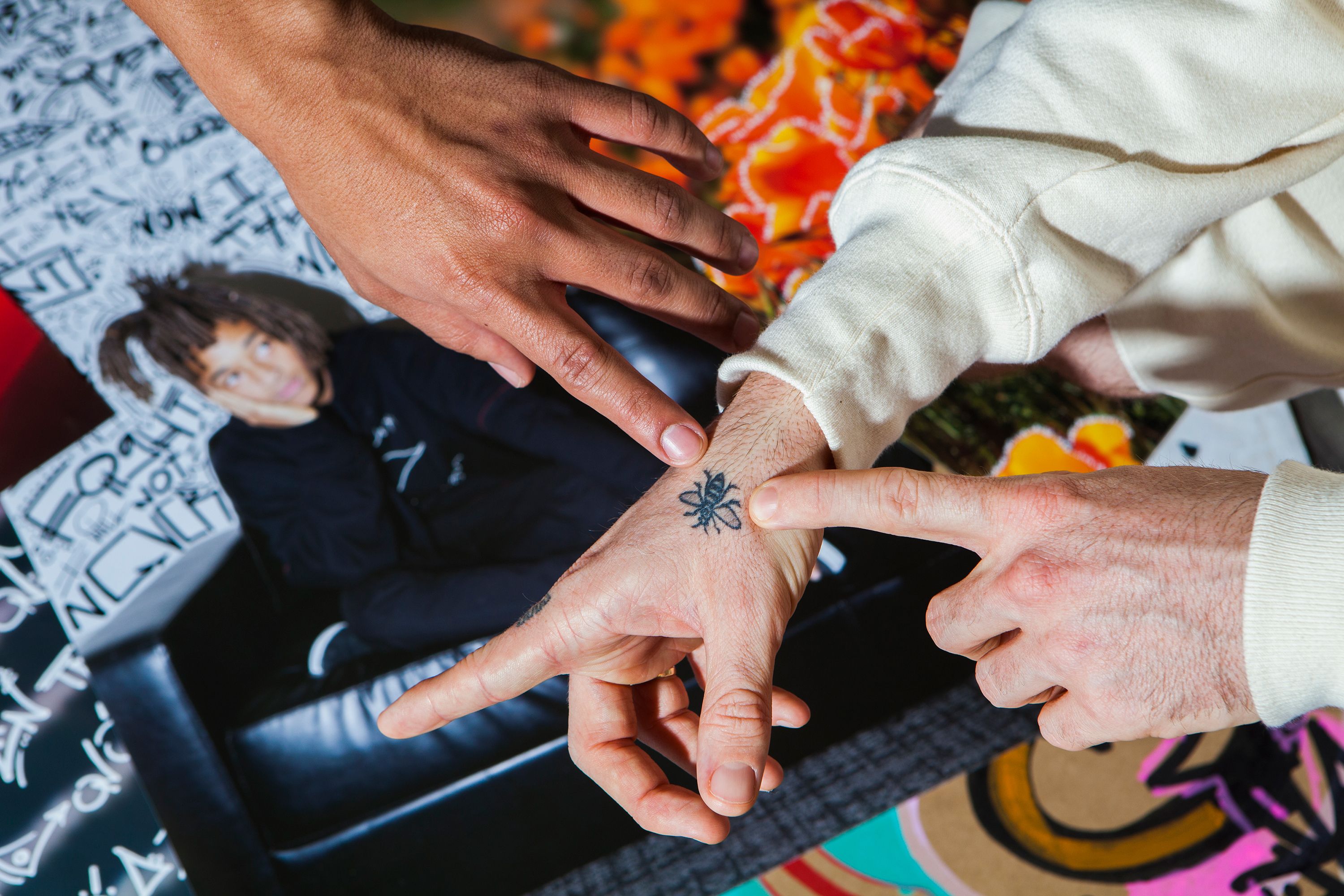 Flores has no tattoos, but like Grande, he says he's been considering one that Nicholson has: The Manchester worker bee. It's a symbol for the city where 23 people were killed and 250 people were injured by a handmade bomb that exploded outside of Grande's May 22 concert. A month later, she headlined a benefit show called One Love. In addition to inviting stars like Bieber, Miley Cyrus, Katy Perry, and more, Nicholson says, Grande brought in tattoo artists that were inking supporters with the bee and donating the proceeds to victims and their families.
"The bomb went off about one minute after Ariana performed her final song, 'Dangerous Woman.' I was packing up my gear in front of the stage when I heard a boom. I looked back and saw people running; I thought one of the light rigs must've fallen. Then I went backstage and everyone was screaming, 'We gotta get out of here!' I had no idea what was happening. Once we were safely on the bus, I saw my family and friends were texting me, because in America, all they heard was 'explosion' and 'Ariana Grande concert.' Seeing my mom and my grandma worried that something might've happened to me was when I realized,
This is serious
. There were a lot of tears, a lot of people were super shaken up, including Ariana. I'm just thankful and feel super blessed to be alive, because not everyone there that night was so lucky."
After that night, Flores says, Grande gave everyone time off. While the majority of the crew, including Grande, went home to be with family, Flores decided to stay in Europe, backpacking and visiting friends while taking some time to reflect. Eventually, he says, they were given the option to either stay home permanently or return to the tour. Every single person came back.
"Ariana was nervous, of course, but she was also excited to get back on the road, and so were we. We didn't want terror to win, we didn't want to live in fear, because that's the whole point of terrorism, you know? But I'm convinced that experience happened to Ariana Grande, specifically, for a reason. I can't say that if it was another artist they wouldn't have continued with the tour, but I do know that Ariana is super, super brave. Her entire show is about spreading love, from beginning to end, so the fact that something that ugly happened on that tour, I feel like it happened for a reason. And she set an example for all of us that fear doesn't have to win. I don't know if that's something every 24-year-old would be able to push through, you know?"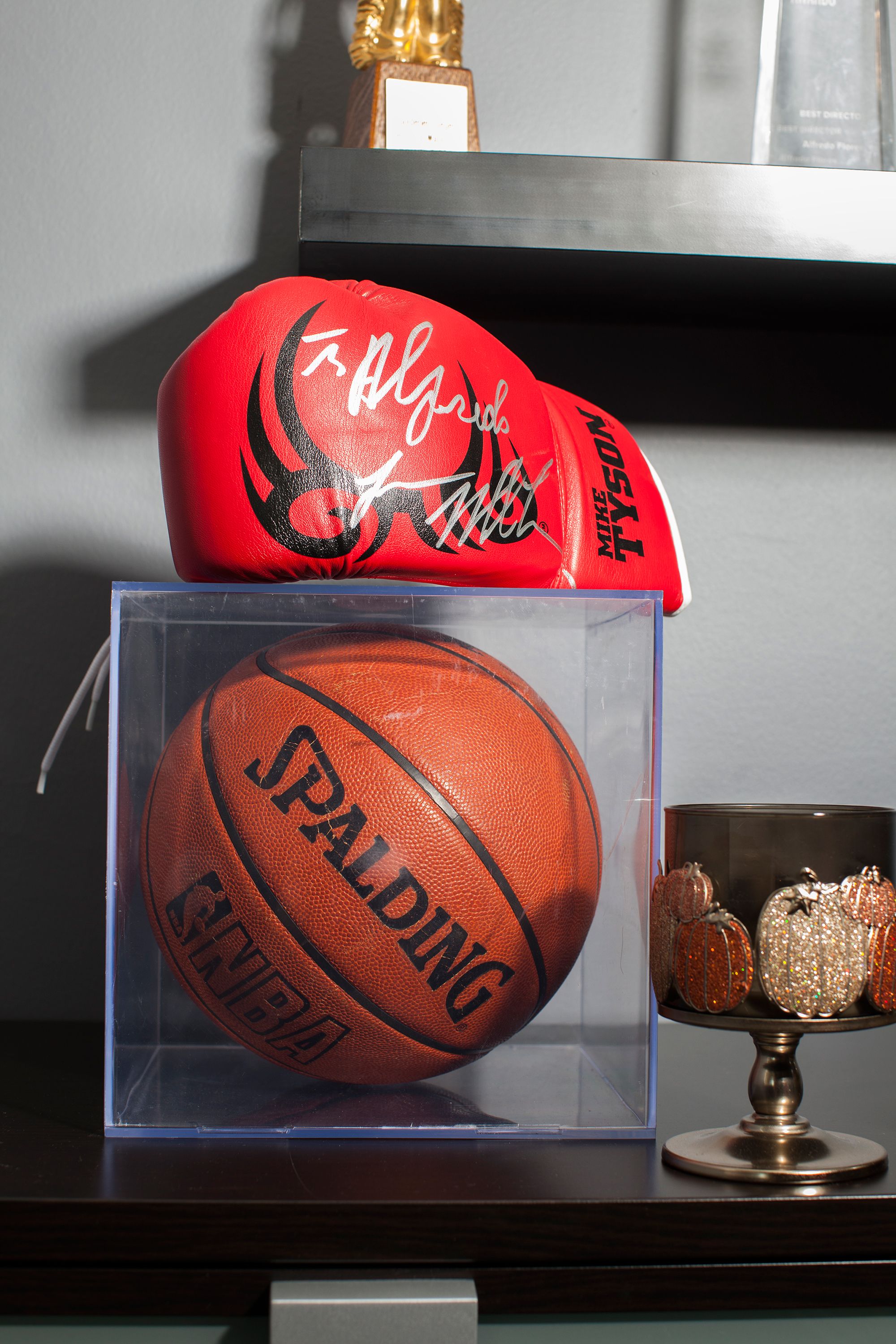 Soon, Nicholson has to leave from their mid-day brainstorm to go to a few more meetings and then get ready for a Weeknd concert. (But not before he shares some delicious macarons from a place called Honey & Butter in Costa Mesa, which he'd driven all the way to, just to bring back for us to try. They are, no lie, the best macarons any of us have ever had in our entire lives, actual French macarons included.)
Next, Flores heads to his office to pack up some things before he has to fly out later. He takes a moment to give us a tour of the small, brightly lit room, which is overflowing with some jaw-dropping mementos that are sure to become a part of history one day.
"Bieber and I were at Mike Tyson's house in Las Vegas [in 2012] and he was showing us some stuff, and I just had to ask, 'Do you have a glove, because I'd really like one,'" Flores says. "I mean, come on, yo! I'm at Mike Tyson's house! I have to ask. And then one time we were at Shaquille O'Neal's house shooting an episode for a TV show he was doing, and I was like 'Yo, let me get a basketball!'"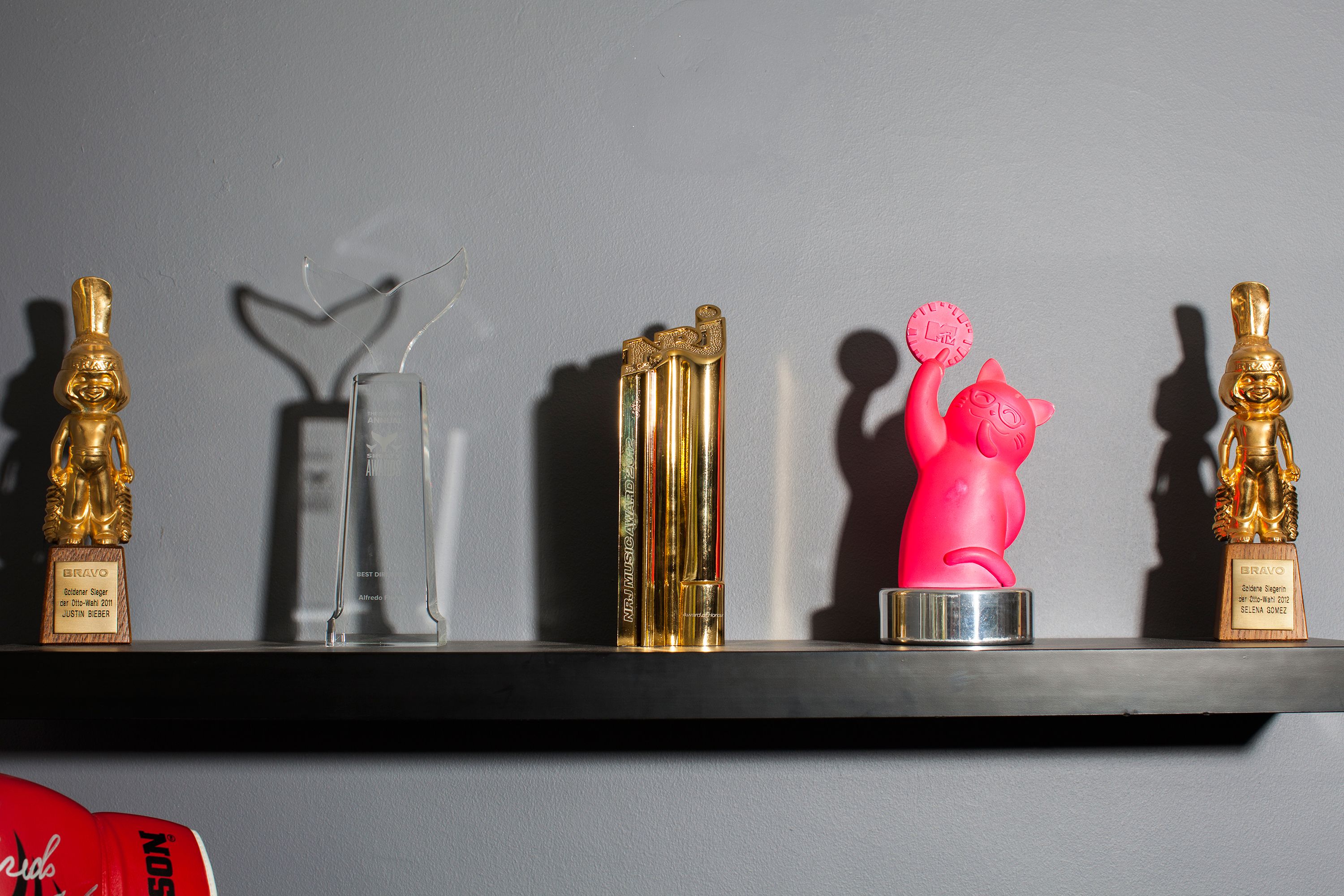 On a shelf by Flores' desk is a series of awards, including a South American Video Music Award and two German Bravo Otto awards, won back-to-back in 2011 and 2012 for working with Bieber and Gomez, respectively. I have to ask: Does being friends with both Justin Bieber and Selena Gomez, who had perhaps the most public breakup of our generation, ever get awkward?
"It is hard, but I try not to let it get awkward," he says. "Me and Selena are still friends, though we're not as close as we used to be when we were working together because we're both so busy. I try to keep everything separate, because at the end of the day, even though we're all friends, we also work together. We're all in the same industry, so you have no choice but to find ways to keep it separate. Me and Justin are very close, he's one of my best friends. Right now I'm trying to support him as he takes a different journey with Christianity. I grew up really religious, so I like going to church with him, going to Bible study with him, talking about Jesus with him. It's just so easy with him, because we have so much fun together no matter what we're doing."
There are more awards spread across Flores' office, including three Shorty Awards for Director of the Year; the category got eliminated after his third win in a row, Flores suspects, because the awards are fan-voted. "I'm the most followed director on Instagram, so I think it just kind of became unfair!" he jokes.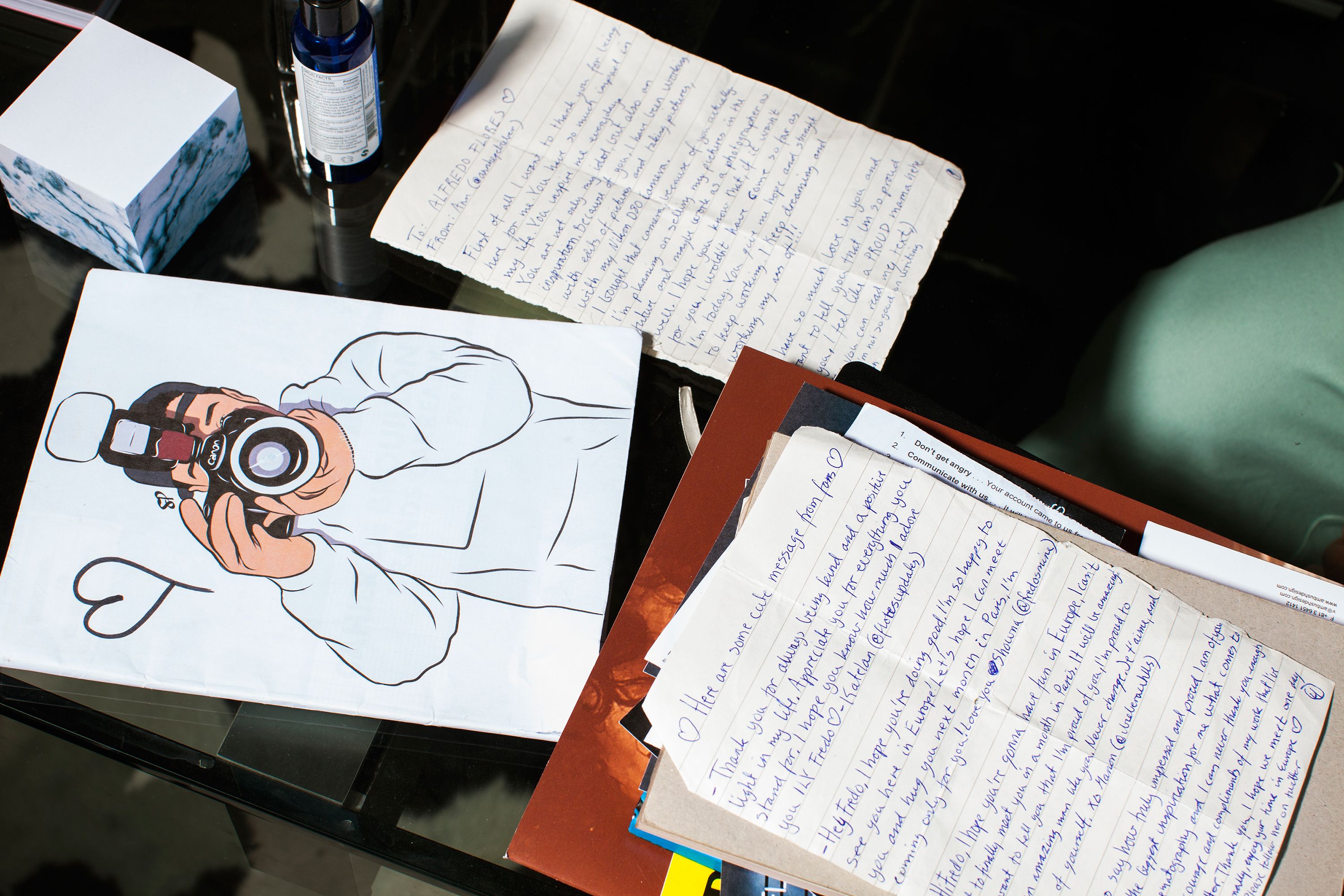 Flores may have 2.3 million Instagram followers, but he doesn't just get fan mail online. His desk is overflowing with handmade letters and fan art; by now, he's used to walking into a packed arena for artists like Grande and Bieber and seeing a few "We Love You Fredo!" signs sprinkled throughout.
"I first realized I had my own fans on my first tour with Justin, when I tweeted a photo of me eating Oreos," he says. "After that, every single show, at least a few girls would bring me Oreos. It was crazy! Now I have my own merch that says 'Don't Shoot The Shooter,' that a lot of fans will wear to the shows. And on my birthday during Ariana's tour, we had a show in Spain, and there were a lot of fans with 'Feliz Cumpleanos' signs. It's crazy, because I was just doing my job, and now I have people who tell me they bought a camera or were inspired to start filming because of me. I used to be inspired by directors like Eric White and Paul Hunter, and now I'm doing some inspiring myself. That is…wow."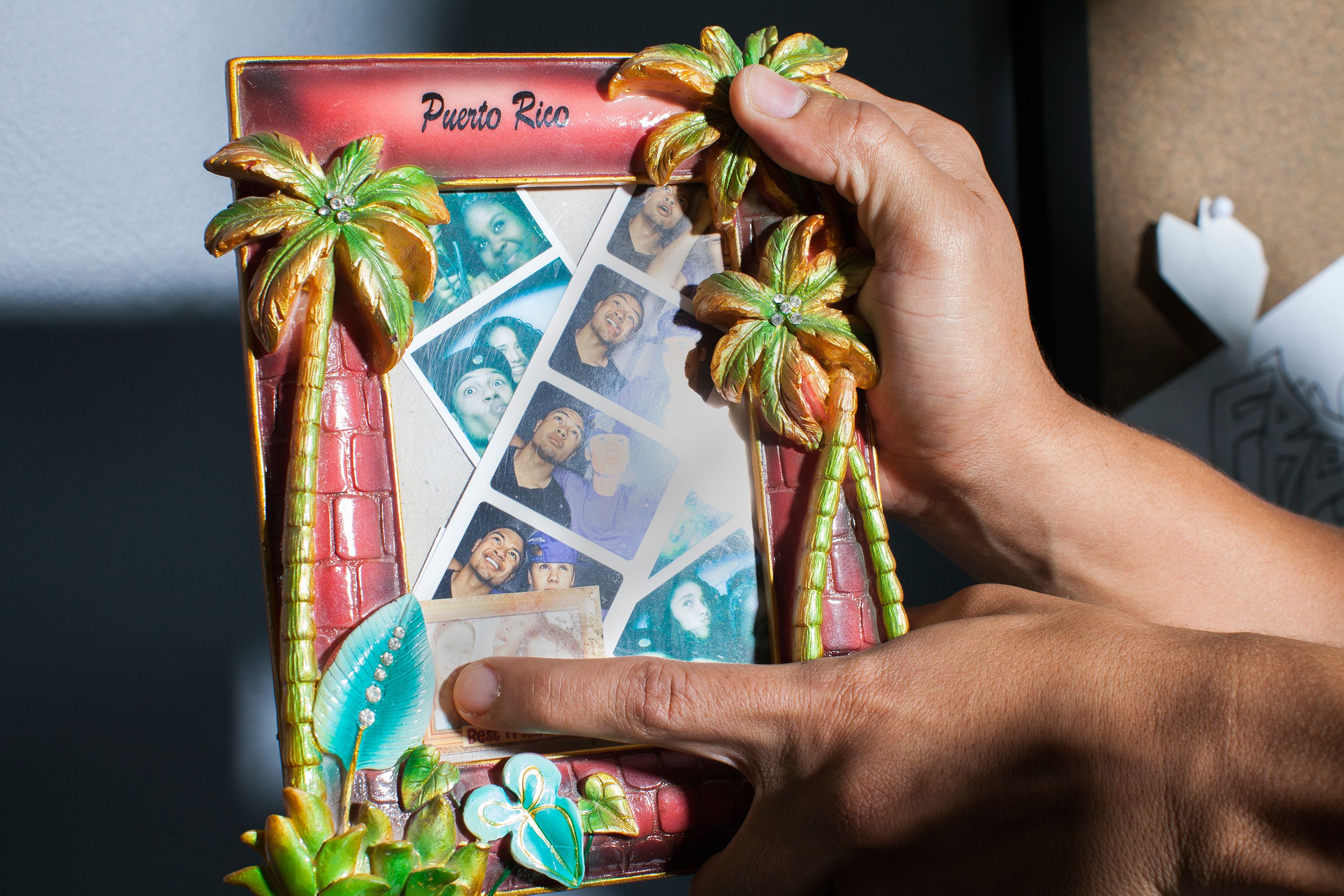 Flores has a few framed photos around his office, including this one with his friend, actress Raven Goodwin (you might recognize her as Niecy on Being Mary Jane), and some friends from back home in New Jersey. Being on the road or across the country from his family does get tough, he says. There's that soft voice again.
"I have one brother and I grew up with my mom and stepfather. We had a dog, and we were super close, and until I was about eight we lived in one big house with us in the basement, my aunt and cousins on the first floor, my other aunt and cousins on the second floor, and my grandparents in the attic," he says. "We went to Puerto Rico often to visit my grandma, or my mom would make it a point for us to go on vacations like Disney Cruises. I had a great childhood, and my family is still really close."
They do often come to some of his shows and concerts when he's working, especially on the East Coast. So much so, in fact, that Alfredo's mom has her own fan base, too. "Now my fans know my family from social media, so they'll walk up to her at a show and be like 'Are you Fredo's mom?!'" he says. "She finds it so crazy!"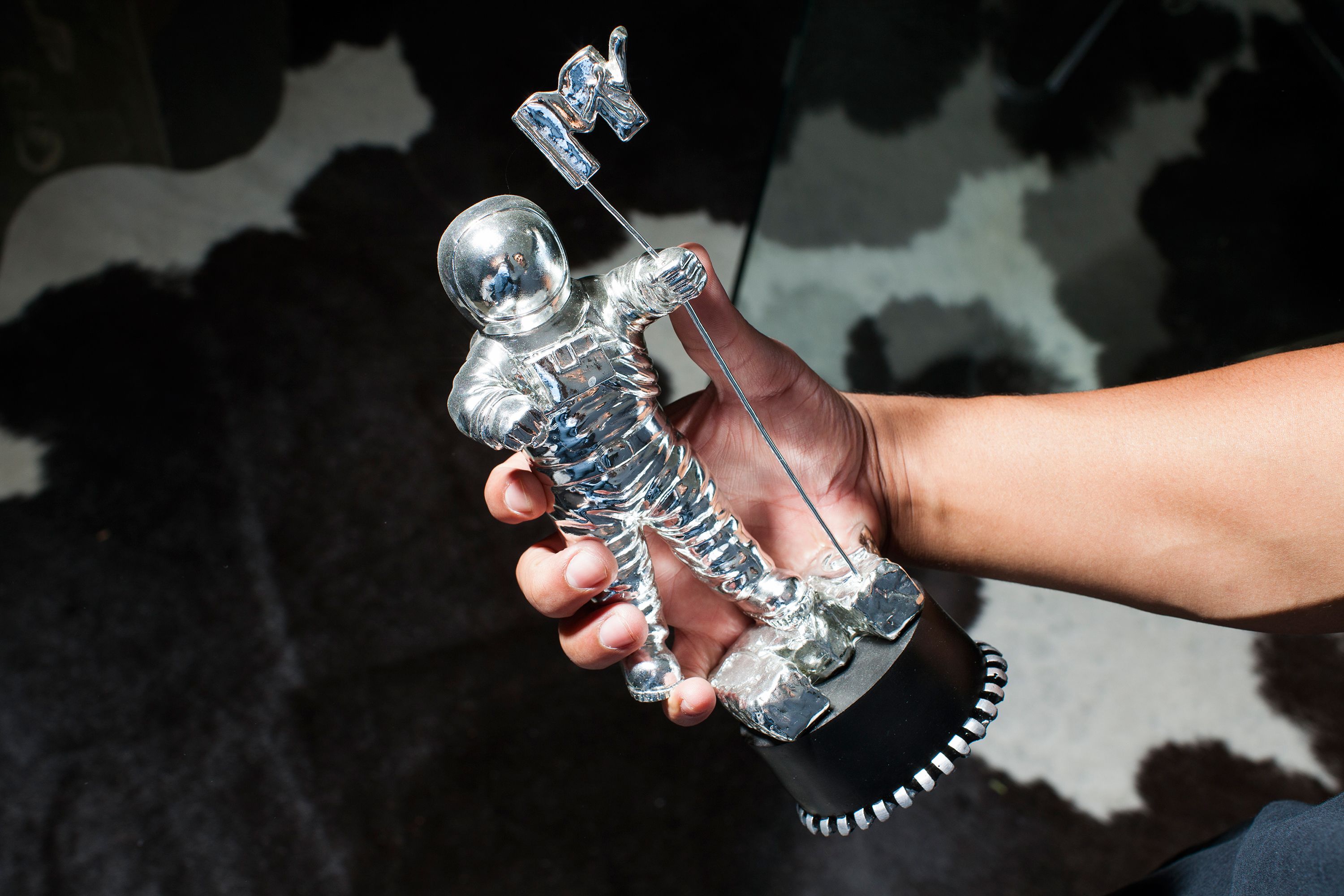 One of the first things I notice in Flores' home is a Video Music Award. A real, live moonman in the flesh! Well, kind of.
"When you go on stage, they give you a prop VMA, and then they send you the real one in the mail," Flores explains. "You're supposed to give the fake VMA back after you accept the award, but in 2011 Bieber wanted me to have this one, because it was for the video we worked on together, 'U Smile.' I hope this guy won't be my only moonman!"
On the opposite wall is a poster from Bieber's "My World" tour that's signed: "Love You With All Of My Heart, Justin."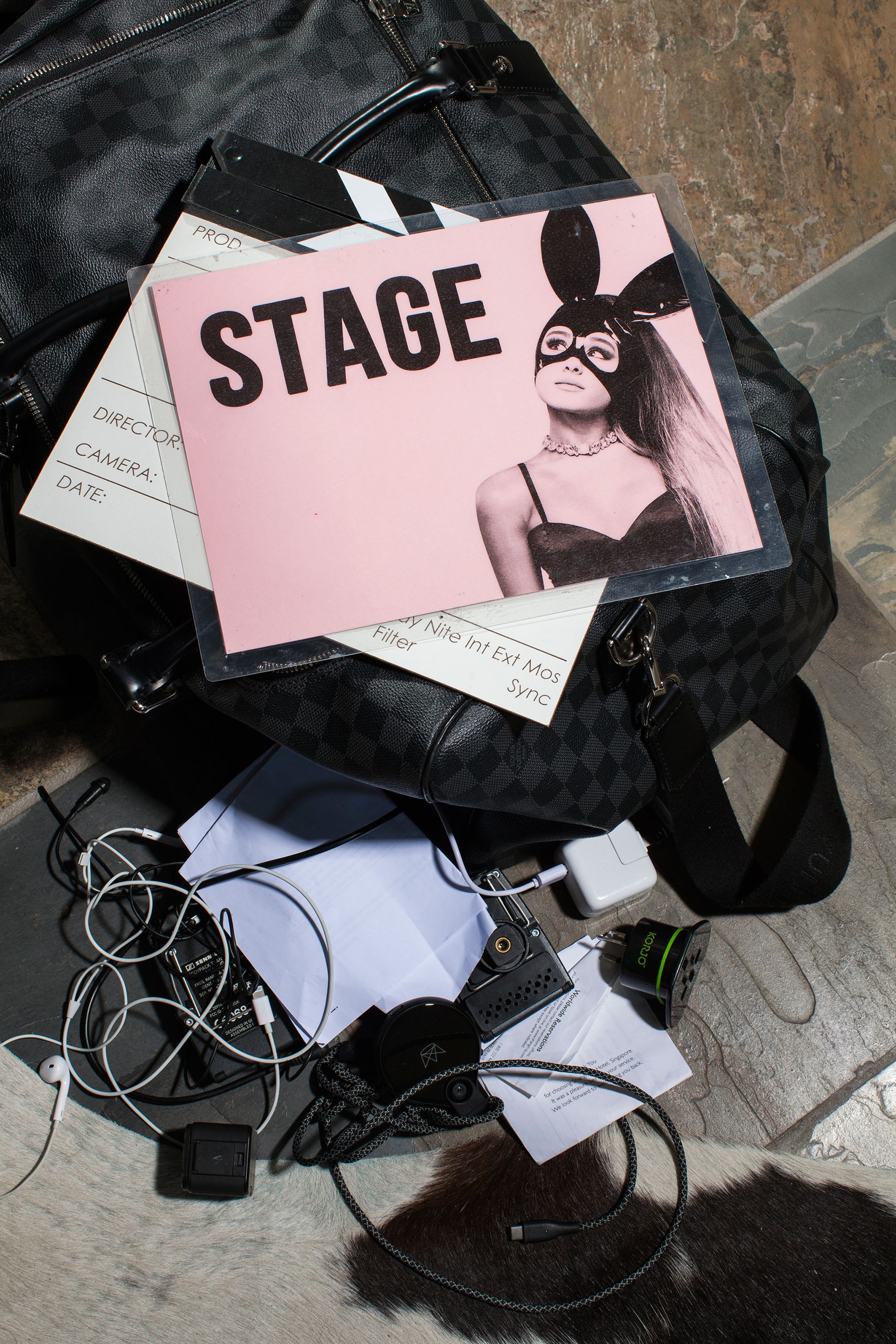 There's one thing that's a little confusing about Flores' career and job titles. He started out as a video shooter and director, but now is a photographer. How did that happen? Two words: Ariana Grande.
"I was working on her music video for 'Break Free' a few years ago and she was like 'Hey, Fredo, can you take a couple pictures of me?' In my head I was like, Oh no! I only do video, I don't take photos! But you don't say no to an opportunity like that. So I ran back to my dressing room and took a few photos to practice, and I went for it. Looking back, those photos were horrible. But I learned on the fly. Now I'm shooting international tours and campaigns for the person who first forced me to take a photo. Sometimes you just have to take the leap."
Concert tours are notoriously full of sex, drugs, and rock and roll. Flores has been on six of them, most recently this one with Grande. I ask him what it's
really
like touring with the pop diva. Is it wild and crazy? Is she really a diva, like she's rumored to be?
"Honestly, we have the best working relationship. She knows what she likes, so we'll sit and edit photos or video together, but she isn't some demanding diva. Our life on tour isn't crazy either. Ariana doesn't drink, there's no drugs, we have a lot of chill game nights and we just laugh until late into the night. My favorite part about Ariana is she's one of the funniest people I've ever met. People know she's a comedian, because she started out on Victorious on Nickelodeon. But she really is fucking funny. And she's all about spreading a message, every single show she's encouraging so many young people to stand up for themselves. She's encouraging people to be who they are, she's such an advocate for the LGBT community, for feminism, for women. She isn't afraid to speak her mind. I really do love that. Who wouldn't want to work for her?"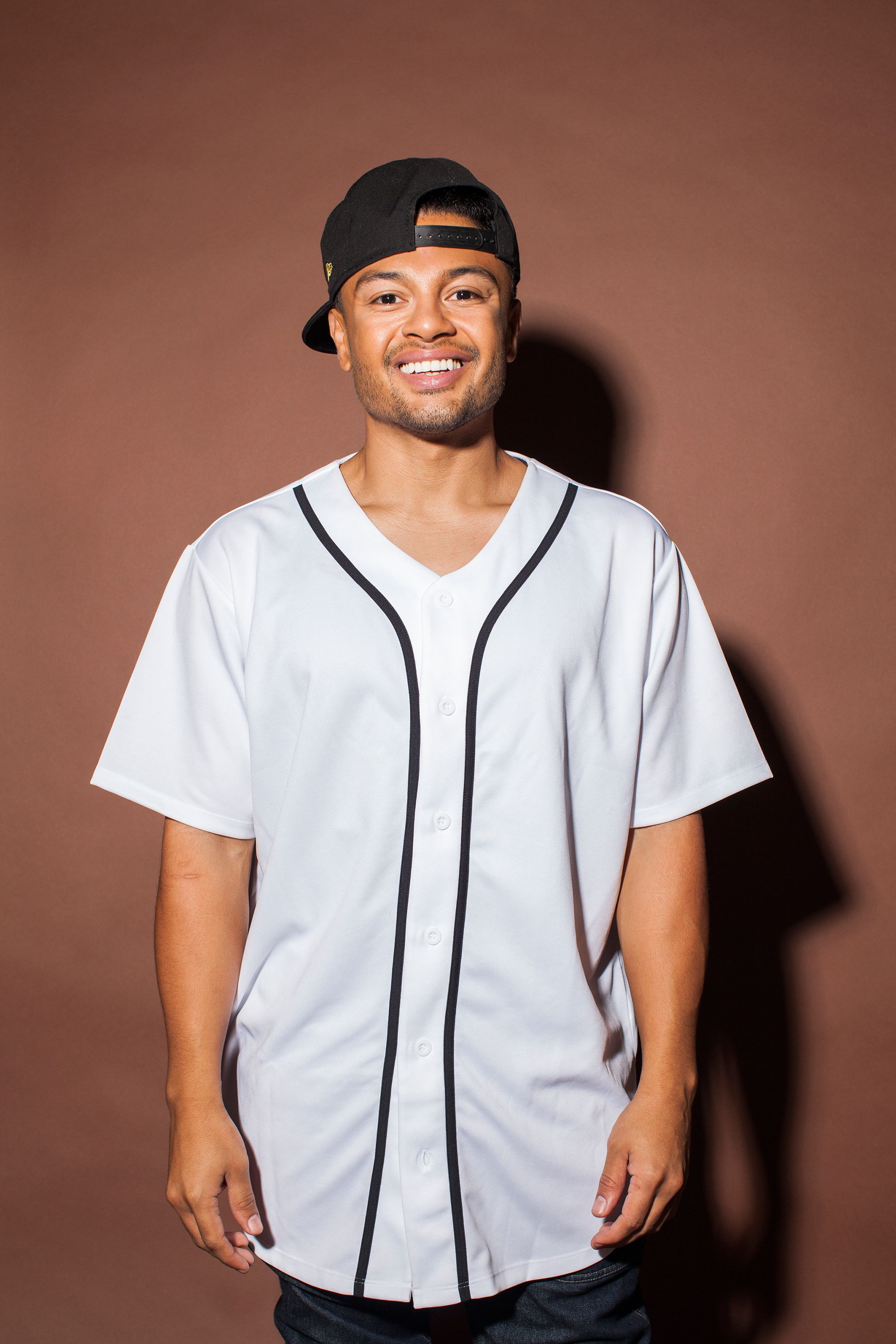 As a fellow Boricua, I have to ask Flores how he feels being Puerto Rican has impacted his career. We bond over similarities — we both love chuletas and rice and beans and are feeling heartbroken about what's happening on the island right now — but Flores also shares some of the prejudice he's encountered because of his background.
"I've walked into plenty of rooms with Justin, and everyone will talk to him, and not a single person will say hello to me," he says. "Of course, that could happen because he's the celebrity and I'm not. But I do think if I was a tall white dude and walked in with him, they would shake his hand and then shake mine. Sometimes I feel like damn, if I were just a six foot tall white guy, I'd probably be the CEO of one of these companies by now! Even sometimes being the director on a set, I can tell the crew or the gaffers are surprised when they find out
I'm
the director."
"It's probably because there just aren't as many of us in this industry. I mean, Adrienne Bailon is the first Latina talk show host on daytime television. It's 2017! I feel like Latinos have to work harder than most to break those barriers. I'm sure Black people feel the same way, and Asian people feel the same way. As minorities, we really do have to push harder to prove ourselves and we'll always feel like an other. But I don't mind it, because I love being Boricua, I love being Puerto Rican, I love my culture, it's beautiful. We just have to work harder, but that's okay because we can and we will."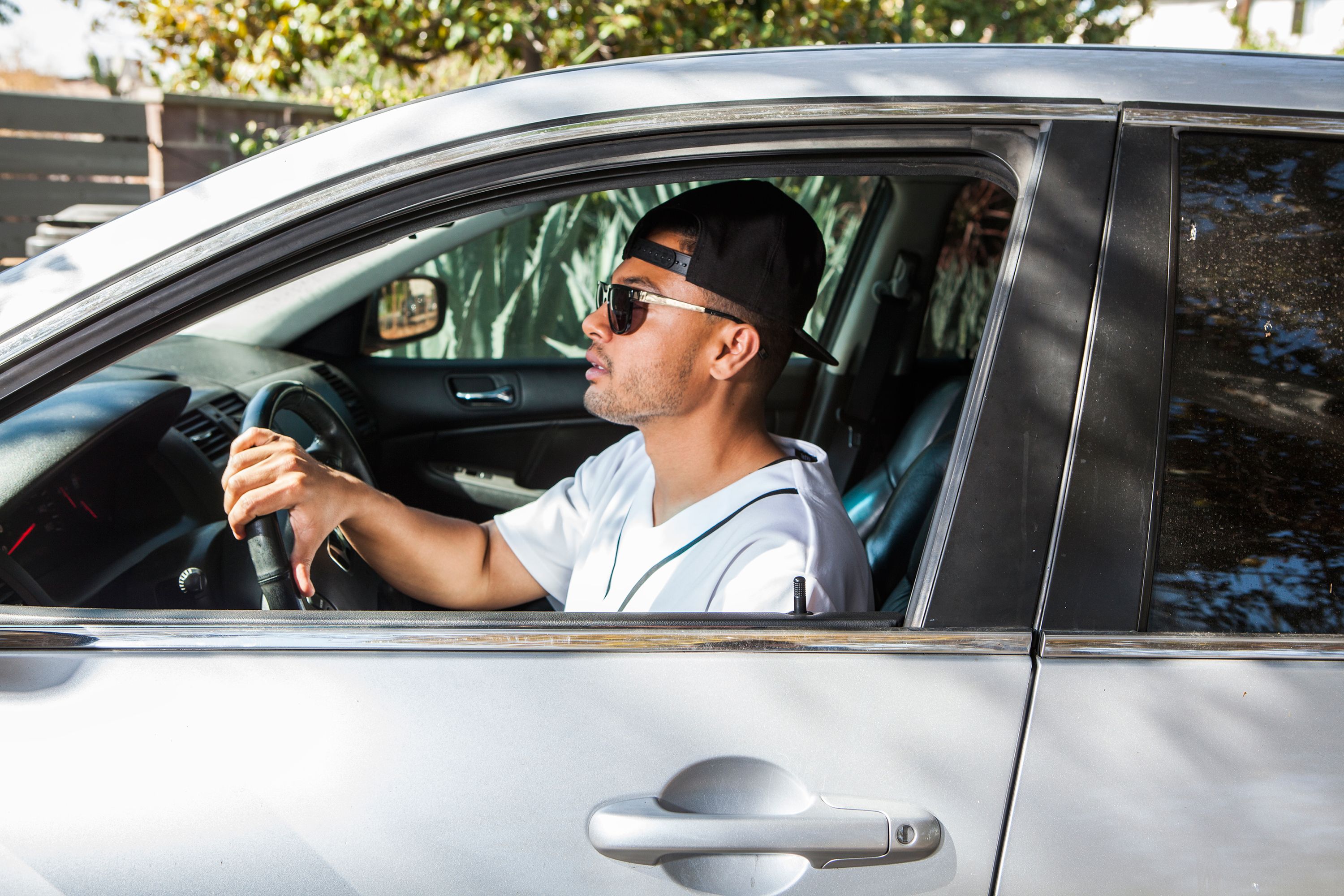 The macarons are no longer holding us over, so it's finally time for lunch. We hop into Alfredo's seven-year-old Honda Accord, which he still drives proudly, he says, because it was the first car he ever bought with his first big check. We roll up to a shopping center in Studio City, and Flores laughs, because he says as a High School Musical -obsessed teenager, he used to always see paparazzi shots of his favorite celebrities running errands or getting lunch in Studio City. Now, he's here all the time.
In fact, in high school, all Flores could think about was moving to California. In his 2005 AP English class, when he had to write a letter to his future self in 2015, he wrote all about those dreams, like wanting to shoot videos in Hollywood with big stars and own his own home. He found the letter at his parents' house last year, and when he read it, he started crying. Every single thing he had written had come true.
Well, except one.
"I also said I'd have a wife and kids!" Flores laughs. "When you're 16, you think by 26, you'll definitely have a wife and kids. Now I'm 28 and that feels way too young."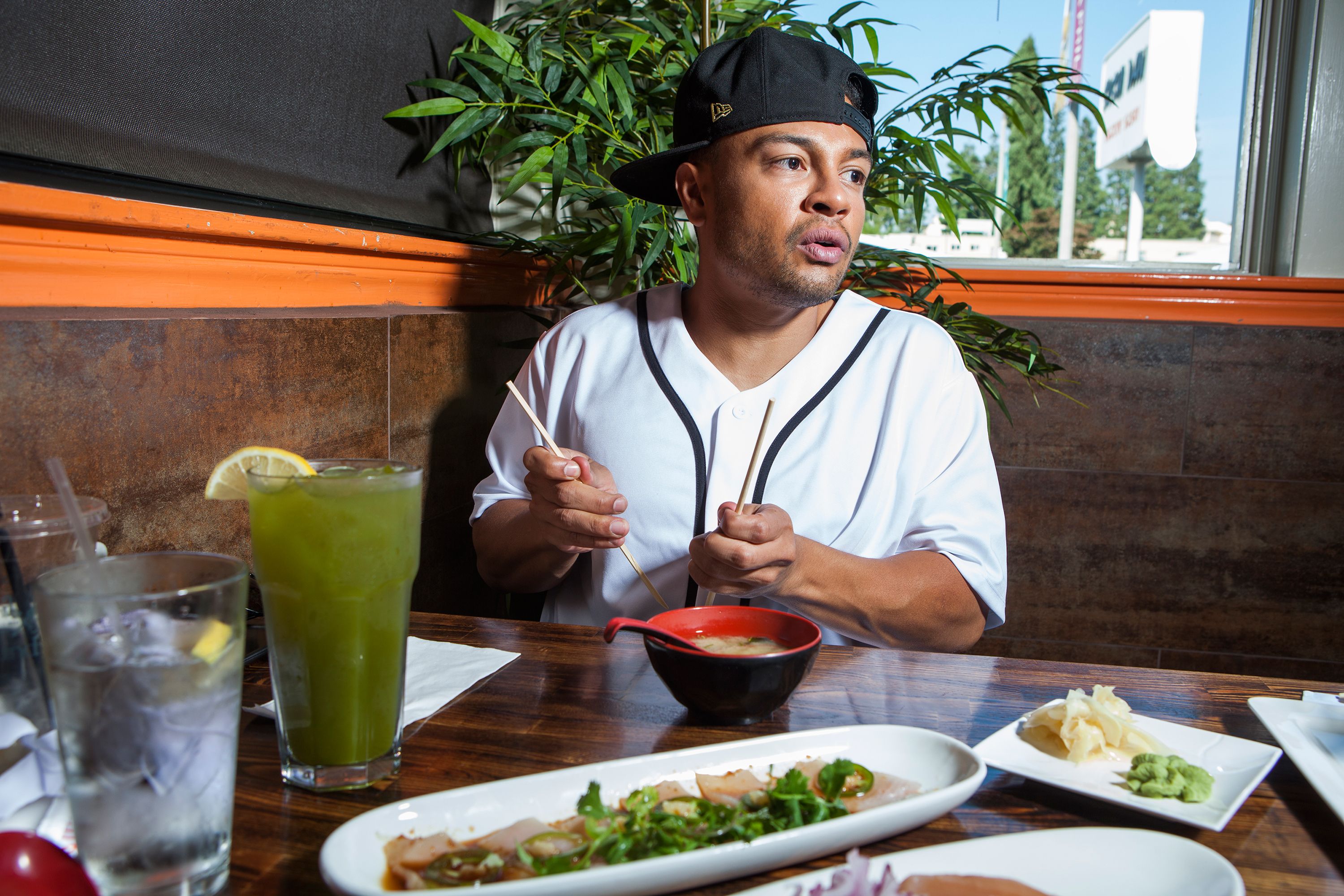 Flores takes us to a spot called Sushi Dan, because it was the first place he ever tried sushi — ever — thanks to Selena Gomez. He tells us the story over an iced green tea, garlic spicy edamame, spicy tuna, and albacore.
"I met the core group of my L.A. friends while working on a short Halloween film called Boo, including David Henry, who played Selena's brother on Wizards of Waverly Place, " Flores says. "He invited me over to the Wizards set one day, which is where I met Selena. We became friends, and fast forward months later, she's like 'Let's get sushi!' and I'm like, 'I'm a New Jersey kid, I've never had sushi.' She was shocked! So we all came here, me, Selena, David, and another friend that I was with, and this is where I tried sushi for the first time. To this day it's my favorite sushi place in L.A. Even if it isn't the fanciest, it's the most meaningful."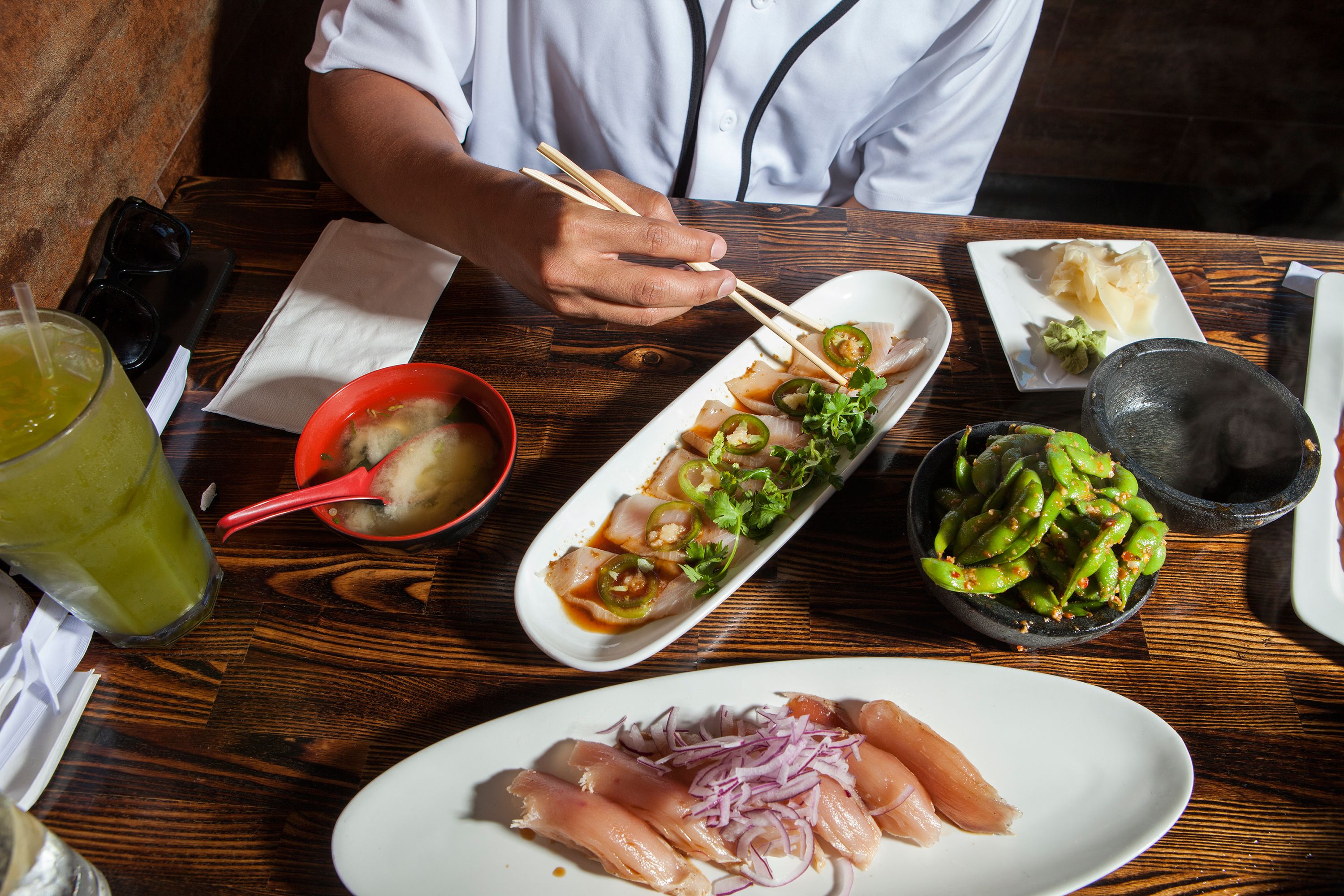 Speaking of a wife, and kids, and Selena Gomez, Flores travels the world with some of pop's biggest female stars. I imagine that can make dating a tiny bit tricky.
"People don't assume I'm dating Ariana because she has always been public with her relationships — when I started working with her, she was dating Big Sean, and now she's dating Malcolm [aka rapper Mac Miller]," Flores says. "That happened more so with Selena when we worked together, because people would be like wait, who's this guy Selena's with, oh my gosh, he's Justin's friend, is this a scandal… "
Flores says he hasn't really seriously dated anyone in over two years, mostly because of his crazy schedule, but also because it can be hard to know people's intentions.
"You have to go with your gut, but it's tough," he says. "Whether it's dating or friendships. I tend to surround myself with people in the same industry because they automatically get it. Like Brian, he works with Ariana as well, we tour together, we work together, so our friendship automatically feels safe. Just like Ariana feels like she can safely text us in a group chat, because we're all friends and have worked together and we're not just some random people whose intentions you can't know. But obviously, that can turn the entertainment industry into a very small world."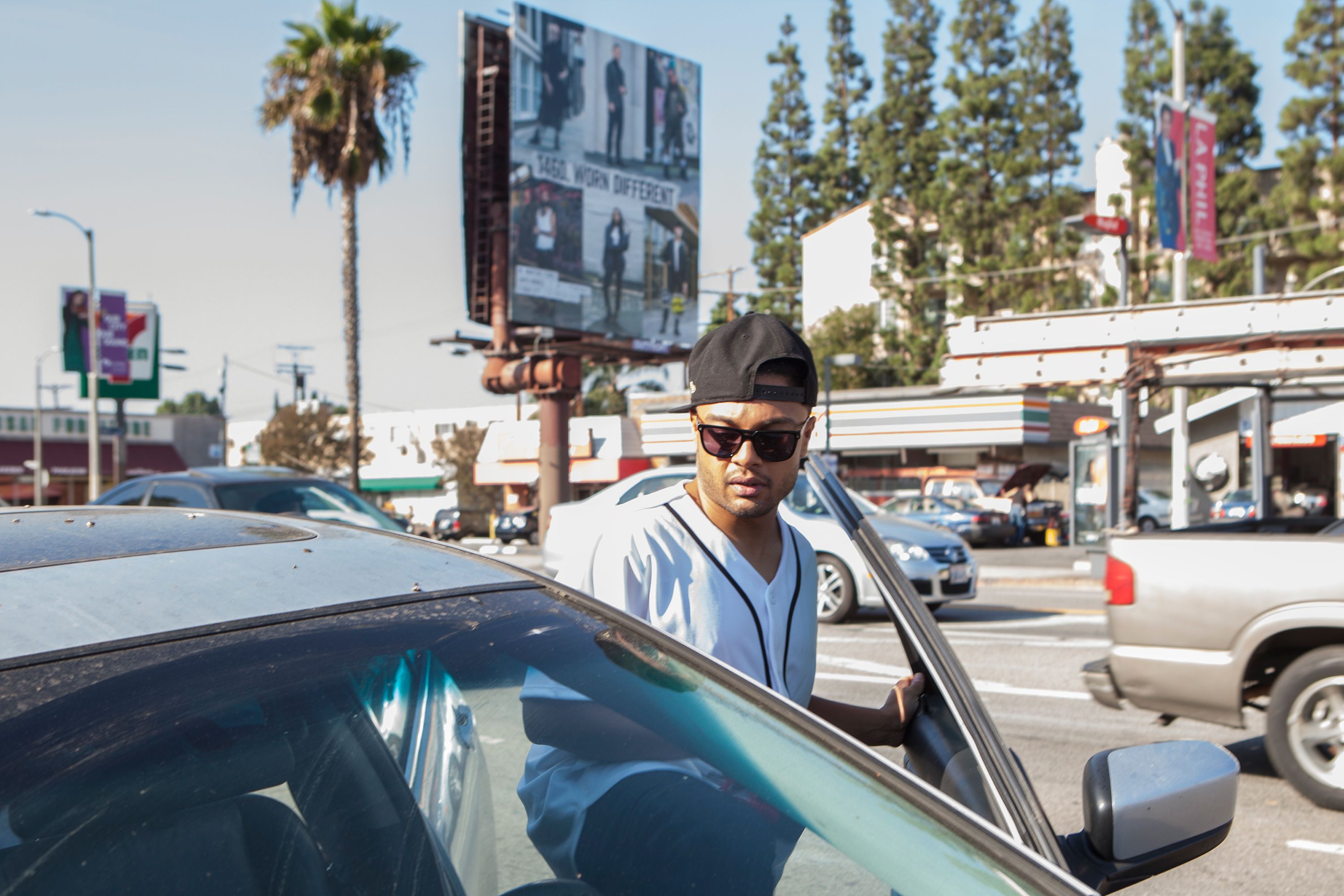 He's already photographed, shot, and directed some of music's biggest names, is working on his second major art show, and has checked off everything on his 16-year-old self's wish list. But Flores says he's just getting started. He still wants to direct movies and feels "very young" in his photography career; he hopes to add some magazine covers and more advertising campaigns to his portfolio. This week, after he checks in on his grandparents in New York, he'll be working with another pop queen for the first time: Demi Lovato. And in the coming year, he's got more projects with Grande and hopes to venture beyond the music industry to film and shoot actors and models.
"I'm not the best photographer or videographer in the game," Flores says. "But I do think there's something about my drive and work ethic that's helped me flourish. Anybody out there who's trying to make it in this industry, or any industry, I would tell them, it's not even all about talent. It's about perseverance and hunger. Think about how many talented singers you know who won't make it because they don't have that hunger. Now, think about how many not-so-talented singers are on the radio and killing it. That's because they weren't afraid to grind."
He has a point. But from all of Flores' accomplishments (and even just the quickest Google of his work), I venture to say talent certainly played a huge part in his success.
"I mean, listen, I moved from Jersey to L.A. not knowing a single person," he says. "All I had was a very specific idea of who I wanted to work with, confidence in my abilities, and a dream. I definitely believe in setting a vision for yourself and making it happen. I had that vision since I was eight years old, and I kept going, no matter how many challenges I overcame or how lonely I was. When you want something, it's never going to be easy. But the more you want it, the harder you're going to work. I will never stop wanting this."
And then we're back out in the Studio City sun, and out come the Hollywood sunglasses and the kilowatt smile. After we say our goodbyes, I realize that, like Bieber and Gomez and Grande before me, I, too have left a work situation with Flores feeling like he's a friend. In an Uber back to my hotel room and feeling melancholy that we might not ever get to hang out again, I scroll through Flores' Instagram. A few hours ago, it appears, he'd posted a photo of himself in a director's chair with the caption "Director Flores." And I think When the heck did he even have time to post this?! We've been together going non-stop since this morning!
And then I remember that, for Alfredo Flores, hustling doesn't have an off-switch.
Click HERE to read more from Refinery29


Loading ...