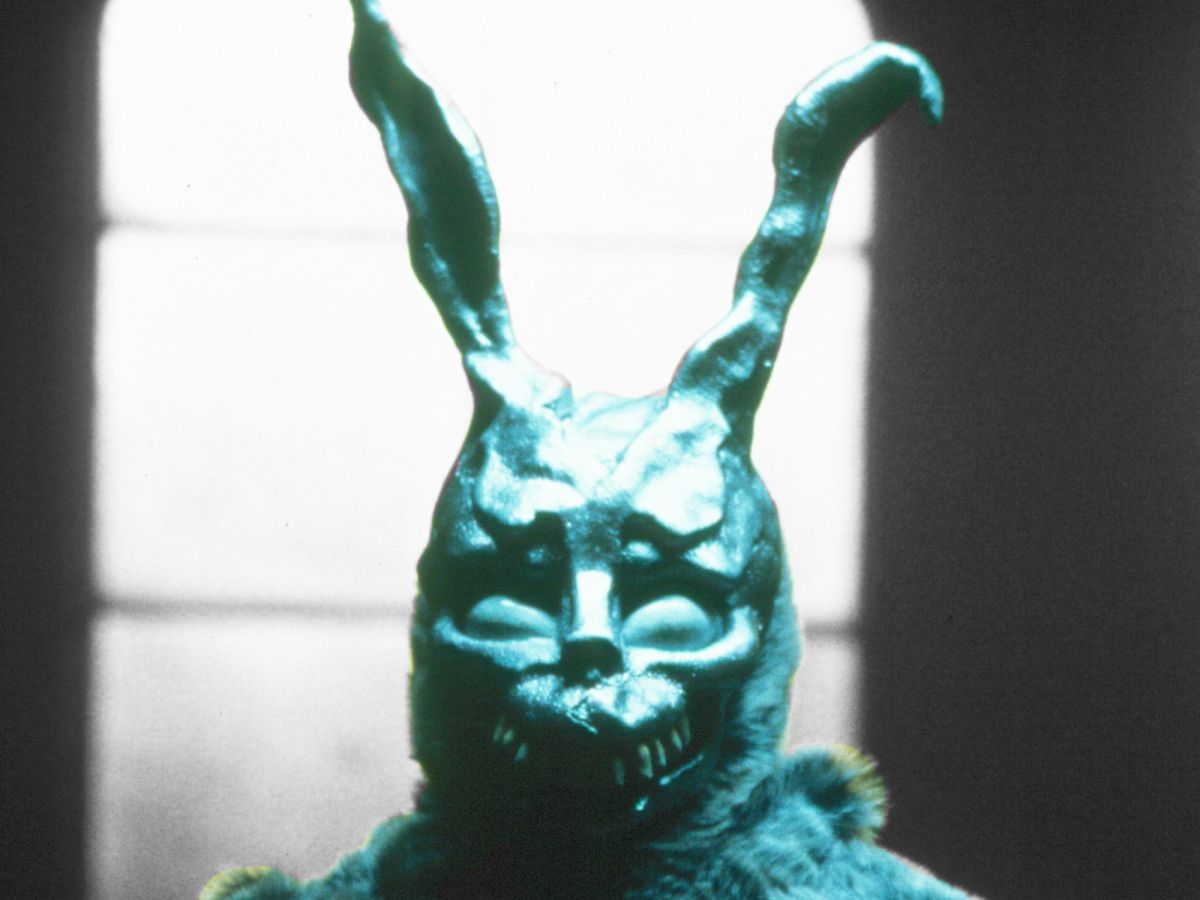 Photo: Snap Stills/Rex/Shutterstock.
Even the non-religious among us are bound to find ourselves popping jelly beans and nibbling on chocolate bunnies this weekend. We may feast upon cream eggs and highlighter-hued Peeps. We may secretly pine after baby chicks. We may wonder if we're too old to ask mom and dad for an Easter basket.
It's also fairly certain that we'll be thinking about bunnies a lot. How could we not? You can't throw a tie-dyed, Pinterest-approved egg without hitting someone in an Easter Bunny get-up right now. It's all very Donnie Darko.
So, why not just admit defeat and spend this holiday weekend paying tribute to other rabbits we've loved and lost in the pop culture sphere? From Harvey to Judy Hopps, these bunnies are a hare above the rest.
A horde of bloodthirsty rabbits, Night of the Lepus(1972)
A rancher on the Arizona range decides to deal with his rabbit overpopulation by injecting them with an undisclosed serum. Bad idea. In no time, a gang of giant mutant rabbits is terrorizing the Southwest. In typical B-Movie fashion, these "giant" rabbits are really just normal-sized critters in a miniature set.
Thumper, Bambi (1942)
You can credit Thumper and his mom for this etiquette rule: "If you can't say something nice, don't say nothin' at all."
Harvey, Harvey (1950)
Viewers don't actually see the invisible rabbit the film (and original play) is named after, but Jimmy Stewart's Elwood P. Dowd does. All we know is he's 6-foot-3-and-a-half and likes martinis.
Skippy, Sis, & Tagalong, Robin Hood (1973)
If this scene doesn't make your face crumple, you're dead inside. Anyone else fantasize about edging out Maid Marian, marrying that foxy Robin, and adopting this adorable brood? No?
The Killer Bunny, Monty Python & The Holy Grail (1975)
Not only did this comedy classic deliver the "most foul, cruel, and bad-tempered rodent you ever set eyes on," it also had the "Trojan Rabbit."
Hazel, Watership Down(1978)
This book and movie were bleak as hell, but you've got to admit that Hazel was pretty solid.
Dr. Michael Hfuhruhurr, The Man with Two Brains (1983)
We probably would have gone to medical school if we'd known about bunny scrubs.
Ralphie's Bunny Suit, A Christmas Story(1983)
How can something so wrong feel so right?
Ellen's Pet Bunny, Fatal Attraction (1987)
This poor creature had the misfortune of being owned by a child whose father (Michael Douglas) was cheating with a seriously unhinged lady (Glenn Close).
Roger & Jessica Rabbit, Who Framed Roger Rabbit (1988)
She's a little bit curvy, he's a little bit rock 'n' roll. We're not sure how these two crazy kids got together, but we're glad they did.
Bugs Bunny, Space Jam (1996)
What's better than regular Bugs? A Bugs that shoots hoops with Michael Jordan and Bill Murray, obviously. Special shoutout to Lola Bunny, a true #girlboss with floppy ears.
The White Rabbit Tattoo, The Matrix(1999)
In this case, "follow the white rabbit" means clubbing with a girl with a back tat.
Hare, Snatch (2000)
The Usain Bolt of rabbits stars in one of modern film's greatest chase scenes.
Bridget Jones, Bridget Jones's Diary (2001)
Yes, she ended up being humiliated at what was definitely NOT a tarts and vicars party. Sure, she walked in on her man cheating with a snotty American. But damn, did Bridget make that bunny tail shake work.
Elle Woods, Legally Blonde (2001)
The big takeaway of 2001 films: Always get confirmation before heading to a party in a sexy bunny get-up.
Frank, Donnie Darko (2001)
Donnie just couldn't shake this evil-looking, apocalypse-predicting buck.
Shelley Darlington, The House Bunny (2008)
When life hands you a rejection from Hugh Hefner, make a beeline for Sorority Row. Or something like that.
The White Rabbit, Alice in Wonderland (2010)
He's twitchy, time-conscious, and responsible for Alice's trip down the rabbit hole.
Rabbit, Winnie the Pooh (2011)
Though he's not the most popular of A. A. Milne's characters, he's certainly the brains of the operation.
Judy Hopps, Zootopia(2016)
A badass bunny with a name inspired by the original 21 Jump Street? Hell. Yes.
Click HERE to read more from Refinery29


Loading ...