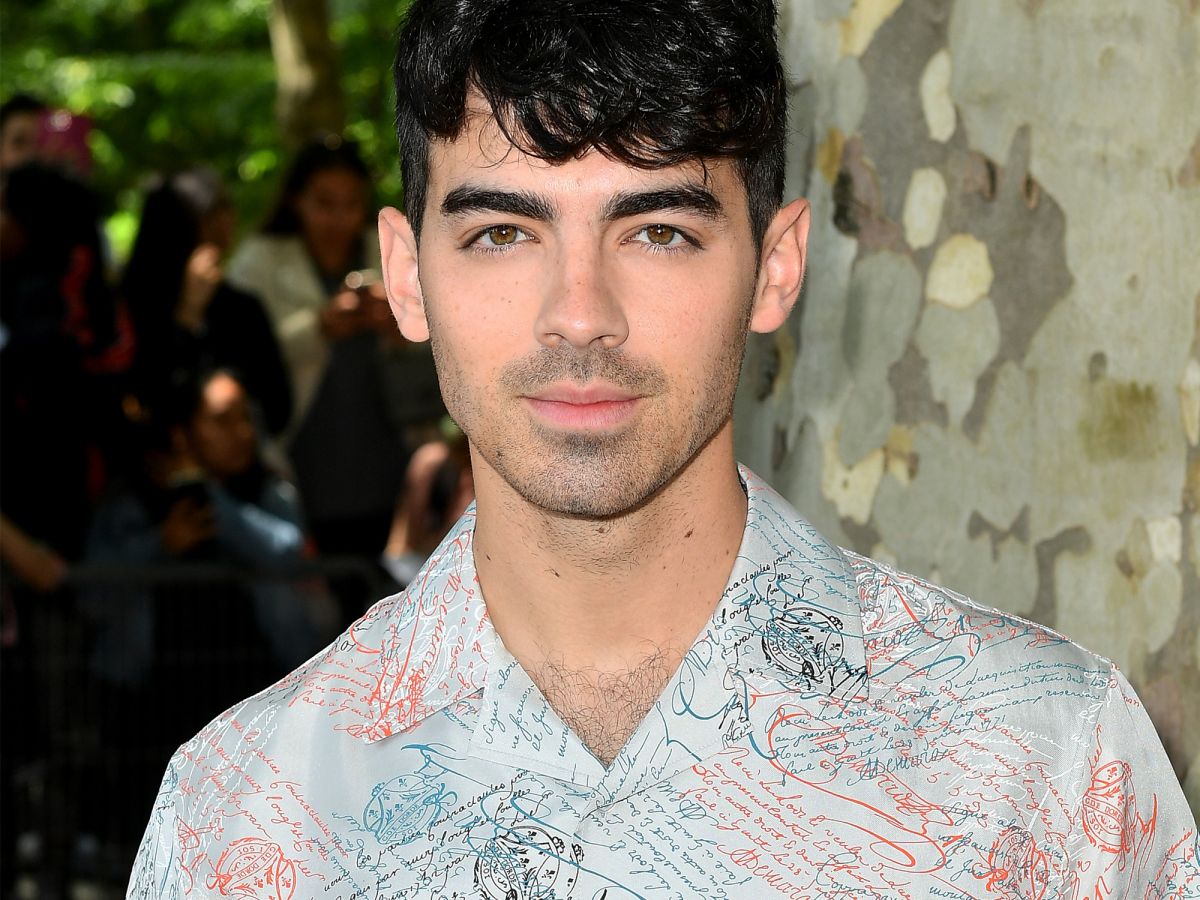 Ever since the Jonas Brothers went on their first hiatus in 2013, Joe Jonas — the goofy, albeit adorable, lead singer — has undergone a major evolution. He traded in his straightened mop for wash-and-go curls, married Sophie Turner, and added over 20 tattoos to his arms.
You didn't know the front man of the newly-reunited Jonas Brothers had that many tattoos? You're not alone. Considering just how delicate and dainty most of Joe's designs are, they're easy to overlook. His brothers may not have followed in suit, but Joe has spent the last seven years building up an impressive collection — one worth checking out.
Ahead, we hunted down Joe's most meaningful, minimal designs. Spoiler: At least three are dedicated to Turner.
"Help Me Help You"
One year before the Jonas Brothers would announce their hiatus, Joe revealed his first tattoo: an Adinkra symbol that represents cooperation. Joe captioned the photo with the West African symbol's translation, "Help me help you."
Rope Knot
Joe added a knotted rope to his arm a few months later. He revealed the new ink on Instagram in December 2012, explaining in the caption that the design symbolized his family: "Two ropes (two parents) makes four ends (four brothers)."
Triangle
In January 2016, Joe got his first tattoo from Toronto tattoo artist Curt Montgomery while stuck in Canada during a snowstorm (the storm Jonas, to be exact). Joe later told Rolling Stone that the design — an outstretched hand inside a triangle — was inspired by his three brothers and Mother Nature.
Cake
Nearly two years after the JoBros split, Joe and his new band, DNCE, released their debut single "Cake by the Ocean." Enter: this cake tattoo. Look closer and you'll notice that inside the second layer of icing are waves.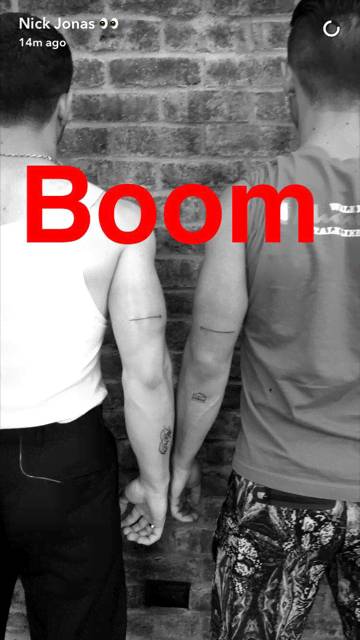 Arrow
Ahead of the 2016 MTV Video Music Awards, Joe and his brother Nick got matching arrow tattoos on the back of their arms. Unfortunately, Kevin wasn't there to join in on the brotherly love.
Sansa Stark Look-Alike
After a two-year tattoo break, Joe debuted his newest ink on Instagram in March of 2018. Fans immediately said that the tattoo of an unidentified woman looked a lot like Sophie Turner's Game of Thrones character Sansa Stark. Joe eventually admitted that the woman was originally just a sketch drawn by Montgomery. "It's really just a picture of nothing," he told Honey. "There's not anybody that I'd say it is, but eventually I'll come up with a name for her. For now, she's a mystery."
"15"
One month later, Joe paid a visit to tattoo artist Mr. K in New York and walked out with four new tattoos on his arms: an axe, an outline of a dove, a dove that blends into a woman's face, and the number 15 on the palm of his finger. Turns out, the latter is the most meaningful. Well-informed fans will recall that Joe proposed to Turner on October 15, 2017.
Grandfather Portrait
Although it's not technically a couple tattoo, both Joe and Turner have tattoos dedicated to their grandfathers. Turner's is a "G" on her finger, while Joe's is a portrait of his grandfather on his arm. He revealed the finished design by Mr. K on Instagram in July of 2018, writing in the caption, "For PaPa Miller."
Salvador Dalí Painting
That same month, Joe returned to Bang Bang tattoo studio in New York and got Salvador Dalí's painting The Persistence of Memory tattooed on his arm by artist Eva.
Falcon
By August, Joe added another design to his arm: a falcon created by L.A. tattoo artist Daniel Winter.
"To Infinity & Beyond"
Turner and Joe got their second couple tattoo a year after their engagement. The two both had Buzz Lightyear's famous quote from Toy Story — "to infinity and beyond" — inked on their wrists. Their first official couple tattoo was never revealed on Instagram, but both Turner and Joe have each other's initials inked on their wrists, too. (You can see Joe's "S" in the photo.)
Mr. Blue Sky Lyrics
Joe's first tattoo of 2019: lyrics to Mr. Blue Sky by Electric Light Orchestra. Joe hasn't commented on the design, but considering its placement right next to the elbow, we can bet this was one of his most painful experiences.
Heart
We don't know exactly when Joe added this huge heart to his shoulder, but it's easily one of his most delicate designs. There are also a few others that exist, but have yet to get their own backstory: a crown, four faces (that are said to be a representation of his brothers), an infinity symbol on his wrist, and a crown on his arm.
Waldo Tribute
After Joe and Turner's dog Waldo tragically passed away in July, the couple got matching tattoos of the Alaskan Klee Kai on their arms from Bang Bang artist Dragon. Jonas posted his tattoo to his feed with the caption, "R.I.P. my little angel."
Click HERE to read more from Refinery29


Loading ...