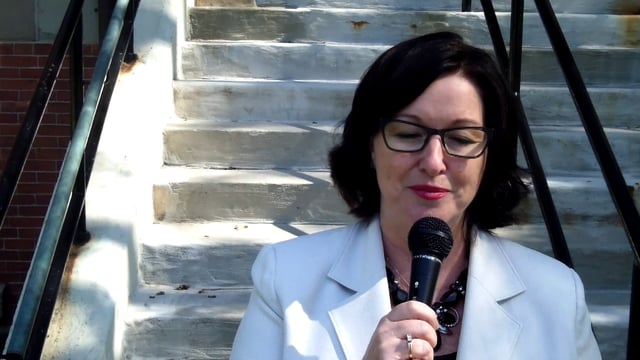 But not more female politicians like Kathleen Casey
By Stephen Pate – I have long-held that we need more women in politics and asked why women don't vote for their own gender.
However, if women in politics are going to be just like the good-old-boys when elected, falling into the trap of power and entitlement then why bother.
There have been many example of female politicians who have been models of democratic representation like Marion Reid who was an MLA, Speaker and Lieutenant Governor of great reputation.
This week The P.E.I. Coalition for Women in Government began promoting Casey as a model for women in politics. Women urged to run in municipal election

Kathleen Casey – Women in Municipal Government from PEI Women in Government on Vimeo.
Personally, I think Casey is the wrong model of a woman in politics, a classic case of missed opportunity as a female politician. Casey was a former City of Charlottetown Councillor, PEI (Liberal) MLA and former Speaker of the PEI Legislature.
Once Kathleen Casey got her position as Speaker she forgot the principles of democracy and became the spineless servant of the Premier's Office. She did not support principles of free speech in democracy.
The media and Opposition Party called Casey for partisan activities that should be beneath her office. Speaker Must Stop Partisan Pursuits wrote the Eastern Graphic editor Paul McNeill. CBC caught Speaker Casey attending Liberal nominating conventions which goes against her non-partisan role. Casey had her nose in the PNP patronage trough.
I have even stronger proof Casey did not live up to her position and the trust we placed in her. Kathleen Casey, as Speaker, conspired to discriminate against my human rights case that one senior reporter said reflected negatively "on the working of the PEI democratic system."
In 2009, Kathleen Casey's office of the Speaker conspired with the PEI Press Gallery to remove my press credentials, which she had given me the year before. Ostensibly the reason for the expulsion was that bloggers should not be allowed in the Legislature. The real reason, that everyone knows and admits, was that my reporting on the Liberal PNP scandal and disability issues were irritating the Premier's Office.
"The PEI Legislature has a stake in this because the Press Gallery is part of the public process of covering a democratic proceeding. If it's involved in discrimination that reflect on the working of the PEI democratic system," said a senior journalist who spoke to the Speaker's office.
Kathleen Casey discredited herself and the Office of Speaker when she allowed partisan politics to influence her actions.
After her Office used the Press Gallery n Pategate to remove my credentials, Kathleen Casey washed her hands like Pontius Pilate.
A political attack on a reporter you should read this and ask: is Canada or is it Egypt or Syria where they imprison or kill journalists for reporting anything negative stories about the government? Egypt Seizes Newspapers to Censor an Article, Toronto-born journalist, killed in Syria.
Speaker's role is non-partisan
In her office as Speaker, Casey has almost unfettered power in the Legislature to protect our democracy. People can be removed from the Legislature if they are disturbing the peace or disrespectful. The Speaker is not, however, expect to act as a tyrant and cannot abuse her privileges.
"The Speaker must conduct the business of the Office in a non-partisan manner and is responsible for ensuring that all MLAs are treated fairly and impartially. Given the often adversarial nature of parliamentary business on the floor of the House – with a majority Government and a minority Opposition – the role of the Speaker is often referred to as being similar to that of a referee! "(from The Legislative Assembly)
While the Speaker has been known for fairness and non-partisan rulings, Kathleen Casey developed a reputation for siding with the government in a partisan manner. The Eastern Graphic called her out on that problem Speaker must stop partisan pursuits
"If that tradition is important enough for Casey to so aggressively uphold, so is the tradition that demands speakers not partake in any partisan activity. And whether she likes to admit it or not, Liberal nomination meetings are highly partisan. Separating her Liberal ties to her speaker's role is even more important now that her husband Sean Casey is now an elected MP for Canada's third party (Liberal Party of Canada) in Charlottetown." Eastern Graphic
CBC reported "The Speaker of the P.E.I. legislature is being questioned by the Opposition after CBC News discovered she is attending nomination meetings for the upcoming provincial election."
Kathleen Casey's career
Kathleen Casey is the wife of Sean Casey, a lawyer, business person, former President of the Liberal Party of PEI and now Liberal MP from Prince Edward Island. They live in the comfortable upper middle class area of Charlottetown known as Brighton. Life is good for the Casey's – money, position, power and all their privileges.
Kathleen Casey started in municipal politics where she neither distinguished nor disgraced herself. She headed the powerful Planning, Heritage and Inspection Services committee and showed deference to both developers and heritage activists.
When she decided to run for provincial politics in 2007, she seemed like a natural, community minded and espousing consensus values.
Kathleen was running against veteran Conservative MLA Wes MacAleer who had a 11 years public service, after a successful publishing career. You cannot find too many people on the planet with better values than Wes who has volunteered every week for more than a decade to entertain seniors who are living in care facilities. Wes is also amazingly honest for a politician who have a reputation for saying what they think we would like to hear.
I was on the horns of a dilemma about who to support since both Wes and Kathleen are acquaintances and I respected their values. However, the Conservative government had taken $1 million from the budget for disability supports in 2006 and I could not support the Binns Conservative government .
Kathleen knew my interest in disability advocacy and promised her support and the support of the Liberals to restore funding for those living with disabilities, a promise echoed by the Premier-to-be Robert Ghiz.
At her nominating convention, Kathleen Casey surprised me with a kiss on the cheek. I guess she wanted the vote.
After the election, the Liberals tired of having someone remind them when people with disabilities were being mistreated.
No one has said why Premier Ghiz removed Kathleen Casey as Speaker in the fall of 2011. Was she wearing out her welcome or did she want the freedom to travel to Ottawa with her newly elected MP husband.
Follow me on Twitter at @sdpate or on Facebook at NJN Network, OyeTimes and IMA News Buzz. You can also subscribe and receive notifications of new stories by email. We do not share your email with advertisers.
By Stephen Pate, NJN Network