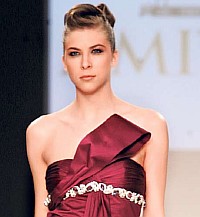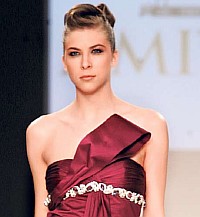 "Spectacular," is how fashion designer Amit GT describes his experience at the recently concluded Dubai Fashion Week.
Amit, who showcased his Autumn/Winter '09 collection there, says, "My collection – Nymphs Of Yore – was in keeping with my signature style of gowns. I have always been inspired by what the Greek goddesses are shown as wearing. The collection comprises goddess gowns with sensual draping and delicate textures. It's a feminine collection in soft and dreamy colours yet each piece has a distinct character that refers to the central theme. I have used French chiffons, gazers, organzas and satins and taffetas to create a surreal collection. There's romance and flirtation – both at the same time. I try and keep the gowns very light and airy."
The techniques like folding, draping and ruching, with fabric, either sculpted over strict corsets and stiffly ruffled, fluidly hanging in off-shoulder gowns, falling into multi-layered dresses, or scrunched over wide crinoline skirts, have been used in the collection.