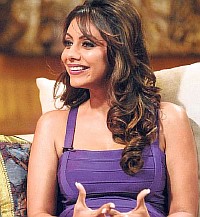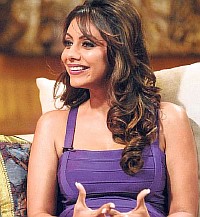 A horizontal tuck dress is the flavour of the season among Bollywood's more fashionable.  
The dresses look like Herve Leger's iconic Bandage dress, but they are as alike as green tea and Long Island iced-tea.
The original Herve Leger (pronounced ae-ve le-jer) debuted in 1989, in a decade of toned bodies and uber tight encasing dressing styles. The design was inspired by the Egyptian mummies! It meant a wrap-like seam bindings around a dress like one would find on a Mummy. Sewn entirely by hand, these dresses are made of Spandex and Lycra rich fabrics that bind, and fit the body into an enviable hourglass shape. The legendary fashion corridor whisper is that these dresses used to arrive at the doorsteps of the rich and the royal from the designer in slim manila envelopes – the folded dress taking up just that much space and shape and the prices started at a few thousand American dollars. When internet shopping became popular, servers apparently crashed within hours of the dress going on sale.
Victoria Beckham brought it back onto the Red Carpet last year, but it made the most impact highlighting Kate Winslet's curves. Among tinseltown's set Sameera Reddy is known to own one and Sonam Kapoor, to the couture born, has a vintage find.