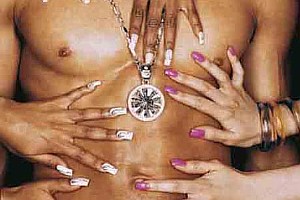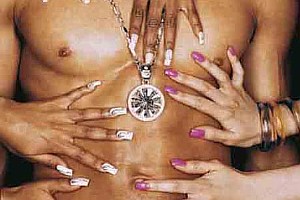 Getting clad in right attires and teaming up the perfect matching accessory – you might be all set for a rocking time.
But what can add more to our fashion sense and style is experimenting with nail art, which can add that punch in your overall personality. Here's what all you can try with your nails…
FUNKY IS IN : A crazy hairdo and wacky attire are striking, but what about your nails? Colour them in funky shades too to make a statement, says British nail technician Jacqui Jefford. Jacqui says this is the right time to wear crazy nails with loads of attitude and confidence.
"I have seen people carrying crazy hair styles and dresses with confidence, but most of them play it safe with nail colours. This is the right time to add funk to your nails and make a statement," said Jacqui. Jacqui, who is also a mentor and consultant to Scratch Nails – a nail salon in the plush South Extension-II shopping centre was in the capital to teach nail professionals about international trends. Jacqui, 50, has been in this business for the past 25 years and believes that people still do not take the business of nail care seriously.
"It is very unfortunate that people ignore the only part of the body that goes into the mouth. We pay attention to our attire, hair and skin but how many of us regularly take care of hands?" Jacqui questioned.
"The first thing we do when meeting people is shake hands, and if our hands are not manicured what kind of impression will we give to the other person? She elaborates: "Most of the time we look at our hands and not face, so it is important to make them look good to feel good."
Jacqui's love for nail art started way back in 1974 when she was just 16. "I still remember how I became beautiful from ugly in just 10 minutes," she explained.
"I used to bite my nails a lot and they were in a pathetic shape. One day my friend got nail extensions and her hands looked pretty. I thought I should go for it too and when I did it cost me 20 pounds! It was way too expensive and then I started reading on the subject and finally I took it as a profession to offer cheap yet quality service to people," she added.
Jacqui has done nail art for Hollywood celebrities like Gwen Stefani, Kate Moss, Shania Twain and many more. According to her, today's generation is paying much attention to their looks. "Thanks to exposure to the media, youngsters are aping Hollywood stars and paying attention to their looks, and that includes nails too. They want to look perfect and we help them reach this perfection," she maintained.
She said in Europe people are "driven by fashion" and the ratio of working women is very high. "So for them it is important to look good all the time," she added. Suggesting that women should go for manicures at least once in a month, Jefford stated: "Make it a point to go for regular manicures as it gets the dirt out of your cuticles and keeps them soft." Jacqui is also an author and has written books like " The Nail Encyclopedia ", " Nail Artistry " and " The Art of Nails ". "I have never planned anything in life – everything just happened. I was an author by mistake and I do not mind that either," she chuckled.
GO WACKY : This season, forget about boring pinks, browns and maroons for painting your nails. Be bold and play with the wackiest nail enamels available in the town – red and black and even green and gold.
"Nowadays customers are experimenting with colours like red, black and white. They do not mind flaunting such nail enamels with confidence", said Smith, a manicurist at Sylvie' Saloon.
Black nail polish has always been associated with the rock lovers and with those who love to be different. "I have always loved the black nail paint. Though it is very difficult to carry such a bold colour, it surely helps in drawing attention to your hands, said Neha Madan a college student and rock music lover.
For the people who fancy red, there is good news: various shades of the colour are available to suit Indian complexions. This is quite a contrast from the recent past when red had virtually gone out of fashion.
Sonika, a beauty specialist at L'oreal Saloon said: "Fortunately Indian markets are flooded with various shades of red and this gives customers the freedom to choose the right colour and carry it with confidence." "It is very important to choose the perfect red shade to match the tone of your hands. Not everyone is bestowed with beautiful hands, so the choice becomes really tough," she added.
Apart from red and black, women are also experimenting with various shades of blue, green, mauve, gold and silver. All these are different from the conventional nail paints and are quite popular among the younger crowd. "The punk look is in fashion, so playing with bold paints and colours simply get you the right attention especially if one follows fashion trends religiously", said design student Shruti Khare.
Although bold colours are very popular among teenagers, this isn't so with women who are in the 30s. Their comfort levels start and end with browns and pinks – and experimentation is certainly not the word for them. "In our saloon, only 20 percent of our customers ask for bold colours on their nails. The rest prefer to follow the conventional norm," said Azhar a makeup specialist at the Meghna Beauty Salon.