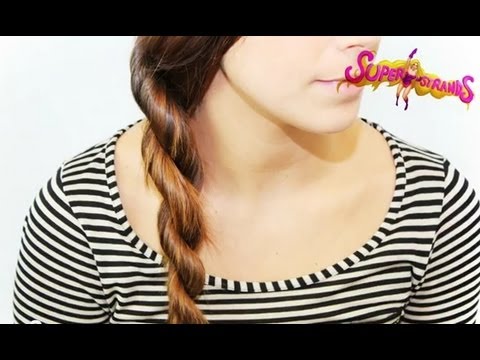 Hats can be a highlight of winter style, but sadly,
bundling up in a cap frequently leaves our hair static-y, flat, and utterly mussed-up
. As a result, we tend to skimp on the styling (why put in the effort when our coiffs are going to get ruined, anyway?), which leaves us looking schlump-y on the street — and downright disheveled once we get inside.
To find ways to keep our hair looking cute with orwithout our beanies, we reached out to pro hairstylist Allen Wood of the Bumble and bumble Downtown salon, who schooled us on the best hairstyles to go with the chapeaus of the season.
From the perfect textured 'do to pair with your beanie to glam waves to complement your boho-glam cap, these styles will look amazing on their own, and even better when accessorized. Check out all three looks and DIY them, stat. Staying cozy never looked this glam.

This look mixes a little bit of grunge (and mega-texture) with a cheery cap, for an effortlessly stylish look.
Madewell beanie, available soon at Madewell; rag & bone Jermyn Shirt, $324, available at rag & bone; Rings are model's own.

Start with dry hair spritzed with a little bit of flexible-hold hairspray. (Wood swears by Bumble and bumble Does It All.) Then, braid sections of hair, securing at the ends. Do smaller braids for extra texture, or go with just a few larger braids if you want a looser kink.

Once the whole head is braided, go over the braids with a flat iron to set the wave. Allow the braids to cool.

Unravel the braids one by one until all of the hair is loose — you'll be left with the coolest subtle mermaid-y crimp.

To add more dimension to the style, add in a couple of rope braids on each side of your head. Go with as many as you'd like; Wood did two on each side. Rope braiding is beyond easy — here's a tutorial if you've never done it — but if you'd rather, you can add in a couple of super-skinny basic braids or fishtails. Secure the ends with small clear or colored elastics.

Bam. Nineties grunge wished it looked this good! To finish the look, Wood squeezed Semisumointo the hair for extra definition and texture.

The great news about this style is that it will only look cooler as it gets messier/more textured throughout the day — rock that beanie, girl!

Though not technically a hat, we suppose, we had to include one of these adorable knit turban-headbands. What better to complement and show off an awesome braided 'do?
Wool & The Gang Trophy Headband, $59, available at Wool & The Gang; Madewell Starry Sweater, $88, available at Madewell; Uniqlo Blouse, $29.90, available at Uniqlo; Rings are the model's own.

To start, spray in a texturizing spray and somedry shampoo to add some grit to your locks,. Next, create a subtle side part. Section off the hair at the crown of your head (no need to be super-precise with the parting, just make sure you leave about three inches of hair at the front of your head).

Starting above one eyebrow, begin a basic French braid, keeping the braid around one or two inches wide. Continue across the top of the head.

Continue braiding the section around the back of your head in a circle, with the goal of braiding up until the point where you started the braid.

Once your braid meets beginning of your work, quit the French and simply braid the section to the ends of the hair, adding an elastic to secure.

Bring the braid up and around in the same direction that you originally braided, so that it covers the part created by the French braid. Using the French braid as an anchor, pin the basic braid down until it's all attached to the original circle.

The gorgeous result — it's like an angel's halo, no? You can stop here, or continue on to make this style even more awesome….

Next, start French braiding the front section of hair, beginning at the part. Continue down toward the top of your ear.

Continue French braiding around the back of your head, picking up the loose hair as you go.

Once all of the hair has been incorporated, do a simple three-strand braid to the ends of your hair and secure with an elastic. Pull the braid apart to create a thicker, messier look.

Et voila!

How envy-inducing is that back view? We love how impressive this look is — no one will know that all it takes is some basic French braiding skills.

Sexy and toasty: the winter holy grail.

Our final look: '70s glam waves, aka the perfect coiff for a floppy felt hat.
rag & bone Dunaway Hat, $175, available at rag & bone; Madewell blouse, available soon at Madewell; Rings are model's own.

Prep hair with Thickening Spray and blowdry hair to a smooth finish. Create an off-center part and section of the front of your hair on both sides, starting about three inches back from your forehead.

Break the front sections into two-inch chunks, spray with hairspray, and curl with a large-barrel curling iron (Wood used a one-and-a-quarter-inch Hot Tools version here).

Once you release the curl from the iron, roll the hair around three of your fingers and pin into place to create a pin curl (if you're not sure how to create a pin curl, check this out).

Repeat the curling and pinning process along both sides of the front of your head until you have a headband of pin curls.

Once the front of your head is set, curl the back of your head in sections. "There's no need to be particular about these curls," says Wood. "The back of this style is meant to be looser, which will contrast with the slightly more sculpted front."

After the back of the head is curled, release your pin curls in the front.

Run your fingers through the waves to loosen a bit.

To get that sculpted, retro wave, gently brush through the hair with a boar bristle brush — Wood, of course, likes the cult-fave Mason Pearson — from the roots to the ends.

Gorgeous! Since this hair is more about the wave at the ends than volume at the crown, you don't have to worry about it getting flattened by your topper — the hat will actually help maintain the smoothness of the style.

How chic is this? Very Bianca Jagger-hot — even in the freezing cold!
Photographed by Amelia Alpaugh
Hairstylist Allen Wood for Bumble and bumble;
Model Stephanie Celaya;
Styled by Willow Lindley;
Makeup by Samantha Lau;
shot on location at Bumble and bumble Downtown salon.
Click HERE to read more from Refinery29.