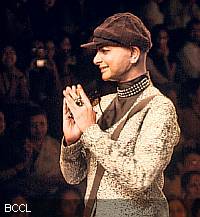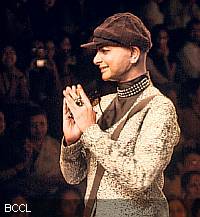 We didn't know if Abhishek Dutta would make it to his show, after he was bashed up in an incident of road rage on Saturday morning. But the designer did turn up, with his son in tow, and boy, did he have an ace up his sleeve!
The collection, called Tree of Life, was well-received, and when showstopper Sonal Chauhan, of Jannat fame, walked onto the ramp, the audience clapped as it is wont to do, expecting it to be the finalé. Then, the surprise came. Film-maker Rituparno was supposed to be a front-bencher donning a new look at the show, but the man turned up on the ramp itself! And as soon as he stepped in wearing an embossed leather jacket and yogi pants, the catcalls and applause were simply deafening. Said designer Abhishek Dutta, "He was wearing a black knitted turtleneck
T-shirt underneath the jacket and his yogi pants had black pearls attached to the sides." Matching the baubles, was a three-string black pearl choker, and a sling bag. When Rituparno walked down the length of the ramp, he took off his shades and flashed a smile at the guests. Abhishek adds, "Rituda was so confident that he didn't need to do any technicals. He just walked the ramp straightaway. He messaged me later, saying 'Abhishek, it was a great experience walking the ramp for you.' Said the film-maker, "Life is really short and we want to live so many lives. Walking the ramp is much easier than directing." And what about his own fashion statement? "I don't believe in fashion, I believe in style."And speaking of hits, there's no doubt who turned out to be the biggest hit of the show!