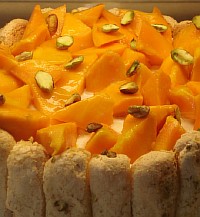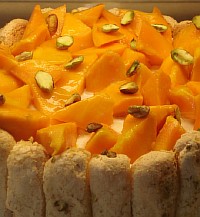 Summer is synonymous with mangoes. Take your pick from the Alphonso, Totapari, Mallika, Rataul, Himsagar, Amrapali, Mumbai Green, Kesar, Fazli, Banganpalli etc.
While usually one would rather be biting into one of these varities or making an aam panna of it, some exotic spreads would be an icing on the cake. Read on …
Fresh Mango Gateaux ( I kg)
For vanilla sponge
Ingredients
Flour (112 grams)
Egg (255 grams)
Sugar (112 grams)
Saf gel (11 grams)
Baking powder (02 grams)
Vanilla essence (05ml)
Water (20ml)
Oil (05 ml)
Salt (02 grams)
Method
Mix all the ingredients together by whisk until light and fluffy.
Bake at 200 c till its baked
For pastry cream
Ingredients
Milk (150 ml)
Sugar (40 grams)
Butter (10 grams)
Cornflour (10 grams)
Custard Powder (10 grams)
Eggs (30 grams)
Vanilla Essence (05 ml)
Salt (02 grams)
Method
Boil the milk with 3/4 th of sugar.
Whisk the custard powder into milk until it has dissolved.
Add the eggs and rest of the sugar.
make a smooth lump free paste.
Add this to remaining Milk & stir.
Bring the cream patisserie back to the boil to cook out the starch. make sure to stir Continuously.
Take of the heat and add the butter. Stir
pour into a suitable Container and cover with Plastic wrap.
Place into the cool room.
For sugar syrup
Ingredients
Sugar (150 grams)
Water (100 ml)
Method
Boil sugar and water together
For mangoes
Take 5 nos of ripe mangoes
For assembling
1. Cut vanilla sponge into 3 layers
2. Take 2 nos of mango and dice into small cubes
3. Mix 200 gms of pastry cream with 100 gms of whip cream
4. Take first layer of vanilla sponge , soak it with syrup then put custard cream mixture and put diced mangoes, repeat same in the second layer
5. on top put vanilla sponge and soak it with syrup
6. Chill for ½ hour in the freezer then finish it with whip cream
7. Cut the 3 remaining mangoes into big chunks and put it on top of the cake
8. Garnish it sliced pistachio on side put finger sponge or toasted almond flakes
(Recipe from Pastry Chef Nicholas Fernandes, Hyatt Regency Mumbai)
Spicy Mango and smoked chicken salad
'Salsafy' your mango! I serve this with iceberg lettuce leaves. Roll spoonfuls of the salad into lettuce wraps and enjoy the contrasts of flavours and textures. Sweet Mango savoury chicken, spicy chilli, and cool crunchy iceberg lettuce. Perfect to serve as a light summer meal or as starters or a side to Mexican meals. Eliminate chillies and the kids will love this as well.
Serves : 2-4, Time: 25 mins
For the dressing
1 cup salsa sauce
2 tbsp finely chopped coriander,
1 tbsp lemon juice
Salt to taste
1 chilli minced
Method
Mix well and reserve.
For the salad
1 cup firm sour –sweet mango diced fine
1 cup Avacado diced medium
1 cup chopped smoked or cooked chicken diced
1 onion diced fine
1 cup of celery sliced fine
To serve
1 large head Iceberg lettuce
Method:
15 – 20 mins before you are ready to eat, fill a large bowl with water and ice, place lettuce in it and put in the refrigerator to chill. In a large bowl combine mango, avocado, chicken, onion and celery and toss well. Add dressing, mix well and allow to stand so flavours combine. When ready to eat, remove lettuce from fridge, separate out leaves and serve on a platter along side chilled salad.
Serving Suggestions:
Serve with Nacho chips as dip or with Tacos as a taco stuffing. Dice mango, avocado and chicken into bigger chunks. Finely chop onions and celery. Combine everything and allow to stand for 20 mins. Then skewer chunks of mango, avocado and chicken on sate sticks, arranging on a platter as you go, pour leftover juices and bits from the bowl over skewers and refrigerate until ready to serve.